Yup, you read that right. I killed two of my bikes getting to Phuket Bike Week 2018. But first a bit of history. Any biker worth his or her leathers knows about Phuket Bike Week or PBW for short. It's like a rite of passage when it comes to biking; every biker needs to do this ride at least once, because just like how Sturgis is for Harley-Davidson owners, PBW is hallowed-ground for all bikers.
I remember some years ago, I'd already decided to ride with a group of friends to PBW, but a day before the intended departure, my (then) bike developed a hiccup, which could not be cured in time. Instead of missing the event, I actually drove to PBW alone, in a clapped-out Proton Wira sedan 1.5 auto. Well at least it made it there and back, can't say the same this time sadly…
It doesn't take much convincing for me to swing a leg over a bike and go for a ride, so needless to say I was thrilled when the invite from Petronas arrived. In an effort to promote its new Sprinta motorcycle engine oil to a more regional market, Petronas decided to launch its new Sprinta with Ultraflex at Phuket Bike Week 2018!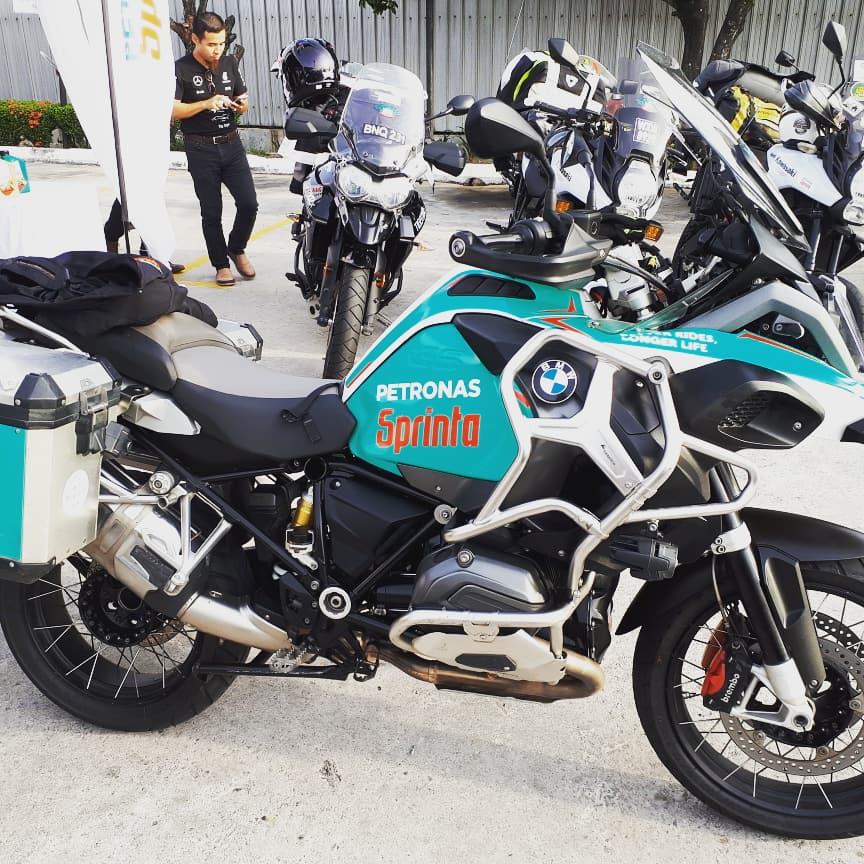 I'm going to now sum up now very quickly what happened to yours truly during this ride, because it's too painful to talk too much about it. Having flagged-off at Petronas TPM in Sg.Besi, with the first overnight stop planned for Hatyai, my Kawasaki Voyager XII (below) busted its coolant hose near Tg.Malim. Pulling into TM R&R, I assessed the damage and this time, duct-tape, cable-ties and super-glue weren't gonna fix it.
I gingerly turned back and rode at 80kmh directly to my usual bike shop, left the bike there, hopped into a Grabcar, headed home, repacked, jumped onto my Suzuki Katana 750 and headed for the border, a full 2hrs behind the convoy. Amazingly, I managed to catch-up with them at the Bukit Kayu Hitam border, and the rest of the participants who'd already heard that I'd turned back at Tg.Malim thought they were seeing a ghost. A few actually poked me to see if I was real or not…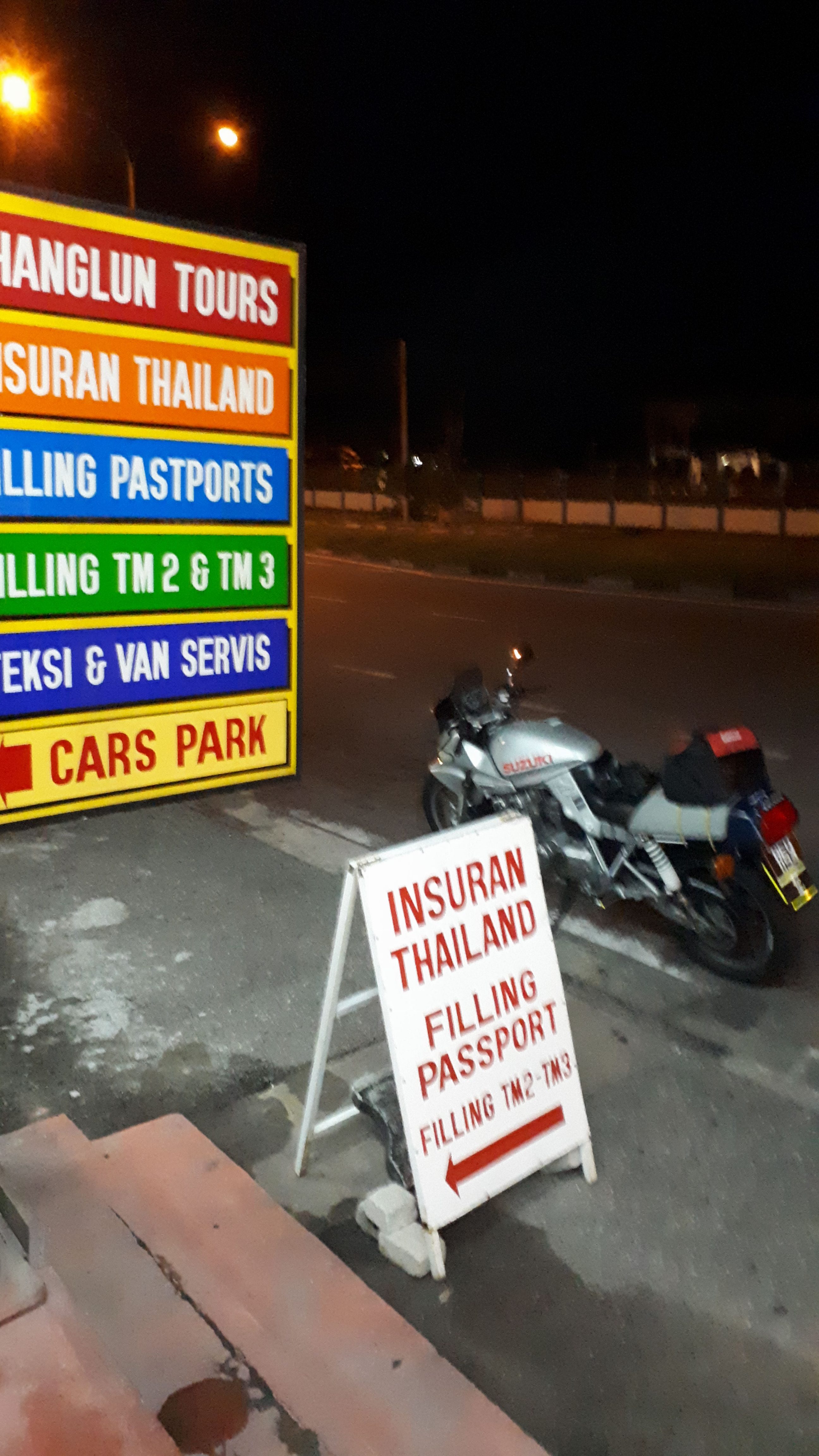 The next day my old Suzuki was going really well for a bike more than 30 years old, right up till Krabi where stopped at the traffic light, I noticed smoke coming from the engine; not a good sign. The bike had sprung an oil leak from its cylinder-head. A busted top-gasket would see a rather unceremonious end to my ride as she was loaded into one of the accompanying back-up vans, and I'd become part of the crew henceforth.
But we made it to Phuket Bike Week at the end of the day, where I was simply blown-away by what Petronas had achieved insofar as branding at the show was concerned. The entire main-stage area (above) looked like Petronas Town, and even the area just after the main entrance was set with a Petronas pavilion, replete with a mega-sized bottle of new Sprinta Ultraflex.
Let's put it this way, it was nearly impossible for anyone to take a photo without at least some Petronas branding in the background. That's how good the branding and awareness at PBW was. The actual launch coverage can be seen here.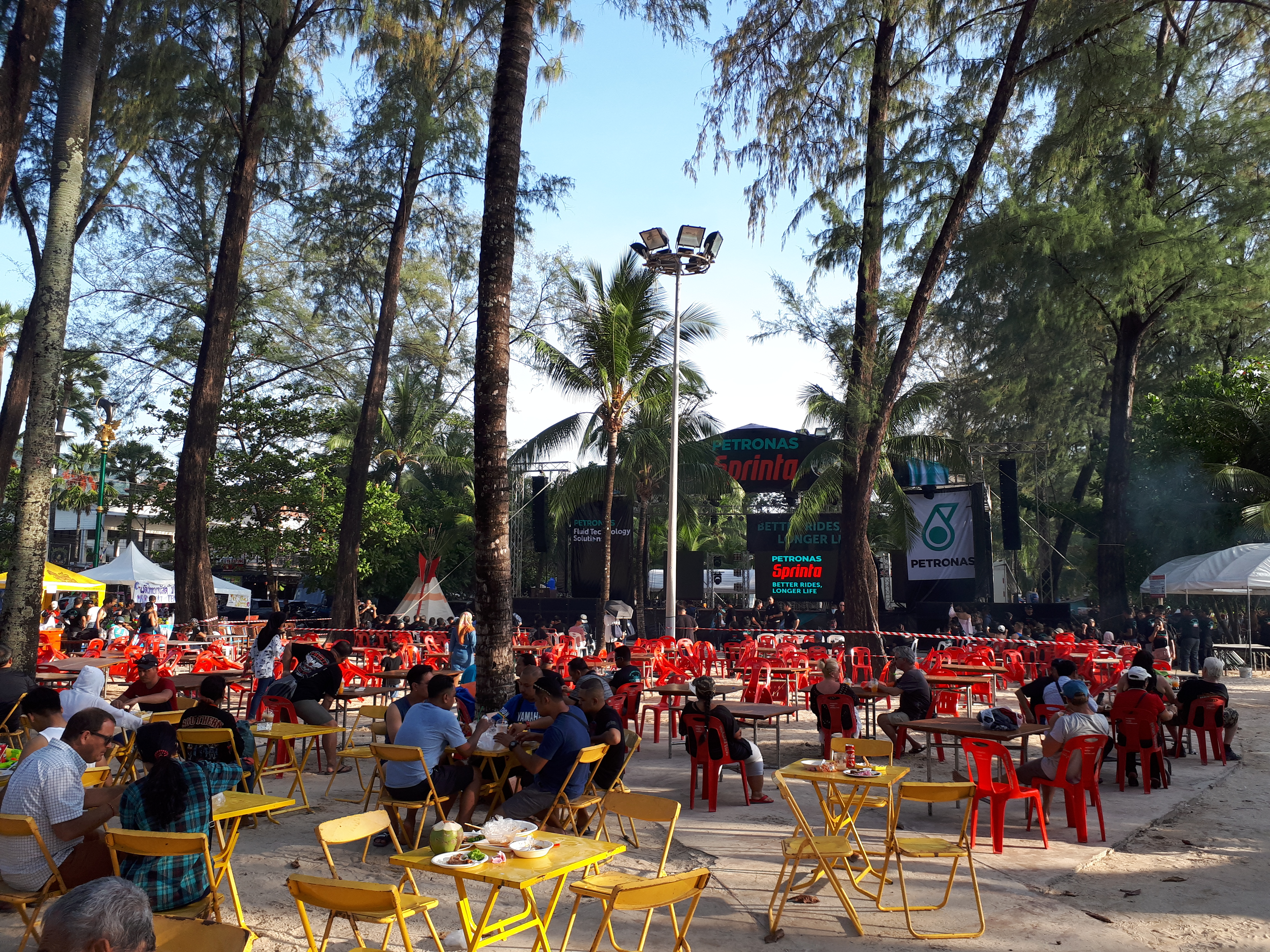 I'd rather not talk about the journey back from PBW 2018, it wasn't as pleasant an experience as riding, since I had to sit in a van the entire way back, but at least the company was good, my beloved bike was with me the whole way, we got home safe and that's what matters. So what prompts bikers to flock to PBW? I saw bikers from all walks of life there, some had even ridden kapchais from KL to PBW and back.

Well, there's no explanation for it, none whatsoever. I can't tell you why I'll likely try again in 2019, despite the distance to and fro and the inherent hazards along the way. It's something you have to experience for yourself to truly understand. The atmosphere, the camaraderie, and sights and sounds. There are many bike weeks throughout the year, but there's only one Phuket Bike Week. Once you finally ride there, you'l understand. Roll-on PBW 2019, I'll be ready. – Chris Wee.
VIDEOS…
PBW Walk-around:
Girls of PBW:
More Girls of PBW:
Petronas participants roll-out:
Songkran Festival @ PBW 2018:
Petronas @ PBW 2018 Photo Gallery…