Getting to grips with the fast and efficient Porsche Panamera S E-Hybrid
HATE it or love it, stricter emissions laws and increasing environmental awareness at giving the world cleaner and more efficient cars. Even performance carmakers are not spared from this. Nevertheless, some notable names have accepted said challenge to incorporate green and eco-friendly technologies in their creations. The result has proven to be surprising at times, such as the Porsche Panamera S E-Hybrid you see on these pages.
Prior to this plug-in Panamera, Porsche had already proven its point with its flagship 918 Spyder hybrid hypercar, and its 919 Hybrid Le Mans prototype racer. Both proved to be crucial test beds towards creating Porsche's E-Hybrid model range as much of the hybrid petrol-electric powertrain technologies in both have trickled it way down in the range. With that in mind, it becomes clear as to how special this Porsche Panamera S E-Hybrid truly is.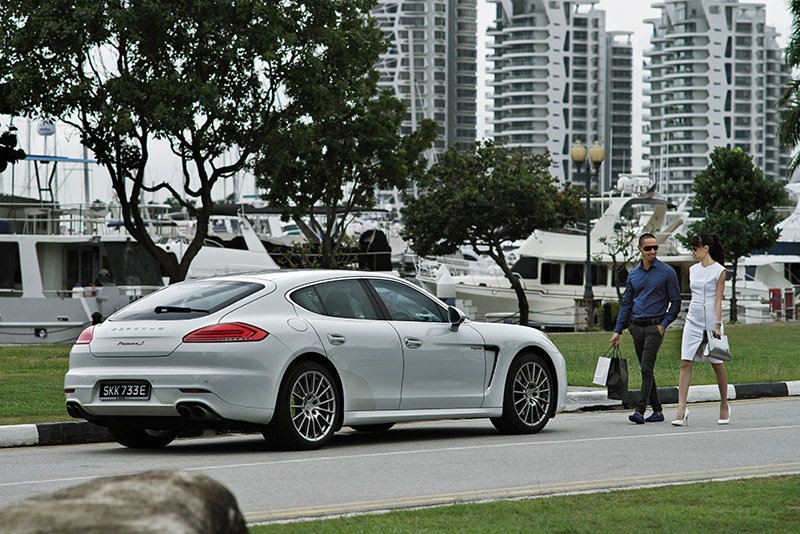 The first thing that needs understanding is the fact that the Panamera S E-Hybrid is a plug-in hybrid electric vehicle (PHEV), making it the first and only one of its kind in the grand touring sports saloon segment too. As with any of the Stuttgart-based brand's E-Hybrid model, this Panamera stands as Porsche's answer on how to perfectly merge the qualities of a luxury GT saloon with those of a green and eco-friendly eco-car.
In many ways than one, Porsche's recipe to this is both fairly simple, and very German. The Panamera S E-Hybrid is a technological tour-de-force in its own right as it is richly laden underneath with sophisticated and advanced technologies underneath, especially with its powertrain package. It is comprised firstly of a supercharged DOHC 3.0-litre V6 petrol engine mounted up front, which is then integrated with Porshce's unique E-hybrid electric propulsion system.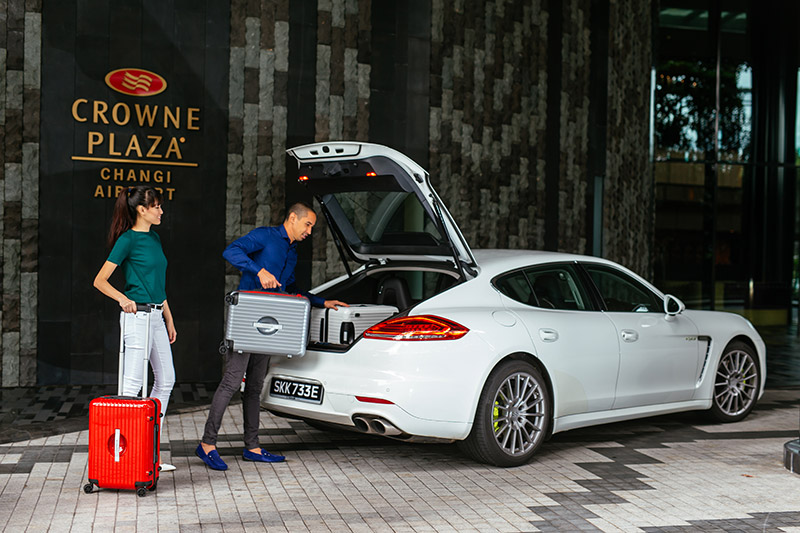 The petrol mill generates 333hp and peak torque of 440Nm on its own already. But the E-Hybrid system, primed with what Porsche dubs a 'Permanently Excited Synchronous Motor' electric motor system, a decoupling clutch unit, plus a rear-mounted set of lithium-ion batteries rated at 9.4kWh, further adds 95hp and 310Nm of torque into the mix. Combined, the system offers a total output of 416hp generated at 5,500rpm, and 590Nm of maximum torque generated between 1,250rpm and 4,000rpm.
Managing all this power is yet another signature Porsche item, that being its intelligent eight-speed Tiptronic S automatic transmission system. Though this plug-in sports GT weighs in at nearly 2.1-tonnes, the powertrain still feels effortless when it came down to propelling this Panamera up to speed, whilst the aforementioned Porsche eight-speed box adds a dash of smoothness and precision as it goes through its eight gears. What makes its case even better, is that this PHEV takes just 5.5 seconds to hit 100km/h from standstill, not forgetting its 270km/h claimed top speed as well.
The mind starts to boggle when you try to fathom those sports car performance figures with the eco-car figures that go with it, specifically the low combined fuel consumption rating of 3.1 litres/100km, and the equally low emissions rating of 71g/km. Again, much of this is made possible thanks to Porsche's brilliantly engineered E-Hybrid system's truly dynamic abilities, and the four selectable driving modes.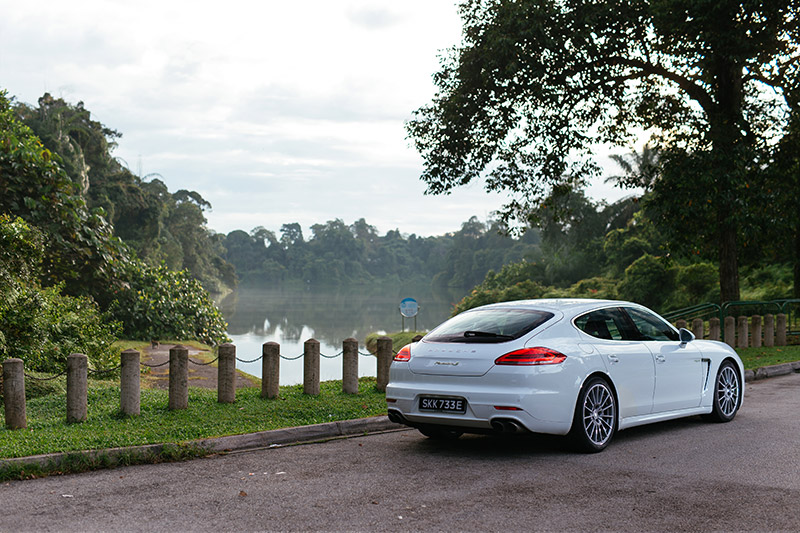 The four driving modes; 'Hybrid', 'E-Mode', 'E-Charge', and 'Sport', can be engaged and toggled via three buttons located in the Panamera's unmistakable driver-centric transmission console layout. Need more proof on how this Panamera is a plug-in? Just step inside and turn the key, and bask in the silence of the car's default 'E-Mode', automatically engaged at start-up. The Panamera uses the electric motor almost exclusively under this mode, taking full advantage of the system's silent and direct torque delivery to propel the car. In E-Mode, the petrol engine only roars to life when you apply 80% or more on the throttle pedal, encouraging a more frugal and light-footed driving style here as well.
Don't let the silence fool you, the Panamera feels surprisingly brisk when propelled under electric power, and is able to reach a top speed of 135km/h using electric power alone. The only real shame here is perhaps the somewhat limited maximum all-electric travel range of up to 22km to 26km under our blazing and humid climate. Nevertheless, the Panamera S S-Hybrid's feat as a PHEV is something to be appreciated since it is matched by no other GT sports car of similar size and price.
Next, as soon as the batteries deplete to a pre-determined level, the car's intelligent on board computer will automatically switch into its second default mode called 'Hybrid'. This mode is optimised specifically to exploit the electric drive at any given opportunity and to 'coast' when at steady speeds. The petrol mill is fired up and its power employed only when deemed necessary by the system, like climbing an uphill stretch for instance.
Besides that, the E-Hybrid system's secondary role in 'Hybrid' mode is to  work in parallel with the supercharged V6 at retaining the charge levels of the batteries. It is worth noting that the transition between the petrol and electric modes felt smooth and almost un-noticeable.
Next comes the 'E-Charge' mode, which was designed specifically to recharge the batteries on the move. The petrol engine is engaged more frequently here, at the price of fuel economy of course, and operates at slightly higher engine speeds than usual in order to both – propel this near 2.1-tonne GT saloon about and recharging the batteries simultaneously. Obtaining a full charge only takes 50km of light cruising in this mode, proving its own convenience should a fast-charging station is nowhere in sight, and you simply can't spare the precious two and a half hours to charge it using a wall socket.
No Porsche road-test is complete without us tinkering with the buttons again, this time with the 'Sport' mode enganged. As you would expect of any Porsche, Sport mode optimises the hybrid petrol-electric system, harnessing its benefits in performance here as well. This mode sharpens the petrol engine's throttle response and its soundtrack as well while the electric motor works in tandem with it, offering the necessary power assistance. In this mode, the petrol engine only deactivates when stationary and returns to life at the slightest touch of the throttle in a more immediate manner. What needs some getting used to here is the 'silent' and direct boost of torque supplied by the electric motor, especially in the low to mid rev ranges.
One of the most unique traits of this mode is its special EV meter dial in the instrument panel, with its needle indicating when electric motor boost is applied. Typically, all the information surrounding what the powertrain is doing is richly displayed via the multi-cluster driver's instrument panel, with the same data mirrored in the central touchscreen infotaiment unit as well. It all works to let this Panamera S E-Hybrid exude a high sense of purpose to its driver and passenger, reminding them yet again of being on board something both exquisite and different altogether as compared to others within the Porsche range.
Overall, we find that Panamera S E-Hybrid felt like a very refined driver's car as it lives up to the typical expectations imposes on any of Porsche's creations. Minus the E-Hybrid system's added bulk, and the car's naturally wide and long dimensions, driving this Panamera does not require much as far as handling goes, inspiring confidence for drivers.
Equally reassuring in feel here were the brakes as it offers adequate stopping power, not forgetting its unique regenerative braking abilities contributing further when time comes to replenish the battery levels. Thankfully, the pedal feel felt quite rich unlike the otherwise dull feel typical of two-step systems found in most other hybrids. Minus its long pedal travel, our complaints of the Panamera S E-Hybrid are fairly minimal.
Porsche have undoubtedly shown that a car can have both high performance and eco-friendly abilities as how this Panamera S E-Hybrid proves. Though it is not the fastest or the most nimble within the Panamera range, this S E-Hybrid variant instead offers a lot of cutting-edge technology, luxury, and unrivalled versatility over its siblings. More importantly, it is the only Panamera in the range that offers the guilt-free pleasures of eco-friendly motoring without compromising too much on performance. That alone should convince many to take a liking towards this lightning quick plug-in.
Gallery