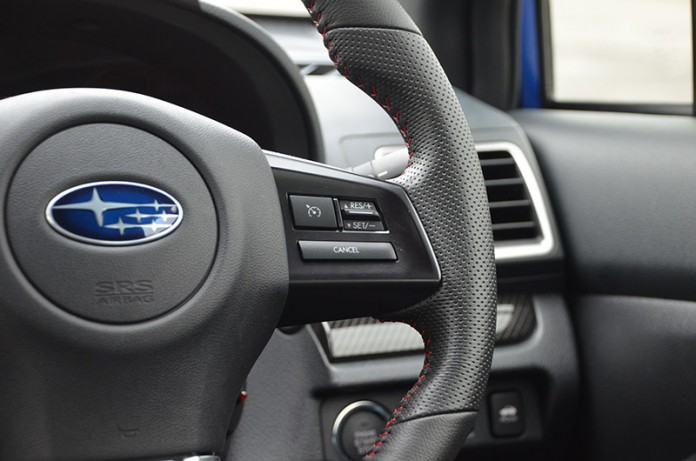 Though fast becoming the last of its kind, the Subaru WRX STI is still the coveted fire-breathing monster every driving purists wants to have.
Born in the land of the rising sun, the Subaru WRX STI has got a brilliant back-story indeed. The 'Rex, as it is fondly called amongst its legion of fans, can trace its roots back to early 1990s. Alongside its arch nemesis the Mitsubishi Lancer Evolution, it stood as one of the best street-homologated rally cars Japan had to offer.
The term 'rally car for the road' isn't exactly new, with the idea born out of the World Rally Championship (WRC) regs' back in the 1980s and 1990s requiring manufacturers to produce road-going examples of the cars it competed with. Pioneering this in the 1980s were the all-wheel-drive (AWD) and turbocharged examples such as the original Audi Quattro and Lancia Delta HF Integrale.
The rally-bred street car truly came into its prime in the 1990s after the arrival of the Ford Escost RS Cosworth, but the decade's biggest starts were undoubtedly the two Japanese names mentioned earlier, not forgetting Toyota as well with it Celica GT-Four series. Suffice to say if you were a car-loving teen in the 1990s, the Impreza WRX and its souped WRX STI variant was in your wish list of dream cars to own.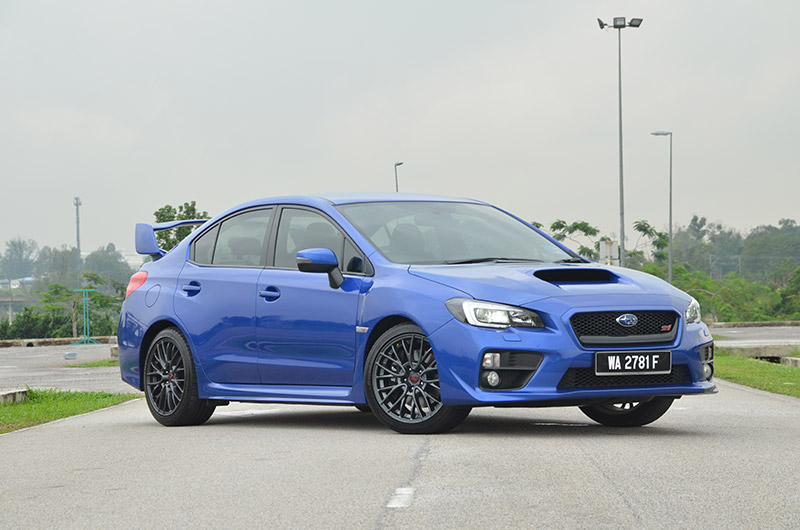 Sadly, the glory days of the road-going rally monster slowly began to dissipate after the WRC rules mandating production versions were repealed towards mid-2000s. Perhaps the final nail in the coffin for this genre came with the rising global enforcement for lowered emissions of the recent decade, forcing carmakers to scrap enthusiast performance cars from its range.
With that in mind, it is easy to see why cars such as the Subaru WRX STI is fast becoming an endangered species, with only a handful left in the hands of enthusiasts worldwide. However, when Malaysian Subaru cars distributors Motor Image Malaysia rolled out the latest iteration of the 'Rex late in 2014, it seems all is not lost yet for the mighty 'Rex and its fans, with many of which breathing a sigh of relief upon its launch.
As it is, the 'Rex STI you see here is one mean-looking monster of a car. Sure, it has several 'current' traits added to it such as the LED daytime running lights and accompanying LED foglights, not to mention a much sleeker profile it now dons as oppose to the boxier appearance of its predecessors.
Nevertheless, its aggressive stance is exuded fully thanks to the STI variant-specific traits such as the massive rear spoiler, the optional dark gun-metal alloys measuring 18-inches each, as well as those equally gargantuan Brembo rotors shod behind them at all four corners. Call it 'over the top' if you will, this is one car that can still stir trembling fear in the eyes of those who lay eyes on it for the first time.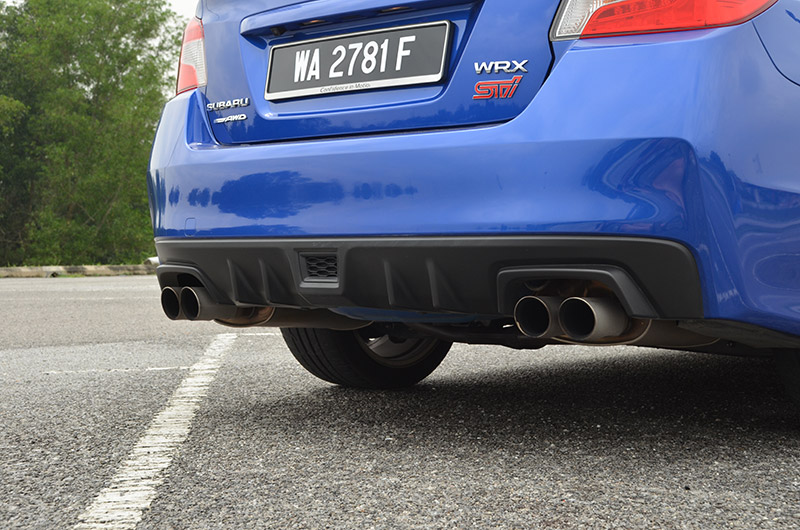 Step inside into the cockpit and the car's purposeful aggression becomes even clearer. Greeting drivers are racy things such as the six-speed short throw manual shifter, the centrally-mounted digital info screen with a multitude of data options such as the turbocharger's boost level, the snug and supportive bucket seats covered in the optional Alcantara leather trim, not forgetting the large-sized steering wheel wrapped in the same material too. All it needs here to become a full-fledged 'racer' is to have a roll-cage installed.
For many purists, the fun on board only comes when you push this fourth generation WRX STI's engine start-stop button to awaken the fire-breathing heart sitting up-front under the hood. True, the 'Rex's turbocharged 2.5-litre DOHC horizontally-opposed or 'boxer' flat four-cylinder mill is indeed an ageing one, but even in an age that favours more intelligent mills, the 'Rex's heart is still quite a menacing thing as it makes a whopping 296hp and 407Nm of torque altogether.
The mill's soundtrack may be a tad bit subdued as compared to previous iterations, but there is still that fearsome and unmistakable bass-rich note coming out of this flat-four, sounding rather fearsome even when merely idling.
Typically, this port-injected turbocharged flat-four does lack a little in the lower rev-band. But get the needle past the 4,000RPM mark and this boxer is ready to shell out a heavyweight knock-out punch to propel all four wheels via the intelligent SI-DRIVE and DCCD multi-mode AWD and differential systems.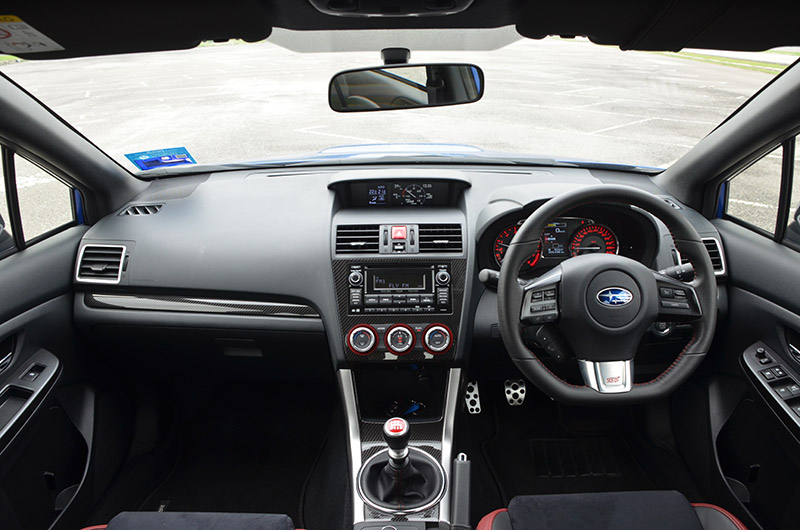 Master the heavy clutch pedal with the six-speed cog's short throws and you'd see yourself meeting Subaru's claimed 5.2-second century sprint time with ease, with the rush of things thrusting you back firmly into the bucket seats when it does so.
Of course, power is nothing without control, and this current generation 'Rex has got plenty to offer its drivers in terms of passive and active electronic aids, plus a race-bred and proven chassis. Whilst the chassis is brilliant stiff and sharp – just as how any performance car should feel – it was the electric-assisted power steering that felt pretty off in our hands as it felt strongly artificial with the unnerving tendency to lighten its weight when you dial in some lock during corner entry. Nevertheless, it was easily forgiven as soon as you grasp the fact that it made driving the 'Rex much easier when not on the limit.
Much praises need the be mentioned as just how sharp and precise the electronic wizardries felt when working with hardware such as the sports suspension, the symmetrical AWD and those sticky Dunlop sports tyres shod all-round. Tinker with the multi-mode DCCD and SI-DRIVE system properly and you might just more with the right setup is chosen. Whether it be getting off the line rapidly, or tackling a set of twisty back-road corners, this is definitely not a car for the faint-hearted or amateurs.
What is truly brilliant about this high performance potential the 'Rex holds is the fact that it is available in a decently practical four-door saloon with space to carry a few of your mates and an adequately large-sized boot to lug a sizable amount of cargo around. You simply cannot get this from an equalling European sports coupe that costs twice, sometimes three-times as much. And in case you were wondering, the 'Rex STI also comes with several other creature comforts like automatic air conditioning and a crisp-sounding audio system that sweetens this car's cause as a daily-driver even further.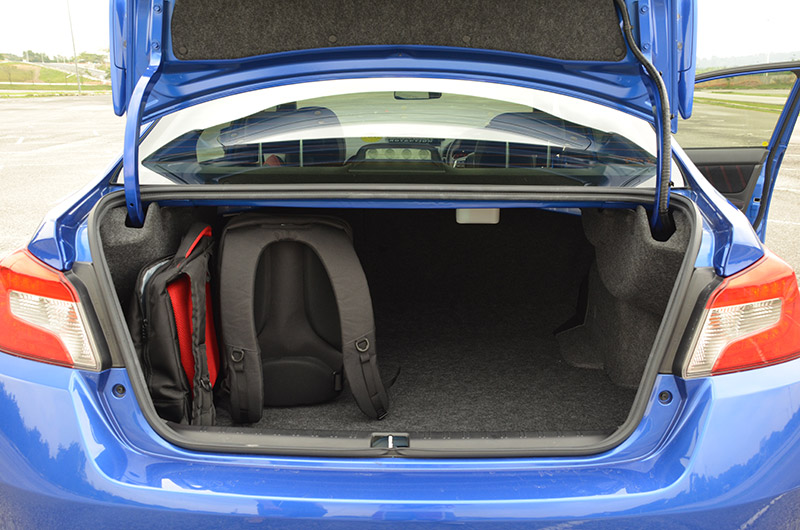 As it stands, the Subaru WRX STI could only be described with words such as 'potent', 'engaging', and perhaps 'awe-inspiring' as well. This is one for the all the driving purists out there who seek supercar-like performance without sacrificing too much on daily-driving practicality and ease. For that, it is also easy to see why such a car commands a large asking price of RM280,393.16.
Call it steep if you will, said figure is still a bargain after taking into account that a European sports coupe with similar performance levels costs way more. And perhaps this is why some have regarded the Subaru WRX STI as the ultimate hero car amongst blue-collar driving purists worldwide.
SPECIFICATIONS
Subaru WRX STI
ENGINE
2.5-litre turbocharged DOHC 16-valve
horizontally-opposed 'boxer' four-cylinder
port-injection petrol with variable valve timing
TRANSMISSION
6-speed manual (MT)
POWER
296hp @ 6,000rpm
TORQUE
407Nm @ 4,000rpm
0-100KM/H
5.2 seconds
TOP SPEED
255km/h
FUEL ECONOMY
10.4 litres/100km (claimed)
Gallery