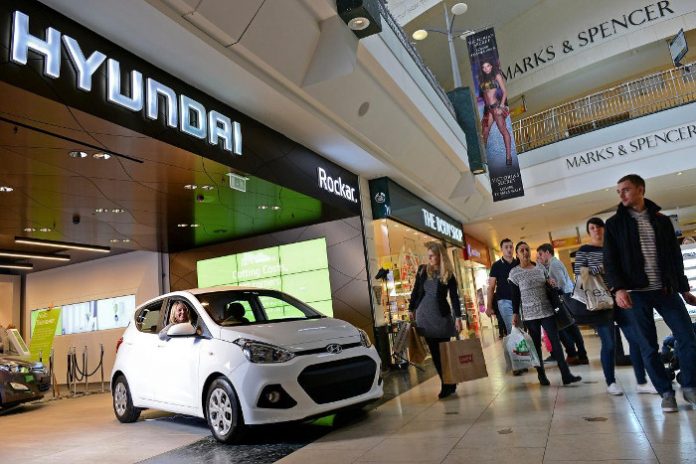 At the ongoing Seoul International Motorshow in South Korea, Hyundai revealed a slew of interesting projects that might come to frustration within the next couple of years. Part if its future mobility strategy, the automaker demonstrated a suite of connected technologies that might find its way into its actual vehicles and help to make things a little more convenient of its customers.
"Controlling vehicles via voice assistant is something that could become common-place in the not-too- distant future," said Seung-Ho Hwang, Executive Vice President and head of Auto Intelligence Division at Hyundai Motor Company. "We are working with various companies in Korea and around the world to ensure that all of our platforms are compatible and that Hyundai customers will be able to interact with the Internet of Things in ways that have never before been possible."
The company's in-house developed Connected Car Service Platform (ccSP) will allow owners of Hyundai vehicles to connect 'seamlessly' to other Internet of Things (IoT) services making their daily lives just that much more convenient. There are two systems that are at the heart of Hyundai's platform which are Home to Car and Car to Home.
Home to Car will allow drivers to interact with their vehicles with just their voice. Through voice commands, they will be able to start up their vehicle as well as close and open its doors.
Car to Home on the other hand, will allow them to operate devices at home such as lighting, climate control and audio systems, while in their vehicles and on their journey home. The Home to Car service is slated for a 2018 release while the Car to Home service will be made available the following year.
Besides this, Hyundai also revealed its Connected Car roadmap that outlines a number of objectives that will ensure smart connected technologies offer better convenience and efficiency to their customers. With Proactive Caring, this system regularly monitor's the vehicle's diagnostics and allow for the diagnosis of potential problems and even allow for remote proactive maintenance of vehicles.
Then there's Smart Convenience. A system that provides vehicles with regular updates to ensure that the software being run is of the latest version with all the proper security updates. Connected Efficiency builds upon this service by making sure connectivity-reliant systems are updated at the most convenient time such as when the vehicle is charging. It can also provide guidance, information or warnings to drivers when necessary. It will be able to check on the weather and let you know when conditions will be favorable for you to have your car washed.
Lastly, Cost Efficiency is a system that will provide cost-saving suggestions to drivers. It will analyse driving patterns and fuel economy then recommend the routes that offer the best fuel consumption or battery life. It will also help to provide a more accurate 'distance to empty' figure.
Hyundai's new systems aren't that far off and are confident that these technologies should find their way into their upcoming vehicles in the next few years.