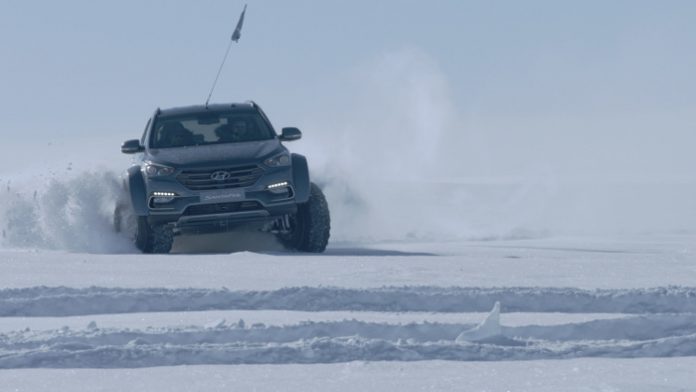 A standard Hyundai Santa Fe has made history by becoming the first passenger vehicle to travel across the continent of Antartica from Union Camp to McMurdo, then turn around and head back. The vehicle was driven by Patrick Bergel who is the grandson of polar explorer, Sir Enest Shackleton. The point of the trip was to commemorate Shackleton's heroic Trans-Antarctic expedition of 1914-1916.
The grueling expedition has been turned into a short film by the Korean automaker and will be televised for the first time at the Hospital Club in London on 25th April 2017. The modest Patrick Bergel, was reluctant to compare his trip across Antarctica to that made by his grandfather about 100 years ago. But he did mention that it was quite an accomplishment to be the first to make the trip in a wheeled vehicle.
Regarding this feat, Patrick Bergel said, "The journey was incredible and the car was a pleasure to drive. Sometimes it felt less like driving and more like sailing across the snow. It was a proper expedition with a challenge to accomplish that nobody else had done before. It was about endurance not speed – we only averaged only 27km/h.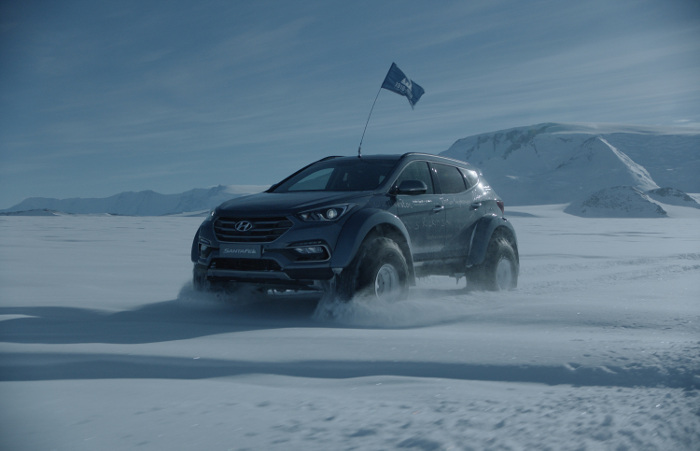 During the 30-day exhibition, the Santa Fe had to deal with almost 5,800km of icy terrain in treacherous conditions. Besides having to bear the sub-zero temperatures, the vehicle had to make it its own path by driving on the floating ice caps – something that no other wheeled vehicle has done before.
Scott Noh, Head of Overseas Marketing Group, Hyundai Motor Company said, "We were aware of Sir Ernest Shackleton's story and as a Company felt a resonance with his courage and pioneering spirit. Our film celebrates this spirit and through Patrick, his Great Grandson, completes his dream to cross Antarctica – just a hundred years later. We hope that it showcases Hyundai as brand that that is more than just a means of transportation."
Despite the unforgiving terrain, the Santa Fe that was used for the trip wasn't that far off from the 2.2-litre one you can buy from your local Hyundai dealership. The only changes that were made were the fitment of much larger tyres, increasing the fuel tank capacity and converting the vehicles to run on Jet A-1 fuel, which is the only available fuel on the continent.
In order to fit the massive tyres, the Santa Fe's body had to be raised with new sub-frames, suspension and gears which were fitted inside the wheel hubs to deal with higher forces and to allow the vehicle to turn more slowly to run at the required speeds.
Many were skeptical with the idea of the Santa Fe completing the journey then returning to the starting point, but Bergel and well prepared Santa Fe proved the them wrong and as a result have made it into the record books.