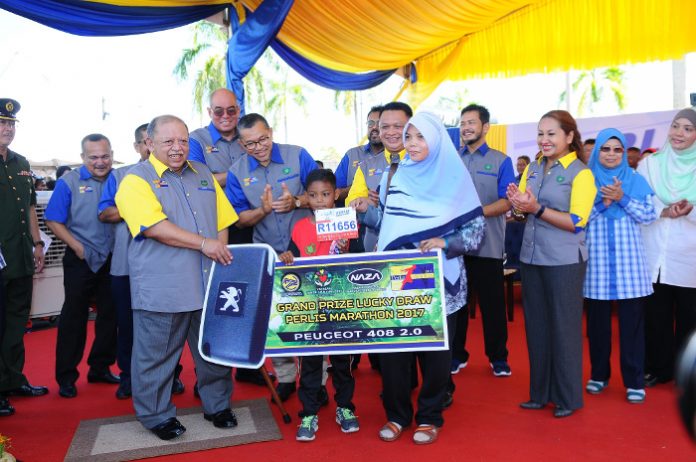 It's not everyday that you get to drive home a brand new Peugoet 408 worth nearly RM110,000. But that is exactly what happened to 9 year old Muhammad Farhan Hakimi bin Mohammad Nor who participated in the recent third Perlis Marathon.
Young Muhammad Farhan was the lucky winner of a grand lucky draw of the 2017 Perlis Marathon, which was sponsored by Naza Corporation Holdings. He is the youngest of six children and was participating in the 5km category of said marathon. His has had a love for sports from a very early age, which should help him grow into very capable athlete.
Speaking of the prize, his mother Sakinah Bt Md Isa said, We are grateful to Naza Corporation Holdings for sponsoring the Peugeot 408 as it is like a dream come true for the family. "This wonderful surprise will be kept for our own use especially for the upcoming Hari Raya celebration."
Muhammad Farhan was presented with a mock key of his Peugeot at the award ceremony from HRH Tuanku Syed Sirajuddin ibni al-Marhum Tuanku Syed Putra Jamalullail Raja Perlis together with the management of Naza Corporation Holdings.
It will be a while before the young boy will be eligible to take his Peugeot for a spin, but that won't stop him and his family from enjoying many new memories with their brand new 408 THP.