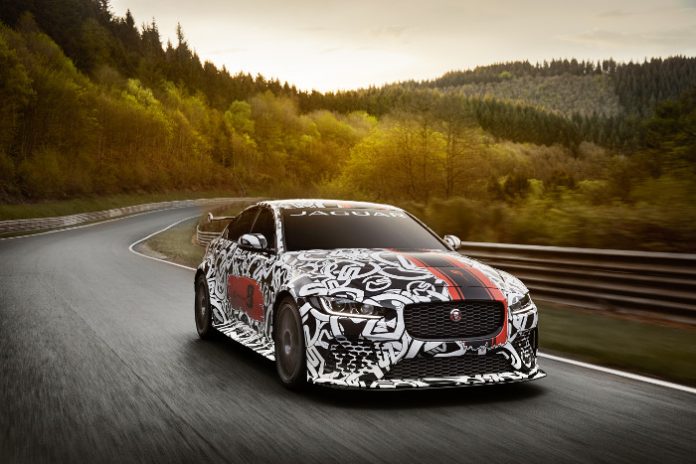 Jaguar's Special Vehicles Operations (SVO) division has announced that it is working on a special version of the XE. Named the XE SV Project 8, the vehicle is said to be a high performance and agile Jag that should give the Germans something to worry about.
Still considered a prototype, Project 8 has been sent to the Nürburgring Nordschleife to prove what it is capable of. Under the hood is a highly tuned Jaguar Land Rover 5.0-litre supercharged V8 engine that produces a colossal 600bhp. According to Jaguar, once launched, Project 8 will be the most powerful road legal car it has ever made.
Sporting a menacing bodykit, Project 8 looks more suited to enter the V8 Supercar Series than a home garage. Masked with a camouflage paint scheme, the car features flared wheel arches, sportier front and side skirts as well as a massive rear wing that should keep it planted to the road at high speeds.
Like Project 7, which was a special edition F-Type, Project 8 is also considered a valuable member of the family that Jaguar hopes will become a collector's item. Only 300 of these cars will be produced and all of them will be hand-assembled at SVO's Technical Centre in Coventry, England. Despite the limited production run, the car will be made available to order by customers all over the world.
Speaking of the car, John Edwards, Managing Director of Jaguar Land Rover Special Operations said, "The time is right for SVO to produce the most extreme performance road car in the history of Jaguar. The new XE SV Project 8 takes aerodynamics and performance engineering to another level – it is conceived for enthusiasts and the most discerning collectors. The price for such an extreme performance sports car available in strictly limited numbers will reflect that."
The British automaker hasn't divulged much regarding other aspects of the car because it only plans to do so on its website, www.jaguar.com on 28th June 2017 ahead of the car's offical debut at the Goodwood Festival of Speed two days later.