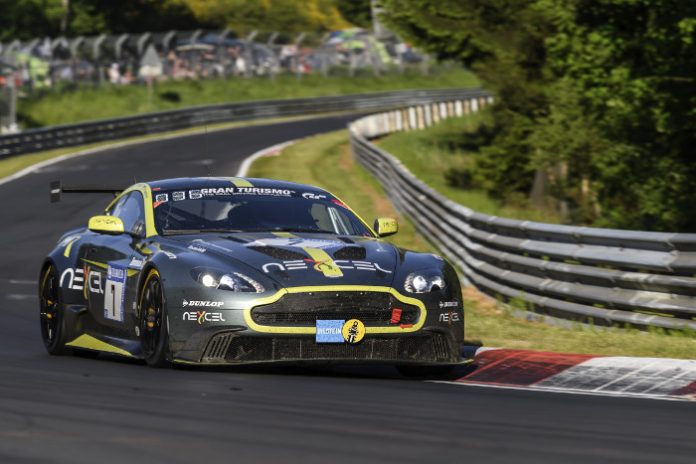 Aston Martin had an eventful weekend which finally led to it clinching the win in the 2017 ADAC Nurburgring 24 Hours SP8 category. It's GT8 race car piloted by Darren Turner survived a torrential downpour without incident to reach the finish line ahead of all its rivals. The late storm covered a third of the 20.832km circuit, making it very challenging for everyone to stay on track.
The Aston Martin Vantage GT8 led its class for much of the race thanks to its revolutionary active oil management system. The car was performing so well that for much of the night, it was able to keep up with more powerful GT3 cars in higher classes as well as run with the top 30 cars in the race.
Despite the heavy downpour, Aston Martin elected to keep Turner on track with dry weather tyres rather than risk loosing positions with a pit-stop. The team felt that it had enough of a lead to maintain its position despite the traction deficit from the tyres.
Thankfully, the tactic paid off, and Turner managed to nurse the car to the chequered flag in 21st position and 1st in its class. Turner was joined by co-drivers reigning FIA World Endurance Champion Nicki Thiim and Peter Cate on the podium for a much deserved celebration.
Speaking of the hard fought win, Turner said, "When you have heavy rain here, it might only fall on a third of the track. So you really want to wait until it looks like everything is going to get wet before changing tyres. It's great to have won here at the Nordschleife. You are constantly fighting the circuit and the elements here rather than the competition. This is a hard track, in what is effectively a production car, and to survive that is testament to the build and quality of the Vantage GT8."
The near to production Vantage GT8 shares very little with a GT3 spec race car. In fact, the car runs with a standard V8 engine, gearbox and electronics that is similar to what you would get from a conventional Vantage. This is a testament to the capabilities of the car at running with higher powered racers and still being able to keep up with them.