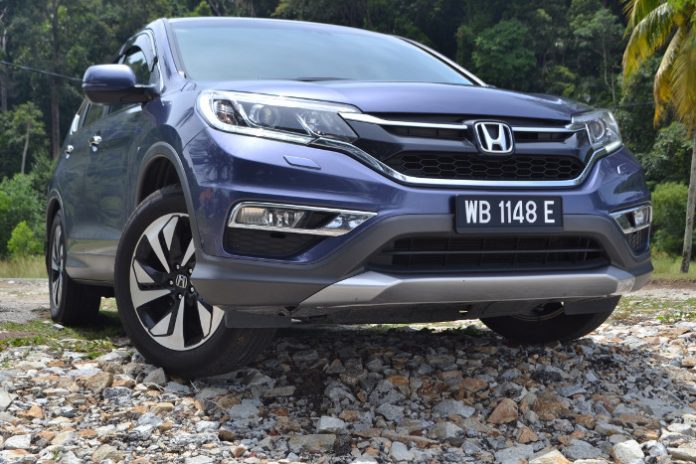 The advent of crossover SUV vehicles has led to the decline in demand for full-size off-roaders. The allure of more compact dimensions, fuel sipping engines, lower maintenance costs and cheaper price tags seem too good to pass up. Vehicles like the Honda HRV, Ford EcoSport and Mitsubishi ASX have made buyers realise that a commanding driving position, wide track, mild off road capabilities and excellent cargo carrying capacity are attributes that are no longer reserved for massive 4×4 trucks.
Crossover vehicles like these can be classified as The Jack Of All Trades. They are able to behave like a city car due to their conventional suspension setup and relatively small dimensions, but when the need arises, be able to take on tougher terrain thanks to higher ground clearances and beefy tyres. Basically, its an SUV in a hatchback-like body or Connor McGregor in a tux.
Fully loaded, these vehicles come with a plethora of safety and tech kits that rival that offered in some luxury cars. Ride quality too, seems very car-like albeit things could be a whole lot better for a lot less money. If this really is the case and that crossovers are able to offer us the best of both worlds, why do we still need SUVs? And to a much larger extent, has Honda lost its marbles to place the HRV so close to its stalwart CR-V?
All this has led some to ask, is the CR-V still relevant when the BR-V and HR-V offer similar allure but at a considerably cheaper price point? Well, I decided to find out for myself, which is why i took the best equipped CR-V that Honda makes, on a road trip to find out if it's still capable of being the staple of soccer moms and thrill-seeking dads.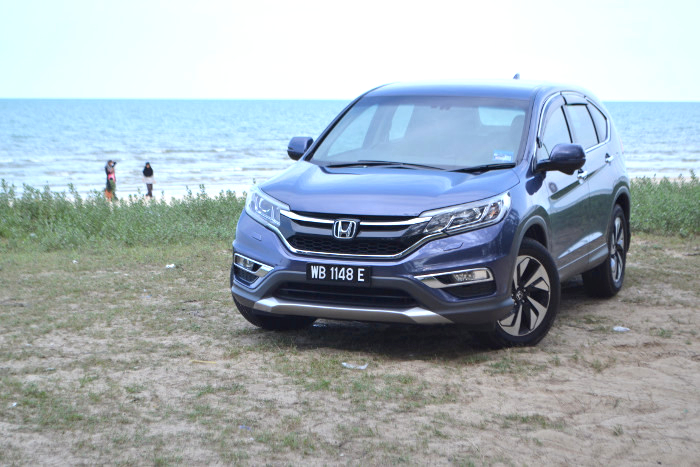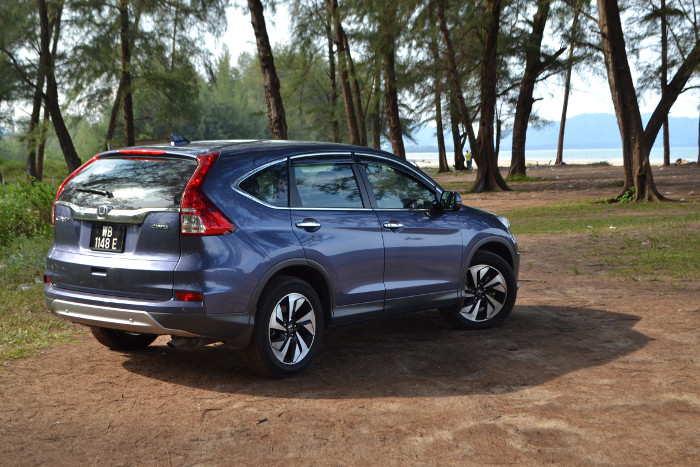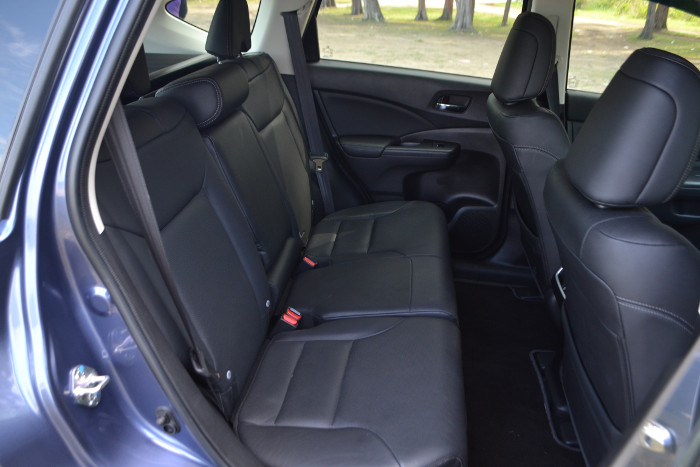 This 4th generation CR-V comes from a long line of trusted Honda workhorses hearkening back to 1997 with the introduction of the first generation CR-V to grass our shores. It's been a mainstay on our roads ever since, thanks to its ability to offer utilitarian-like versatility in a handsome body as well as with plush leather seats and infotainment amenities that millennials can't do without.
Right off the bat, you will notice that the CR-V is as docile as a Toyota Corolla. Its keyless entry system negates the need to have to pull out the remote every time you need to unlock the doors. It senses your proximity to the door, and unlocks it – it's that simple. The door handles require little effort to operate, the doors themselves weigh about the same as those on a regular car, the seats offer a snug fit and the controls are very car-like despite having a 4WD drivetrain.
There's even a little green button adorned with a leaf-like logo, that when pushed, gives the vehicle a more sedate, fuel sipping characteristics and that also acts as your eco adviser, informing you of how frugal you are while prodding the throttle pedal.
Tech wise, this CR-V is a bit long in the tooth and is due for a much needed upgrade. It falls behind in terms of usability and convenience in comparison to the more modern touchscreen setups offered by a number of competitors. But that should soon change when the new generation CR-V is launched in the coming months, but I digress.
Up till this point, there's very little that will have you believe that you are in fact, seated in a rather large vehicle that is 4,590mm long, 1,820mm wide and weighs nearly 1.6 tons. Everything seems conventional, commonplace and ordinary – it feels like a slightly wider Honda City, by comparison.
Its capacious cabin is very accommodating to taller occupants offering decent head and legroom for four adults to sit comfortably and without an incessant need to make constant positional adjustments in the name of comfort. Another plus point of having a large vehicle like the CR-V is the carnivorous luggage space that is able take in 586 litres of cargo with the back seats up, and 1146 litres with them folded down.
See, after taking all of this in, conventional wisdom will have you believe that the sheer heft of this Honda should put its handling at skittish predisposition. But it doesn't and that is what baffles most first time drivers. It is a vehicle that can be likened to a Labrador Retriever – ever willing to please its master. You need only put in a smigen of effort and it will try its best to do the rest.
The car we had, was the full spec 2.4-litre variant that had the performance gusto to match its brawny apprearence. Now, Honda does offer the CR-V with a smaller and less powerful 2.0-litre engine and 2WD setup, which should prove to be more economical in the city, but its bigger brother is the one you want. That's because its more powerful engine, fills in a lot of the glaring gaps in torque of the 2.0-litre powerplant, which robs it of quite a bit of driving enjoyment.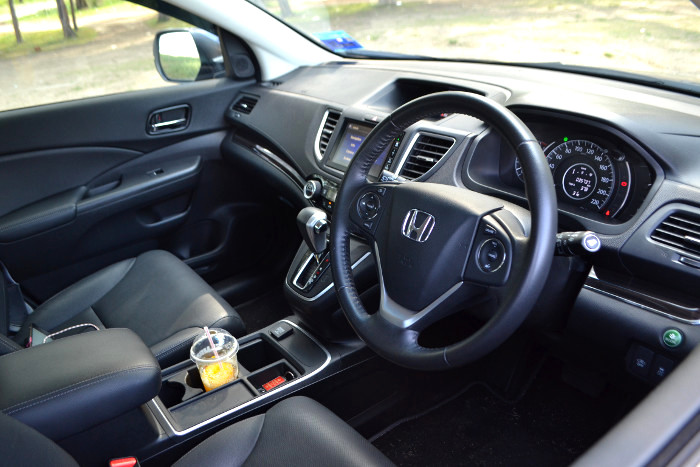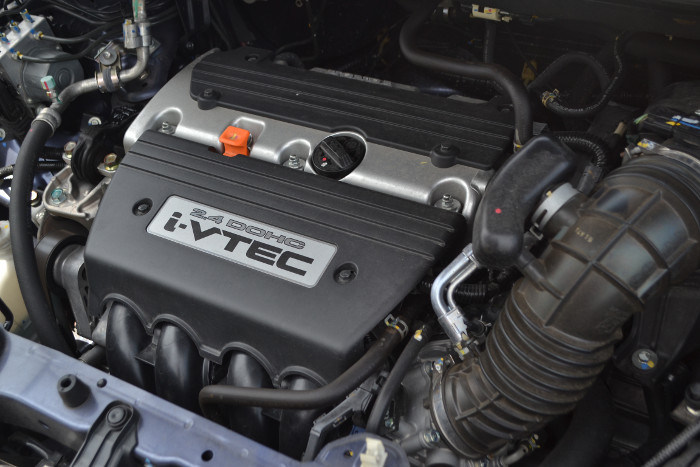 Coupled with the rather smooth shifting 5-speed automatic transmission, our CR-V makes sudden bursts of acceleration an enjoyable affair. Pulling away from traffic stops is a breeze to say the least and stopping power is just as commendable thanks to the powerful 4-wheel-disc brake setup.
These characteristics provide the vehicle with the much needed performance especially when meandering past B-roads or lugging the entire family up steep inclines. It's almost car-like in performance which relegates its dimensions to the back of your mind while you enjoy flicking it into tight turns with blatant disregard for your passengers impending digestion issues.
Reigning in such behaviour is the job of the vehicle stability assist system, which is very effective at keeping in-check the vehicle's pitch and traction – ensuring that it is kept out of harm's way.
Despite my overwhelming adoration for this particular Honda, I do have one major gripe with it. And that pertains to the suspension setup. There's the MacPherson strut setup upfront and a double wishbone arrangement at the rear – typical of a vehicle of this nature. But the ride quality that this combination offers, is one that leaves a lot to be desired.
It's pliant at city speeds and on level roads but the moment you come across noticeable undulations at higher speeds, that changes, making the ride irritatingly willowy, which lends a sense of vagueness to its perceived capabilities and its ability to do what you ask of it.
And while the steering is almost effortless to operate, its electrically assisted motorised setup robs much of the feel and confidence that a hydraulic one would offer. Had there been a little more weight to it, the steering would deliver an experience that can be considered the best of both worlds.
Apart from this, there's very little that I can fault the CR-V for, its a decent vehicle, and while there isn't much you can do to alter its 4WD power distribution, as is the case for more serious off-roaders, it's good enough – which brings me back to the point of this article.
Yes, the CR-V is every bit relevant today as it was in 1997, its a dependable all-rounder that can handle long distance road trips without breaking a sweat as well as functioning as the daily runabout of the average home maker. It's just as at home ferrying the kids to school and tackling the weekly grocery shopping to the more heavy duty offroad stuff.
This isn't something that can be said of the HR-V or BR-V though. While they can accomplish a number of daunting tasks meant for bigger vehicles, they can't accomplish it with the poise and confidence offered by the CR-V. This then, lends credence to the notion that the CR-V is the most capable of the lot, and should you find yourself wanting a vehicle that can do it all yet offer worry-free motoring – this is the vehicle for you.
Piston Review Rating: 7/10
Honda CR-V Specifications
Engine: 2.4L 4WD i-VTEC
Transmission: 5-Speed Automatic
Horsepower: 188bhp
Torque: 222Nm