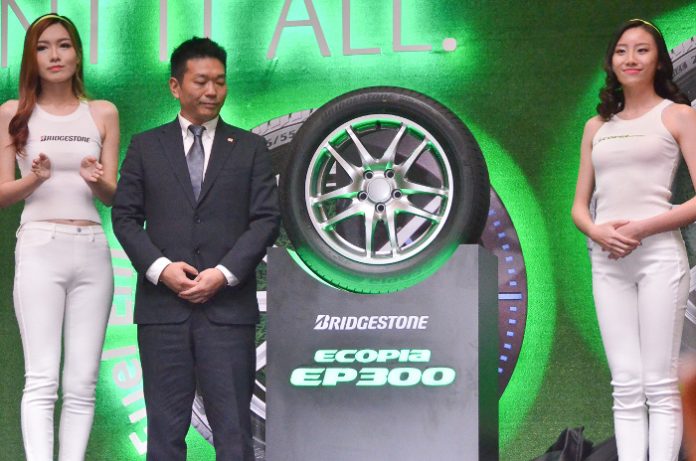 Bridgestone Malaysia has unveiled their latest Passenger Radial ECOPIA EP300 tyre. The next generation tyre promises better fuel savings, high level grip even in the wet and long lasting which also means that the ECOPIA EP300 is eco friendly as well.
With the tagline "When You Want It All", the latest generation in the ECOPIA tyre range delivers all-round performance which is perfect for consumers wanting that perfectly balanced tyre for the road.
The EP300 tyre is designed with low rolling resistance which in turn helps to improve your vehicle's fuel consumption as well. Better fuel consumption also means that it can reduce the vehicle's carbon footprint in the environment making it very eco-friendly. On average use, the EP300 promises an extra 11.2km distance travel per full tank of petrol when compared to the previous EP200.
"Most drivers desire a way to achieve better fuel efficiency that translates into fuel savings. However, despite how careful drivers can be on the accelerator, if a vehicle is not equipped with the optimum
eco-tyres, achieving good fuel efficiency and economy will be a challenge," commented Tai Kawasaki, Managing Director of Bridgestone Asia Pacific Technical Centre.
"With the new ECOPIA EP300, we aim to bring drivers the best possible return from their vehicles while allowing them to do their part for the environment, as lower rolling resistance brings reduced CO2 emissions."
Another great feature of the EP300 tyre is its enhanced NanoPro-Tech with a new polymer designed for superior grip especially in the wet weather conditions. The new tread pattern offers higher contact area for better grip together with anti-hydroplaning performance for superior level of safety. While most tyres that offer superior grip sacrifices comfort, the EP300 offers the best of both worlds by providing better handling and reduced noise.
For those looking for that long-terms savings, you can rest easy with the ECOPIA EP300 which is design features like a new tread design to improve stiffness and increase the lifespan. New highlights like deeper lug length, round rib edge and chamfering sipe all promote longer lifespan with even wear and performance throughout the tyre's lifespan.
There will be 13 different sizes available progressively in the Asia Pacific markets soon ranging from RM180 to RM450 (excluding GST). For more information, you may visit any of the authorised Bridgestone dealers near you.
Article by SEP IRRAN