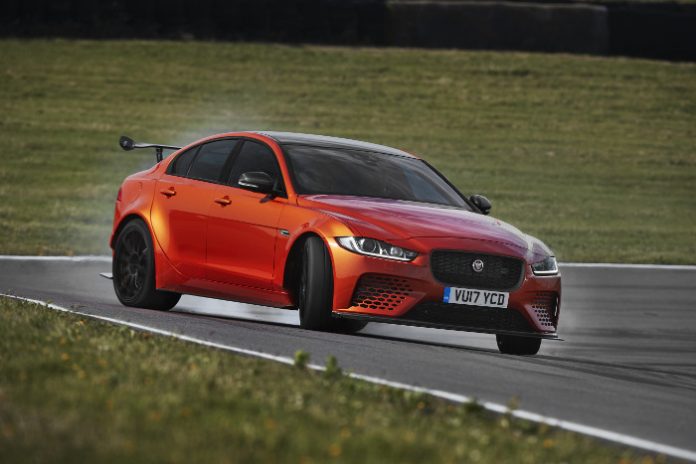 Jaguar has finally revealed extensive details regarding its outrageously powerful version of its baby sedan, the XE. Dubbed Project 8, the car is said to be the most sought after contemporary Jag after the venerable F-Type.
Basically, its a track-focused XE that features an immensely powerful engine, which is kept in check by a thoroughly engineered suspension and chassis setup aimed at increasing agility and to a broader extent, better driving dynamics. As such, Project 8 sits 15mm lower than the base car thanks to the manually adjustable suspension.
The car is fitted with a highly tuned version of the automaker's supercharged 5.0-litre V8 engine that produces close to 600bhp, a titanium variable active exhaust and an all-wheel-drive system as well as aerodynamic body work that help it stick to the road. As such, Project 8 is said to be the fastest accelerating Jaguar ever thanks to an 8-speed Quickshift transmission, a 0-100km/h time of just 3.3 seconds and a top speed of 322km/h.
When Track Mode is selected, the car's system alters the driveline and stability systems as well as sharpens throttle and steering responses for track use, which should allow for more hooliganism within the confines of a controlled environment.
Unlike the standard XE, Project 8 features extensive bodywork upgrades that include front and rear carbon fibre bumper, enhanced cooling ducts, vented carbon fibre bonnet, flared bodywork over the 20-inch forged alloy wheels, adjustable front splitter, flat underbody trim pieces, rear diffuser and a massive rear wing that can be adjusted to alter air flow.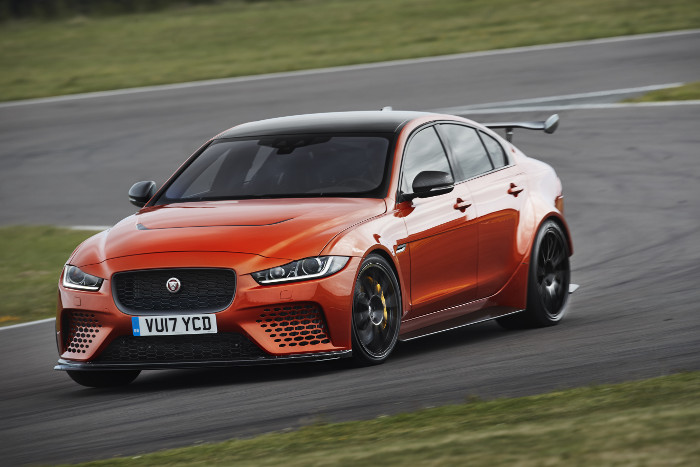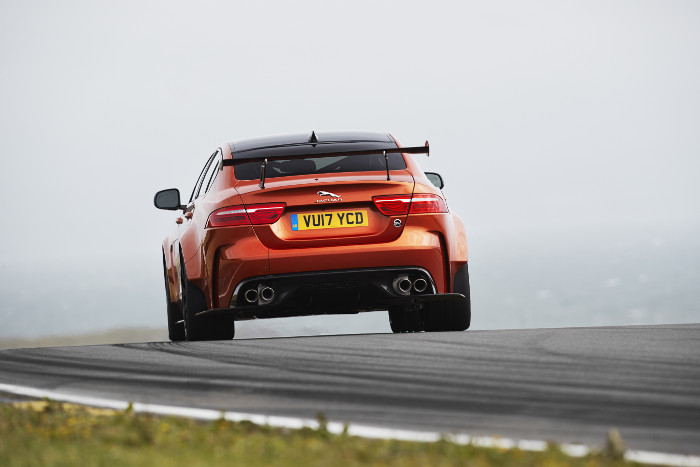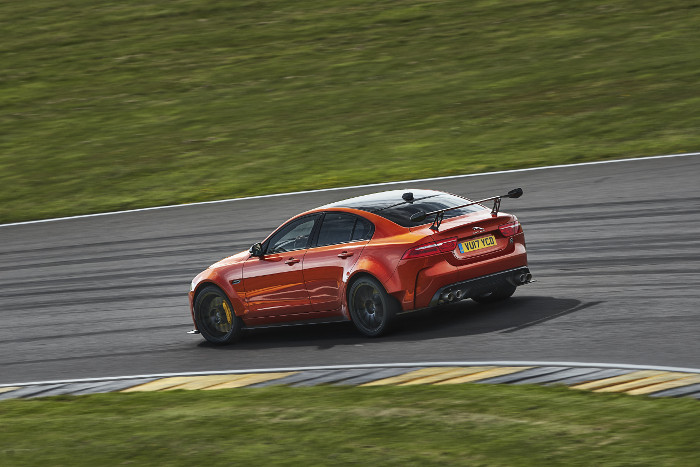 Underneath the skin are mechanicals that are more performance oriented compared to the more docile setup found on the base XE. Jag blessed the car with stiffer springs for the front and rear, manually adjustable continuously variable dampers, a new carbon ceramic braking system, Formula 1-style silicon nitride ceramic wheel bearings and a rear electronic active differential (EAD) with oil cooler.
The racecar inspired theme was incorporated in the cabin is well due to the use of carbon fibre and Alcantara for various trim panels/steering wheel. There are aluminium paddle shifters behind the steering wheel for drivers to initiate quick gear changes but this can also be done through the use of the centre mounted 'Pistolshift' lever – a first for Jaguar.
Designed by the company's Special Vehicles Operations (SVO) team, Project 8 will only be available as a left-hand-drive model and will come in eight body colours which are Fuji White, Narvik Black and Caldera Red, Valencia Orange, Velocity Blue, Meribel White, Verbier Silver and Corris Grey (satin matte).
There are also two packages to choose from, which are the standard four-seat pack and a two seat track pack. The former features front performance seats with magnesium frames, and a more heavily contoured rear squab to maximize support. The latter gets you lightweight front carbon fibre racing seats with four-point harnesses fixed to a harness retention hoop in place of the rear seat.
Further customization for a more personal touch include opting for tri-coat paint finish, tinted clear coat and race-inspired decal packs.
The Jaguar XE SV Project 8 will be one of the main featured vehicles at the on going Goodwood Festival of Speed after which, the car should be made available for purchase.