Nissan's rather bizzare zero emissions prototype, the BladeGlider will make an appearance at the on going Goodwood Festival of Speed both to showcase its driving capabilities as well as kept on display for the viewing of the general public. The car is meant to showcase what future performance cars might adopt in the not so distant future.
Speaking of the vehicle's appearnce at Goodwood, Ponz Pandikuthira, vice president Product Planning, Nissan Europe, said, "The BladeGlider has been developed to bring fun, torque, efficiency and high-performance styling to the fore. Goodwood has been a world-famous showcase for many an iconic sports car over the years, so we could think of no better place to bring the BladeGlider out to play, demonstrating the Nissan Intelligent Mobility vision in action."
First introduced at the Tokyo Auto Show in 2013, the Nissan BladeGlider is said to combine an all-electric powertrain with an efficiently designed body to offer copious amounts of driving pleasure while being as environmentally friendly as possible.
Unlike most cars, the BladeGlider features a narrowed design (three seat configuration) with the front end width being much shorter than that of the rear. Nissan purposefully designed it this way to offer optimum aerodynamic efficiency and handling stability. Despite what the automaker might say, the rear-hinged dihedral doors, though impressive, exists solely for vanity purposes.
Since it doesn't have a roof, the BladeGlider's body is reinforced with an integrated roll-over protection structure, that will help protect its occupants in the event of a roll over during a crash.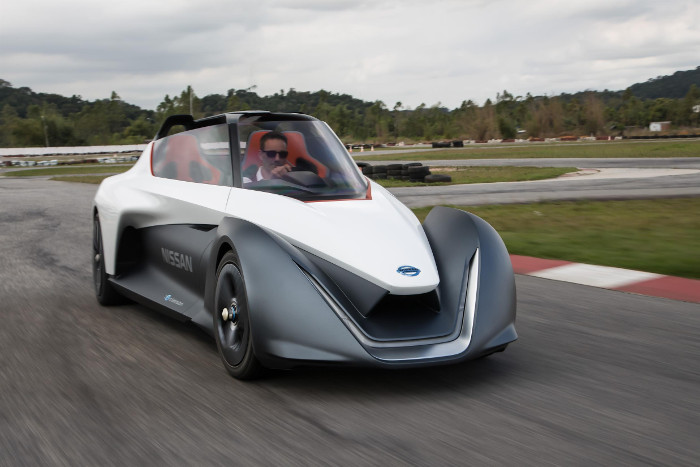 Most of the controls and switchgear as well as the digital meters are mounted on the steering wheel, which ensure that the driver's hands are always kept on the steering wheel. Information that is displayed on it include speed, state of battery charge, regeneration mode and torque map. There are two centrally mounted screens that take the place of conventional side mirrors, with the images being fed to them by rear-view cameras mounted just behind the front wheels.