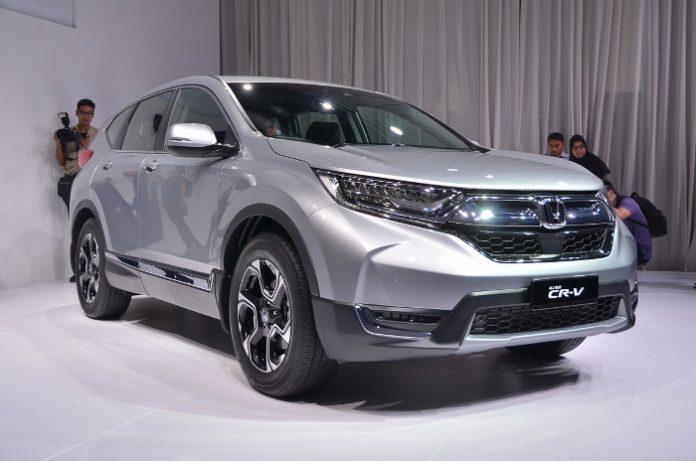 Honda Malaysia has launched their latest addition to their ever-growing fleet of premium vehicles in the Malaysian market but instead of just any model with a few updates, they've raised the bar to greater heights with the 2017 Honda CR-V. The fifth generation CR-V has been completely reengineered from the ground up to give the best driving experience coupled with the most state-of-the-art vehicle technology.
Following the recent launch of the all-new Honda Jazz Sport Hybrid i-DCD and the Civic 1.5-litre turbocharged VTEC, the new CR-V has the best of both worlds when it comes to power as well as futuristic vehicle capabilities.
According to Honda Malaysia Managing Director and Chief Executive Officer, Mr Katsuto Hayashi, he said "To set a higher benchmark in the segment and exceed customers' expectations, Honda Malaysia has shifted to focus more on Advanced Technology starting with the introduction of the 1.5L VTEC Turbocharged Civic and New Jazz Sport Hybrid i-DCD"
"We are very excited to show you the 5th Generation All-New CR-V that is equipped with three key Advanced Technologies, the '1.5L VTEC Turbocharged Engine', 'Honda SENSING' and advanced features such as 'Programmable Power Tailgate'".
"We believe this focus transition will lead us to make 'Tomorrow's Dream, Today's Reality'. We are also proud to note that Malaysia is the first country in ASEAN that is introducing Honda SENSING, the Next Generation Advanced Safety Technology in the All-New CR-V."
With a rapid decline on of the CR-V segment here in Malaysia from 2013 until early 2017, the new CR-V is said to be Honda's ultimate game-changer to take over the market share in the vehicle class. The ever growing demand of SUVs in the market that's able to provide high levels of safety to the occupants, impressive fuel efficiency and pure driving enjoyment, the new CR-V offers all of these plus much, much more.
In terms of design, the exterior of the new CR-V showcases Honda's fundamental ideas on modern functional dynamic facade combined with their signature specifications like the Daytime Running Lights and turn signals which you will notice in the car's front advanced full LED headlights as well as the rear lights. This gives the latest generation CR-V a much bolder and tougher appearance without being too aggressive or tacky.
The interior has gone through a major makeover according to Honda's "Man Maximum, Machine Minimum' design principle. The sporty yet spacious interior allows for greater driving experience as well as a heighten sense of comfort for all occupants especially for those seated in the rear seats where the new CR-V now offers an extra 90mm of luxurious legroom.
A more dynamic and modern styling design concept has been embedded into essence of the CR-V where all the high-tech goods are available for everyone to enjoy. Features like the 7-inch Advanced Display Audio that is compatible to both Android and Apple compatible with seamless smart connectivity and entertainment.
For all-round creature comforts, the CR-V comes with Dual-Zone Air-Conditioning to ensure all occupants are comfortable according to each individual's preferences. Seeing how there would usually be more than one occupant apart from the driver, rear USB ports have been installed to allow easy charging of any of your mobile devices. There are also the comfortable combi leather seats with an eight-way power seat for the driver and a four-way for the front passenger for maximum posture position with a lot of comfort thrown into the package.
Going to the back, the new Programmable Power Tailgate (available on the 1.5TC-P 2WD variant only) gives a boost of convenience to future CR-V owners where they can easily control and adjust the opening height with a simple push of a button. This is the first time Honda is offering such a feature in the vehicle line up and best of all, it comes with a 'Stop and Hold Programmable Height' function without giving any hassle to the users.
Do also take note on the boot space where when the second row seats are folded flat, you'll get a whopping 1,084 litres of storage space. The new CR-V is able to provide such space as there's now an extra 250mm of space compared to the previous generation.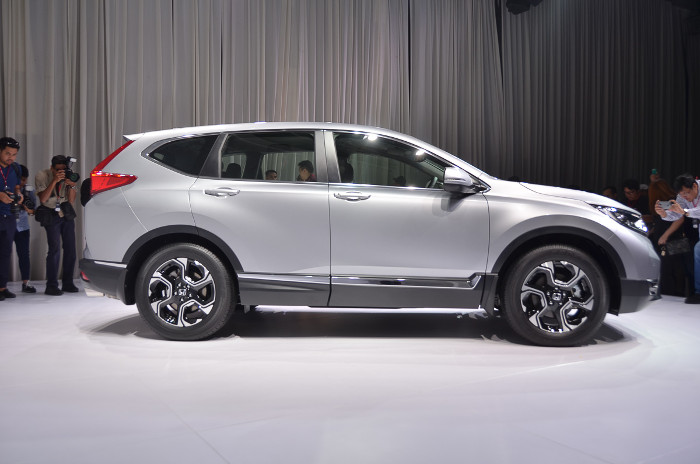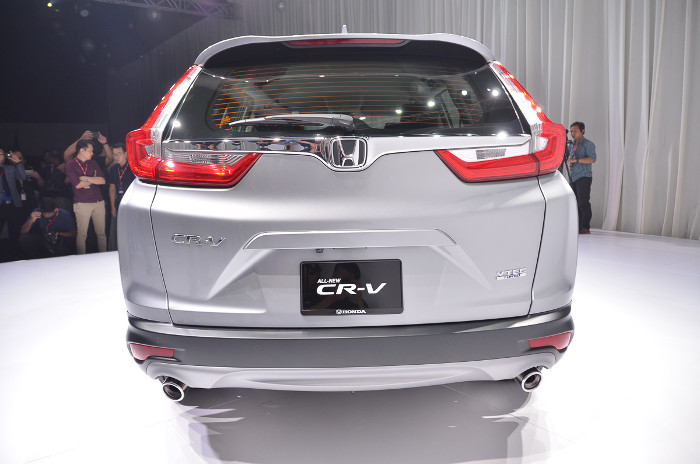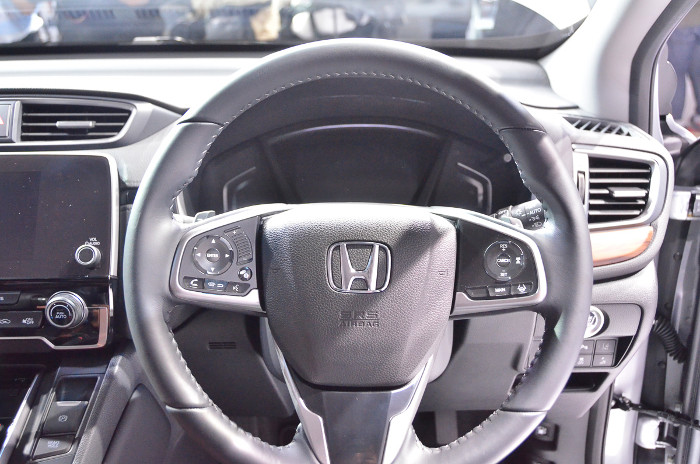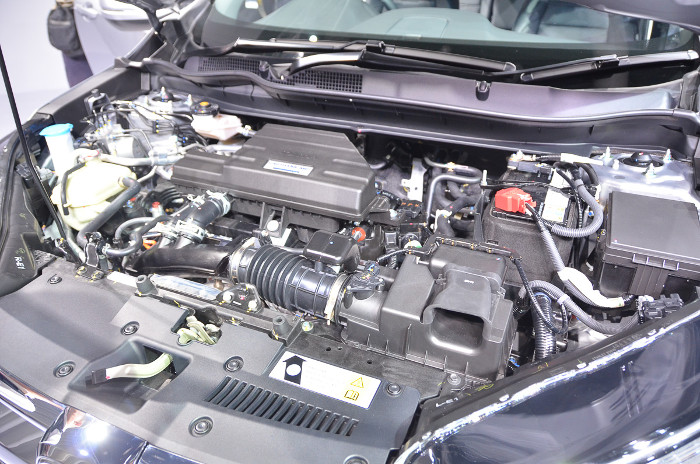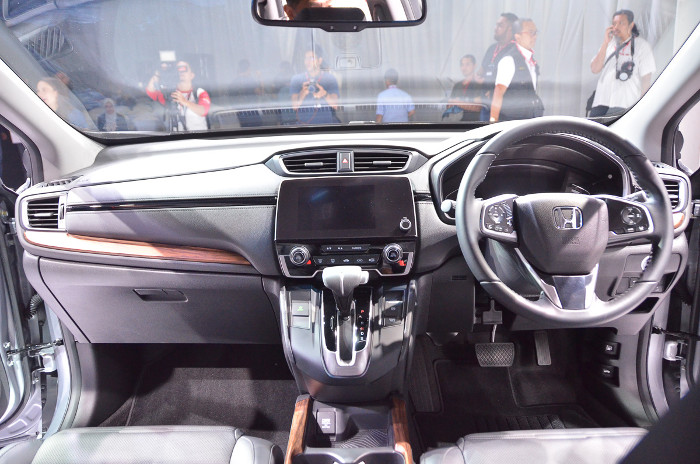 Take a peek under that front bonnet and you'll get a very pleasant surprise. In total, there are a four different variants available ranging from the lowest 2.0-litre 2WD up to the awesome 1.5-litre turbocharged Premium 2WD. The two variants sitting right in the middle are the 1.5-litre turbocharged 2WD and 1.5-litre turbocharged 4WD.
All the engines have been developed under Honda's Earth Dream Technology and with the first ever CR-V to be paired with the latest 1.5-litre turbocharged VTEC engine, it can produce a whopping 190hp at 6,500rpm and 243Nm of torque at 4,300rpm. Even the 2.0-litre is able to churn out 151hp and 189Nm of torque.
Earlier in the article, we also mentioned that the new CR-V comes with Honda's SENSING™ which is Honda's latest driving technology that's probably be the ultimate driving aid system ever to be put in any production vehicle. The Honda SENSING™ comes with a few specifications such as Driving Cruising Aid (Adaptive Cruise Control and Low-Speed Follow), Frontal Collision Deterrence (Forward Collision Warning and Collision Mitigation Braking System) and Side Collision Deterrence (Lane Departure Warning, Road Departure Mitigation and Lane Keep Assist System).
In the name of safety, the all-new CR-V also comes with six airbags, Vehicle Stability Assist, Agile Handling Assist, Hill Start Assist, Emergency Stop Signal, Electronic Brake Distribution, Anti-Lock Braking System and a Multi-Angle Rearview Camera available in the top variant.
The all new CR-V is priced from RM142,400 to RM167,700 (basic prices with GST) and is available in five different colours; Lunar Silver Metallic, Modern Steel Metallic, White Orchid Pearl, Obsidian Blue Pearl and the brand new Dark Olive Metallic.
To add more functionality to the CR-V, future owners can opt for a number of different accessory packages that ranges from RM1,900 to RM5,900. All new Honda CR-V comes with a five-year warranty with unlimited mileage.
Together with the launch of the brand new CR-V, Honda Malaysia also introduced their brand new line-up of merchandise centred on the "Challenging Spirit" value as their design core of inspiration. The new merchandise line-up includes t-shirts, polo shirts, sweaters, backpacks, water bottles and many more. The entire collection will be available at all 91 showrooms at the end of August 2017.
Sepp Iran