Jaguar's new young gun can't seem to stay out of the news these days. This time, the E-Pace has entered the Guinness Book of World Records for its loop-the-loop attempt. It's basically a 50-foot long jump complete with a 270-degree corksrew-like 'barrel roll'.
Speaking of the E-PACE, Ian Callum, Director of Design, Jaguar, said, "Established Jaguar design principles ensure the E-PACE is immediately recognizable as the sports car of its class. Our new compact SUV combines the interior space, connectivity and security that families expect with the kind of proportions, purity of design and performance not usually associated with such a practical vehicle."
Despite what many might think, the feat, before it was attempted, took months of planning, testing and analysing of data, fine tuning the stunt as well as modeling the ramps and various other elements. The stunt driver who piloted the E-PACE to the successful jump, Terry Grant, experienced a G-Force of 5.5 during the 270 degree twist, which required careful calculation of speed and height for the stunt to be successful.
Guinness World Record adjudicator Pravin Patel said, "This amazing feat really was a sight to behold. While I've seen the barrel roll stunt in film, witnessing this incredible feat in real life was something pretty special. Congratulations to Terry and Jaguar for setting another epic Guinness World Record title."
This stunt was the final test of agility for the vehicle after after a grueling 25 months of R&D that assessed the readiness of the E-PACE, which is Jaguar's answer to Land Rover, BMW and Mercedes-Benz.
The Jaguar E-PACE is a five-seat, compact SUV that has been designed to incorporate the automaker's current design language. The signature oval shaped grille, elongated headlights, fluidic silhouette are accounted for including contours that exude a sense of elegance that isn't very common with SUVs.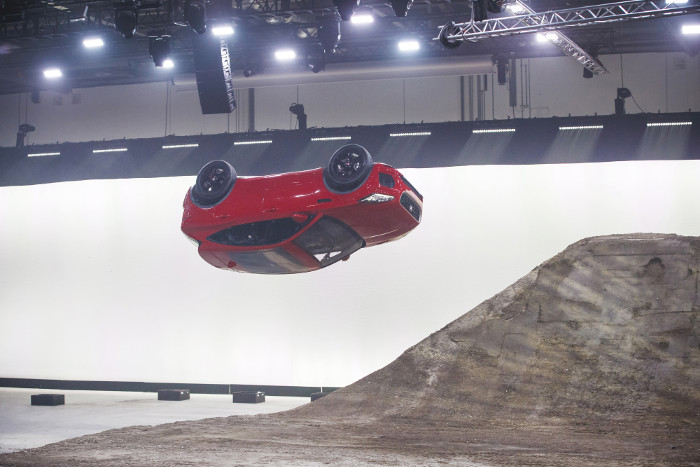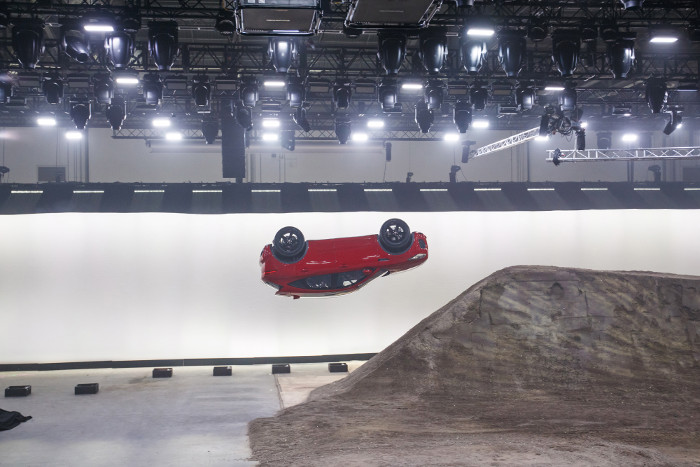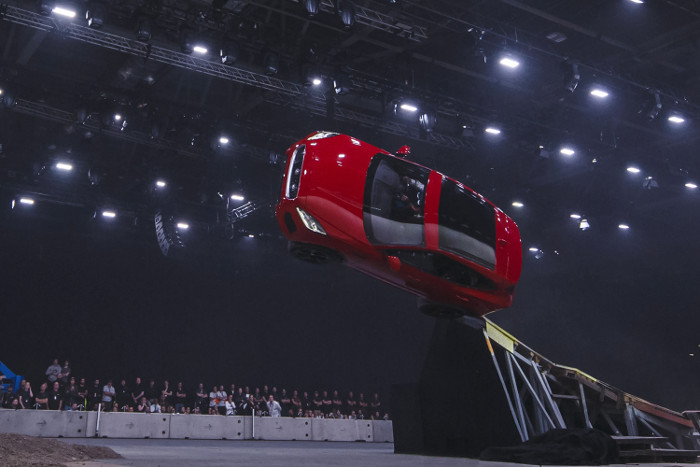 There are two available options for engines, both of which are 2.0-litre turbocharged petrol ones. The top end powerplant produces 296bhp that allows the E-PACE to sprint from 0-100km/h in 6.4 seconds on on to a stop speed of 243km/h.
The E-PACE comes equipped with a plethora of systems that include the all-wheel-drive system that has a torque bias enabling it to behave like a rear-wheel-drive vehicle. There's also a fair bit of safety kit that include Autonomous Emergency Braking system, which supports Lane Keep Assist and Traffic Sign Recognition, as well as the Intelligent Speed Limiter and Driver Condition Monitor systems and blind spot detection system.
One of the most notable features is the company's Head-Up Display tech that shows 66 percent more information on the windshield than contemporary systems. It uses a large, full-colour graphics with enhanced clarity. Info that that pops up here are the essentials including vehicle speed and navigation directions in full view at all times, with alerts and updates for the infotainment and convenience features.
The Jaguar E-PACE will be manufactured in Europe and Asia to cope with demand. It will also be the first vehicle from the company that will be manufactured under contract with Magna Steyr. No word yet on when we will see this particular Jag on our shores, but we will let you know more as we find out.