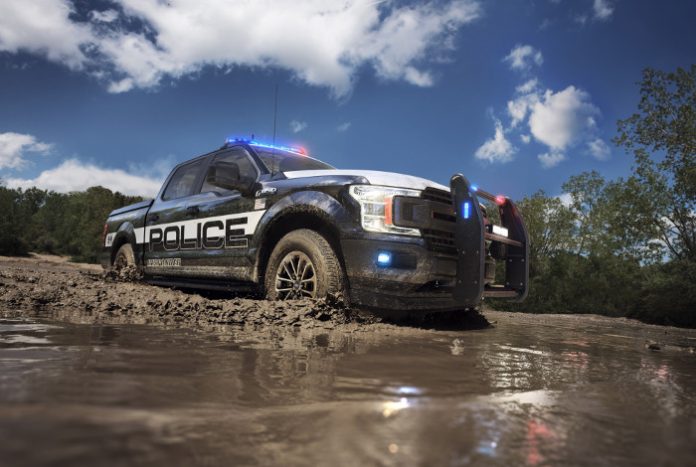 Ford's venerable F-150 may be joining the elite line up of Police interceptors with this latest reveal. The legendary pick-up truck has been outfitted with the latest tech and protective features that will enable it to function as a pursuit vehicle for various police departments in the United States.
It will be the first pick-up that is pursuit-rated which giving law enforcement agencies a more versatile and capable petrol vehicle. Unlike the Raptor, it is equipped with a 3.5-litre V6 EcoBoost engine that delivers 375bhp and 637Nm of torque. It is said to have more power than any other pursuit rated police vehicle currently in service.
The truck is based on the F-150 FX4 off-road model and features Ford's high-strength, military-grade, aluminium-alloy SuperCrew body. It sits on a a high-strength steel frame, which together offer up the largest passenger volume, payload and towing capacity of any pursuit-rated police vehicle. The Ford also provides best-in-class front, rear shoulder, hip room and rear legroom.
"Ford's 2018 F-150 Police Responder is the perfect all-terrain law enforcement vehicle," said Stephen Tyler, Ford's police brand marketing manager. "Aside from its industry-first on-road pursuit capability, this purpose-built pickup can comfortably seat five, while providing capability in off-road patrol situations for officers in rural environments patrolled by sheriff's departments, border patrol operations and the Department of Natural Resources."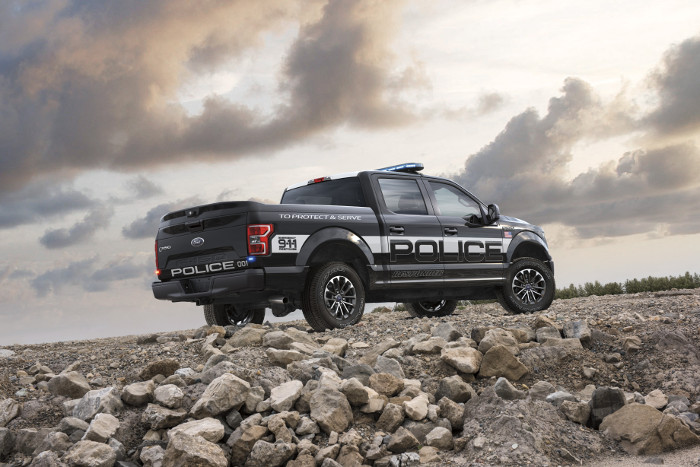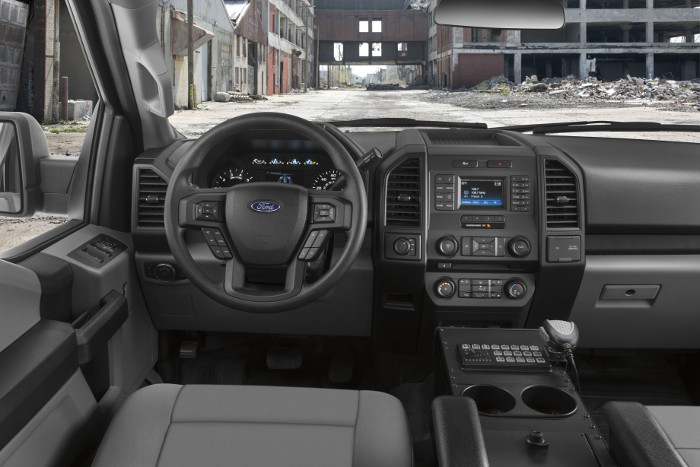 Unlike the road-going civilian version, this Police interceptor features a whole slew of upgrades that include police-calibrated brake system with upgraded calipers and pad friction material, upgraded front-stabilizer bar for improved braking and handling and 18-inch alloy wheels with all-terrain tires.
Inside the cabin, there's a column shifter, heavy-duty cloth front seats with slim bolsters and anti-stab plates as well as vinyl rear seating and heavy-duty vinyl flooring for easy cleanup. There's also a 240-amp alternator that helps generate enough electricity to support on-board electrical devices used by various police departments including laptops and radios.
Under body skit plates and front bull-bars are installed to ensure maximum protection of the truck when going through rough terrain. Ford has also fitted a class IV hitch, giving the truck towing capabilities, which is said to be best in class with a maximum payload of 3175kg.
The F-150 Interceptor is an amazing truck but we shall have to wait and see if Police departments around the US welcome it as a useful addition to their current fleet of interceptors vehicles.