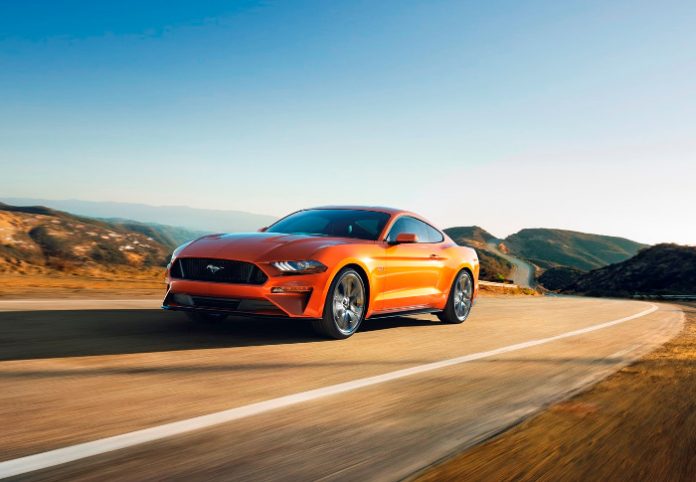 Ford has tweaked the Mustang for 2018 and added a 10-speed SelectShift transmission. The Blue Oval boasts that the car is now able to accelerate faster from 0-100km/h than a Porsche 911. The reason for this is, both the V8 and V6 engines have been redesigned or retuned to offer better performance characteristics.
The top of the range 5.0-litre Coyote V8 engine has been redesigned and as such power has increased to 460bhp and 569Nm of torque. And thanks in part to the quick and efficient shifting of the new 10-speed automatic gearbox, the 2018 Mustang is able to accelerate from 0-100km/h in under 4 seconds.
There are five driver modes to choose from that alter the vehicle's power settings, but the most notable of the lot is Drag Strip mode. When enabled, it is designed to provide maximum acceleration and performance for straight-line acceleration.
It is primarily controlled by the transmission and delivers a significant acceleration boost, eliminating the lost time usually associated with automatic shifting. This should come in handy at the drag strip, where a tenth of a second can mean the difference between winning and loosing.
Mustangs equipped with the EcoBoost engine will see noticeable increase in power too, because the powerplant has been retuned to offer 310-bhp and 475Nm of torque, which is about 41Nm more than before.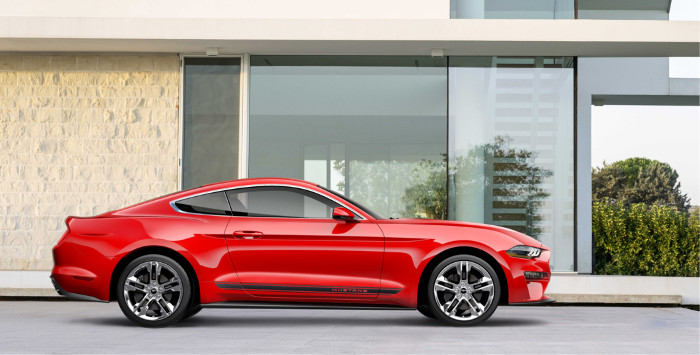 This Mustang when configured with the Performance Package and a 10-speed automatic transmission, may not be as fast as the V8 one, but it's still respectable. In Drag Strip mode, it can sprint from 0-100km/h in under five seconds, which is still a commendable achievement.
A 10-speed gearbox may seem like overkill, but the wide-ratio span and optimised gear spacing helps deliver higher average power for acceleration – resulting in improved responsiveness and performance.
The construction of this new transmission is based on the Ford-patented power-flow and Ford-patented direct-acting hydraulic controls. And as such, it is built to offer optimum ratio progression and efficiency and provides more accurate as well as quicker upshift and downshift capabilities.
Building upon that, it also features an all-new electronic control system that features real-time adaptive shift-scheduling algorithms. This means that the gearbox will ensure that it's able to swap cogs efficiently and at the right time resulting in perfect shift times regardless of the environment.
Ford is also equipping the new Mustang with specially designed Michelin Pilot Sport 4 S tyres as part of the Performance Package. This kind of rubber offers exceptional levels of grip especially when on a race track or in the Mustang's case, the drag strip.
There's no word yet on whether this new pony car will be offered here in Malaysia. But, since the current Mustang is already available in our market, there is a good possibility that the new car should make it to our shores soon.