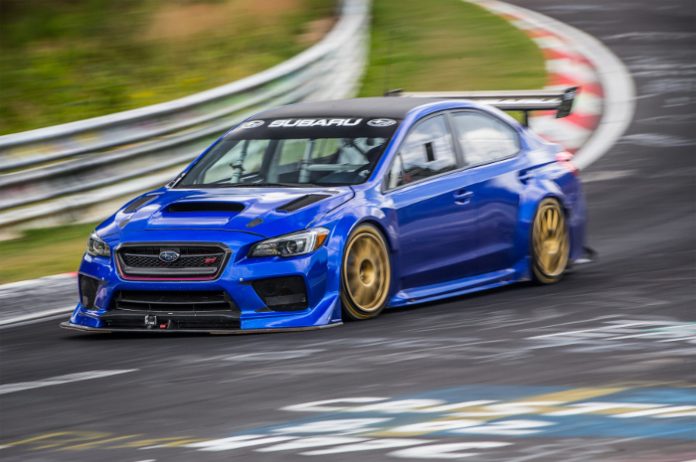 The Subaru WRX STI RA NBR Special has broken the lap record at the Nurburgring Nordschleife for a four door sedan, but for this particular occasion, the time was recorded using Nurburgring timing equipment and was officially verified by track officials.
At the finish line, it clocked a time of 6 minutes and 57.5 seconds, which is quite impressive to say the least. The Prodrive prepared rally-spec car has been breaking lap records in several places prior to this achievement. But this latest feat, cements the idea that Subaru all-wheel-drive cars are capable of going toe to toe with much more powerful sports cars.
Subaru built this car to showcase its AWD WRX STI's capabilities when it comes to acceleration and meandering past really tight corners. It's basically a modified version of the standard car built by Prodrive and features a full roll cage welded in place to add strength and stiffness to the entire body.
It has got a redesigned aero-package, which is different from that fitted to the car that blitzed the Isle of Man TT record. And part of this package is a drag reduction system for the rear wing similar to what is used with Formula One cars.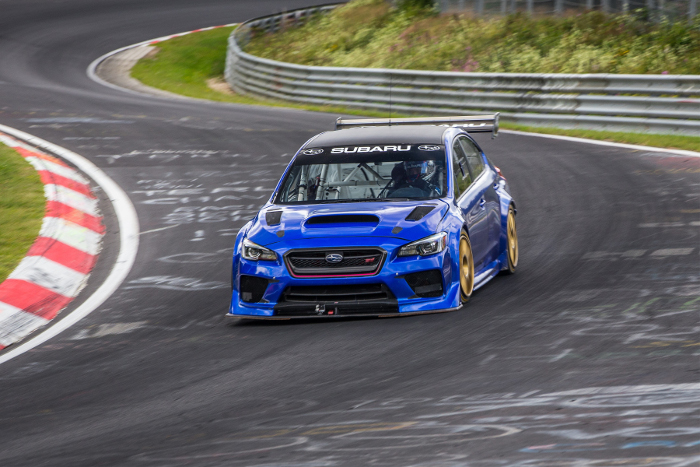 This combination of electric and hydraulic actuation, allow this rear wing to move to suit various aero requirements under braking, cornering and straight line acceleration. As whole, the entire package provides the car with a 295kg worth of downforce.
Its angle can be altered within 20 milliseconds via a switch on the steering wheel. This combined with wide sticky tyres, make sure that the vehicle stays planted to the road at high speeds and under heavy braking.
Under the hood is a modified 2.0-litre Subaru WRC-spec boxer engine with a 75mm intake and a turbo that runs at 250 psi of boost. The result, is a powerplant that can produce 600bhp at 8,500rpm and a theoretical top speed of 288km/h. It is mated to a WRC gearbox with an automatic clutch, modified with hydraulics for paddle-shift operation. Shift times are rated at 20 to 25 milliseconds.
This won't be the last time that we hear of the WRX STI RA NBR Special because the automaker tends to keep updating it to ensure that the car continually breaks lap records around the world.