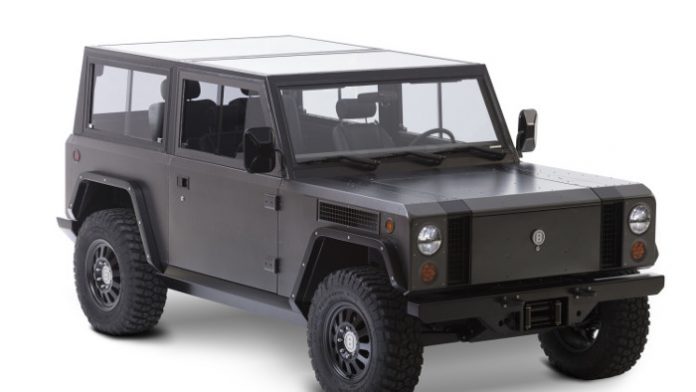 Bollinger Motors, a relatively new US automotive company has unveiled what it considers the first practical all-electric SUV. Based on the conventional three box design of more dated 4×4 vehicles like the Land Rover Defender, the Bollinger B10 is said to be a a rugged no-nonsense off-roader.
The boxy design is rather basic and combines elements of several classic vehicles. It incorporates some design elements of the Defender for the front fascia, as well as the A-pillars, but further back, the squared roof and c-pillars are reminiscent of older Jeep Wrangler models.
It's all-aluminum chassis with a high-strength, low-alloy (HSLA) steel rollover structure, is designed to handle the touchest of conditions. Overall weight is said to be 1,769kg and thanks to a dual motor setup, the B10 has a payload capacity of 2,767kg.
"The B1 combines Bollinger Motors' advanced all-wheel-drive system with our all-electric powertrain to produce best-in-class horsepower, torque and ground clearance," said CJ Winegar, Bollinger Motors engineer. "This vehicle signifies a huge leap above what is currently on the market. There's nothing like it out there."
At an overall length of 150 (in), a width of 1,493mm and a height 1,867mm, the B10 is by no means a small vehicle but thanks to clever enginering, it has a 50/50 weight balance for the front and rear.
Its painted in a gunmetal-like colour with black accents on the body work and the rims. Unlike most manufacturers, Bollinger Motors, isn't trying to win any stylistic contests, instead, they want its capabilities to be its most talked about attribute.
On the inside, the basic black design continues and there's only minimal gauges and switch gear. What's unique however, is the machined table-like centre console that should allow for ample storage and placement of tools.
As mentioned earlier, power is supplied via two electric motors that provide a combined output of 360bhp and 640Nm of torque. According to the automaker, the B10 is able to sprint from 0-100km/h in just 4.5 seconds and reach a top speed of 204km/h.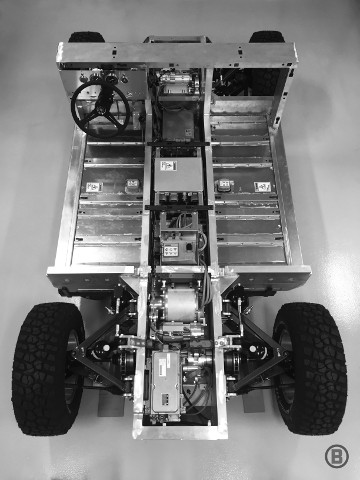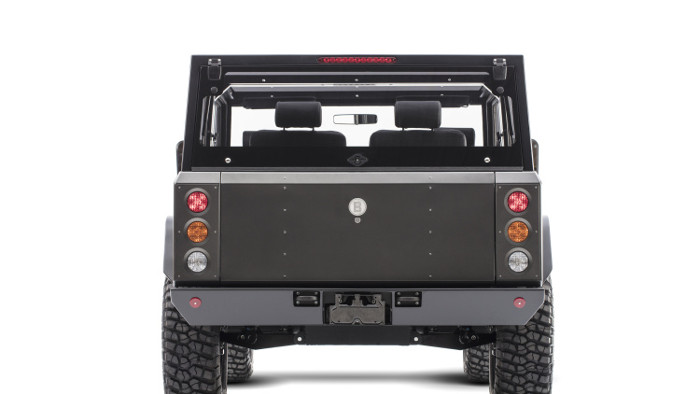 These are synchronous electric motors that drive all four wheels. One is placed at the front and the other the rear, both are supplied with power by a lithium ion battery pack. Buyers can choose between a 60kWh or 100kWh version that produce either 193km or 322km range respectively.
Charging time varies depending on the battery pack. The smaller 60kWh takes 7.3 hours to fully charge but only 45 minutes using DC Fast Charge. The bigger 100kWh takes about 12.1 hours to charge but only 75 minutes with DC Fast Charge option. These numbers mean that if you lack the DC Fast Charging option, this won't be the practical SUV that it is touted to be.
Bollinger Motors is currently in talks with a number of contract manufacturers to help them with building the B10. And once the deal has been finalized, the company is looking to start delivering vehicles to customers within two years.