Ever wondered what a purple McLaren 720S would like? Neither did we, but apparently someone had the British supercar maker do exactly that. Micheal Fux, a well known collector of rare and exotic cars, commissioned McLaren Special Operations (MSO) to have his 720S, defaced.
MSO, as the name implies, is a special division within McLaren that is responsible for churning out bespoke supercars for those wanting something out of the ordinary. Fux, had the team paint the car in a colour called 'Fux Fuchsia', which was created by Rolls-Royce just for him.
In fact, he owns this striking hue, and will retain exclusive rights to its use on any other McLaren vehicle. It isn't to everyone's taste, but the Woking based automaker did a fine at making the paint scheme look just right.
McLaren not only recreated this colour, but built a theme around it. As such, not only is the body colour 'Fux Fuchsia', but so are parts of the lightweight wheels, door appliqués, pinstripe on the steering wheel and even the rear-view mirror. It contrasts the largely white leather interior including white stitching and White Alcantara® floor mats, pretty well.
The car's exhaust and windows are finished in stealth grey while the carbon fibre components taken from the MSO catalogue, add to the level of sportiness. Like the body colour, these features can be ordered by anyone through MSO and they can be fitted to just about any McLaren.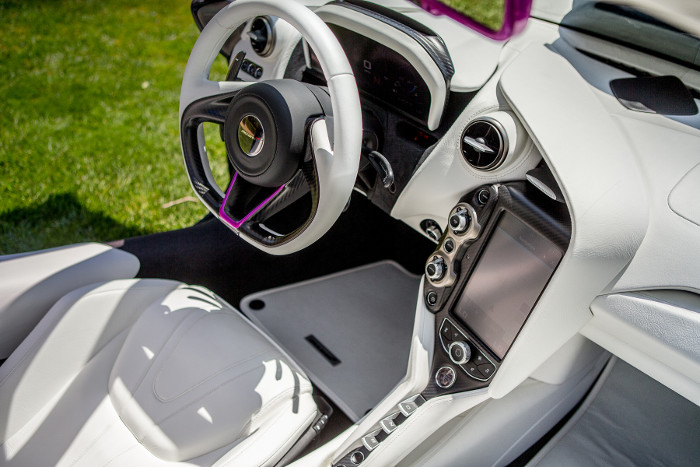 Jolyon Nash, McLaren Automotive Executive Director, Global Sales and Marketing, said, "MSO provides McLaren owners with virtually limitless possibilities to tailor a car exactly to their needs and tastes.
He added, " unique paint colours and finishes, custom leather and stitching and exotic materials are all available within a bespoke commission, while beyond this there are opportunities all the way up to complete vehicles designed to individual specification."
Mike Flewitt, McLaren Chief Executive Officer, will personally be presenting the car to Flux in Monterey, USA, during the Pebble Beach Concours d'Elegance. Later, it will be placed on display for the 'Concept Lawn' on Concours Sunday.
Fux, is an entrepreneur and philanthropist who is known for his collection of rare McLarens. He currently has an Orange McLaren 12C, a purple 12C Spider and a green McLaren P1. A fan of cars that scream for attention, Fux can add the Fux Fuchsia 720S to his garage, though we doubt he will be content with just four oddly coloured cars.