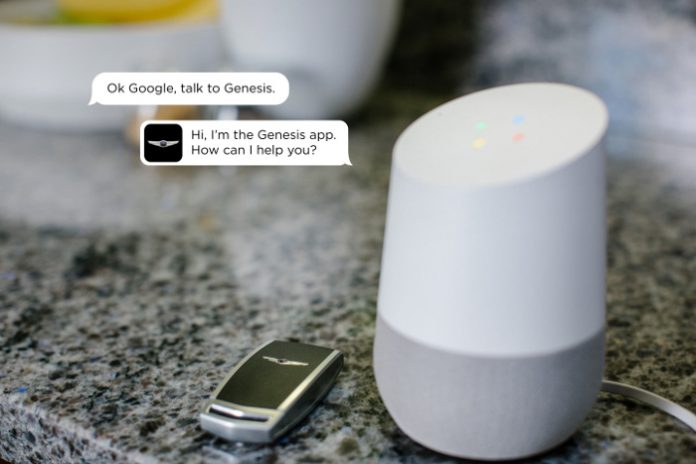 Genesis has teamed up with Google to provide better flexibility to its customers. Through the Genesis Connected services that have now been integrated with the voice automated Google Assistant, owners can now access vehicle functions through their smartphone.
The functions include Remote Start with Climate Control, Destination Search powered by Google, Remote Door Lock/Unlock and Stolen Vehicle Recovery, send a destination to the car's navigation system and remotely activate the horn and lights.
Through the use of the Genesis app, the system works with the Google Assistant to allow control of various functions with simple voice commands or smartphone keyboard inputs. This would make it a lot more convenient for those who are always in a hurry.
Owners are able to send commands to their Genesis vehicles with the following methods:
Voice commands via the Assistant on Google Home
Voice commands via the Google Assistant on eligible Android phones or iPhones
Text commands via the Google Assistant on a smartphone
There's nothing revolutionary about this tech, because the Genesis connected services has been around for a while. It's only recently that the system has been integrated with Google's ever useful voice assistant. And its method of operation is rather simple.
A link was developed by Genesis engineers to allow for the cross communication between its services and that belonging to Google. Once a customer has successfully linked his or her account, Remote Service commands can be sent to Genesis vehicles after the Google Assistant prompts owners for their Personal Identification Number (PIN).
Once connected, interaction is as simple as saying, "Ok, Google" via your smartphone or Google Home, and asking the assistant to start your car, as depicted in the following image: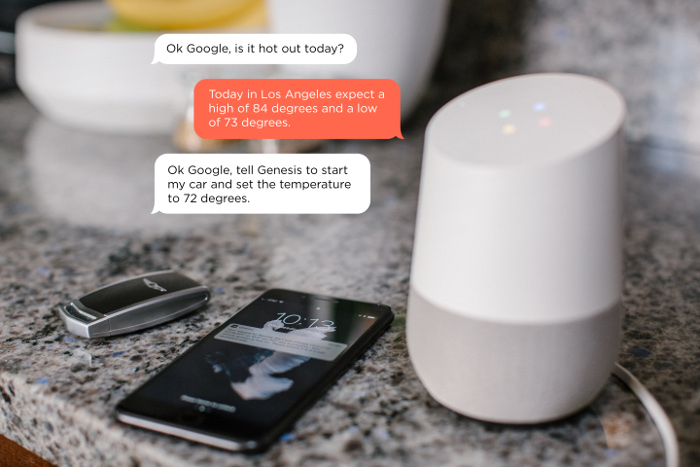 The image below demonstrates using the Assistant on phones by locating and sending destinations directly to the Genesis navigation system: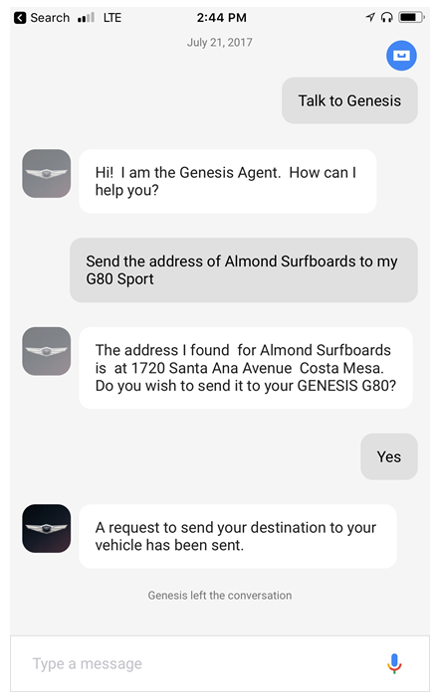 If you are unable to use voice commands, especially in crowded places, the Genesis app allows you to type the commands via the Google Assistant interface on your smartphone. The following image shows how easy it is for to lock your vehicle: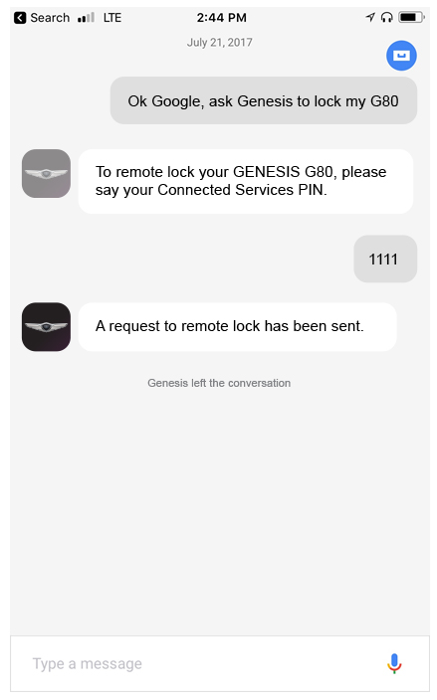 Genesis is showcasing these new features along with the recently launched Genesis Virtual Guide during a demo at the second annual WIRED Store in Santa Monica from August 23 through September 4, 2017.