BMW's latest Z4 will be showcased in concept form at the upcoming Concours d'Elegance at Pebble Beach, which will take place soon. This is a sports car that is of significant importance to the brand. And compared to the previous Z4, this one is bound to turn heads.
It still has the same traits of its predecessor but this time, BMW has broken convention in terms of design. The new Z4 has an angular headlight design that stretches towards the car's fenders. The twin kidney grilles are larger and are more pronounced than before as well as feature more complicated fin design.
This low-slung look give the front fascia more depth. As a result, the car's silhouette seems to make an arc as it stretches towards the windscreen. The front splitter takes on a racing-like design with the centre carbon bit forming a v pattern that integrates with the front fascia's side pods.
Based on the side profile, the Z4 has a simpler and more angular shape reminiscent of the Lexus LFA, which is a good thing. The creases at the top that stretch from the front fender and tapers towards the rear, they provide the illusion of a continuous single stroke design.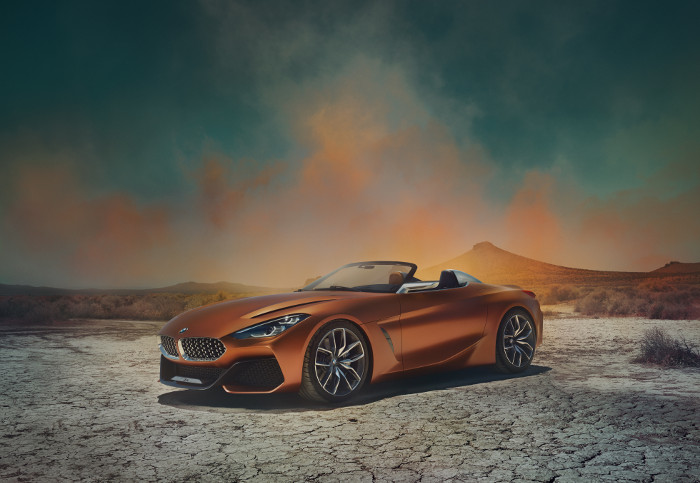 Then there's the double bubble roll over guards that are both aesthetically pleasing and should offer a good amount of protection in the event of an accident. The colour complements that of the 20-inch alloy wheels which still retain BMW's unique fork pattern.
As for the rear, it's as minimalist as things can get. Long and narrow LED taillights flank both sides of the boot lid which also has an integrate boot spoiler. The rear bumper is quite large though and we doubt that this will actually be used for the production version.
As a whole, BMW says that it took various design elements from several of its more notable models including the Z8 and 328 Mille Miglia. And as such, the Z4's design is a culmination of all the best lines and curves that have been penned by the automaker's best designers.
On the inside, the cockpit incorporates the same basic design of current BMW sports cars but feature a more minimalist look thanks to an LCD meter panel and consolidated instrument panel that also houses the iDrive infotainment system.
No exact specifications have been revealed especially when it comes to the powertrain. But we won't be surprised if BMW choose to include some form of electrification to help boost power yet retaining respectable fuel consumption figures.