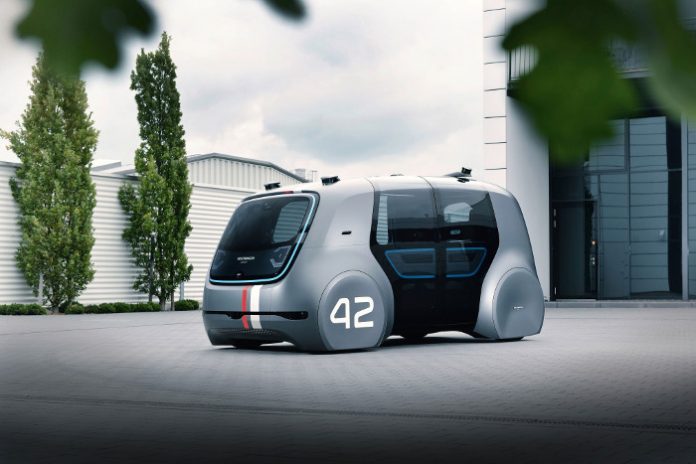 Volkswagen revealed a pretty interesting concept during the on going Frankfurt Motorshow. It's called the SEDRIC and is a representation of the automaker's vision of future mobility. Resembling a futuristic toaster, this urban mobility vehicle is meant to cater to the needs of the modern traveler.
The capsule-like vehicle aims to be the answer to transportation problems of the future. And its fully automated systems will be able to relieve the driver of some of his/her responsibilites or be able to function without one. According to VW, more such concept vehicles are in the pipeline which include sports cars, touring sedans and commercial vehicles.
"Our team is already working on ideas for an entire Sedric family. This will range from fully autonomous vehicles for the city, through luxurious long-distance mobility and spectacular sports cars, self-driving delivery vans and heavy trucks," commented the Chief Executive Officer of Volkswagen AG, Matthias Müller.
Sporting electrification and digital network tech, VW says that it will promote 'simple, convenient, sustainable and safe mobility for everybody at the touch of a button'. Users will be able to call upon the vehicle when needed though Volkswagen's mobility app called OneButton. Working as a digital assistant, it can get occupants from A to B conveniently.
Sedric will make a huge social contribution because thanks to autonomous driving, it can act as a stand alone transportation service for visually-impaired people, members of the older generation, physically-challenged individuals and children. Apart from that, VW has calculated that Sedric could be able to save drivers about 38,000 hours on daily commutes.
This vehicle was developed through cooperation between Future Center Europe in Potsdam and Volkswagen Group Research in Wolfsburg. Sedric is a completely new take on the transportation system by merging the established discipline of vehicle design with that of user experience and feedback.
Volkswagen has also said that Sedric will act as a platform for continuous technological developments that will help the automaker solve issues that are related to environmental protection, demographic change, business and traffic safety. The development of these systems centre around cameras, 360-degree lidar sensors, long and short-distance radar and ultrasound sensors, a hardware and software architecture.
This information will be used for data processing and vehicle control by powerful computers that use intelligent software to drive the vehicle and control its electrification systems. That said, this technology is still in its infancy, and many more man hours of research and testing is needed before VW sees the fruits of its labour.