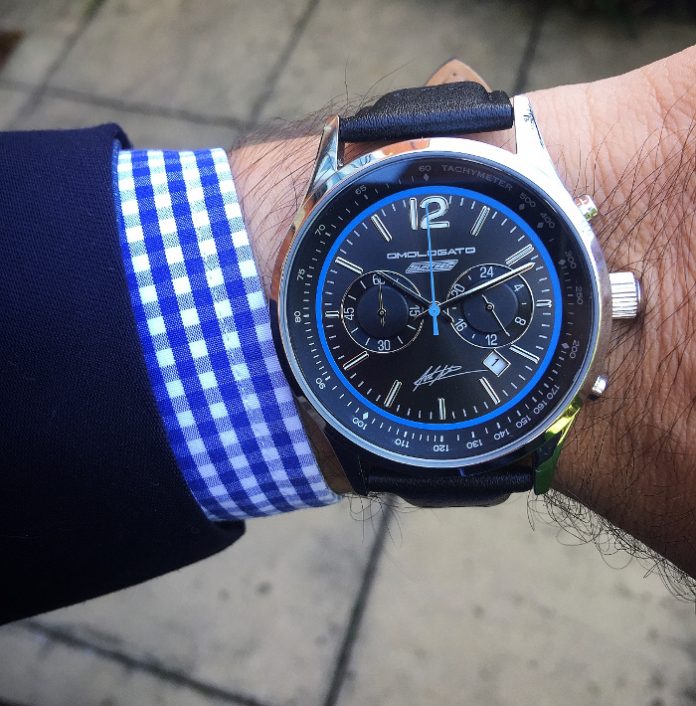 If you are a fan or collector of special timepieces, this news will be of interest to you. Omologato watches, the same company that brought us the #Tifosi watch, have teamed up with John Surtees CBE to create a Chronograph with Motorsport heritage.
John Surtees, a former Formula 1 Champion with Ferrari, collaborated with Omologato to design a new timepiece late last year. After his unfortunate passing this March, Surtees' family picked up where he left off and completed the project.
This watch, called The Surtees, is now available exclusively to the public in order to raise money for the Henry Surtees Foundation. Henry Surtees was John's Surtees' son, who at just 18 years old, was killed whilst competing in a Formula 2 race at Brands Hatch in 2009.
The Foundation supports schemes and projects to provide funding multiple air ambulance services around the UK to enable them to carry blood and plasma on board its aircraft. This helps enhance pre-hospital critical care that their crew can offer at the scene of accidents.
Built for a worthy cause, The Surtees is an elegant timepiece with great thought put into its design. Hand-crafted and built with quality in mind, it pays tribute to the only racer to be crowned champion of both the four and two wheel racing world.
It's watch face is painted blue to pay homage to Surtees' racing livery on his F1 Ferrari racer. In fact he is the only driver in the company's history to win the title in a non red car. In 1964, Enzo Ferrari dropped the traditional red in favour of a blue and white colour scheme.
Surtees' used this new livery in the final two grand prixs of that season. He clinched the title at the final race and entered the record books as the only racer to date, that has been crowned champion of the motorcycle and car world.
The outer and inner markings are a homage to the meter clusters of vintage racing cars and the light blue outline contrasts the navy blue watch face, to provide an illusion of a speedometer.
If you look closely at the bottom section of the watch, you would notice that each timepiece has this identical signature in the same location. This signature belongs to Surtees himself, and as such, each watch has a part of the racing legend.
Omologato founder Shami Kalra said: "Il Grande John was the most versatile racer, an icon for lovers of two and four wheels and a Motorsport legend. I learnt that John rarely lent his name to a brand or product, so it was a true privilege that he wanted to be involved and share his story with Omologato."
IF you would like to know more about the watch, head on over to omologato watches' website for the latest information. And to know more about the Henry Surtees foundation, check out the following link www.henrysurteesfoundation.com.