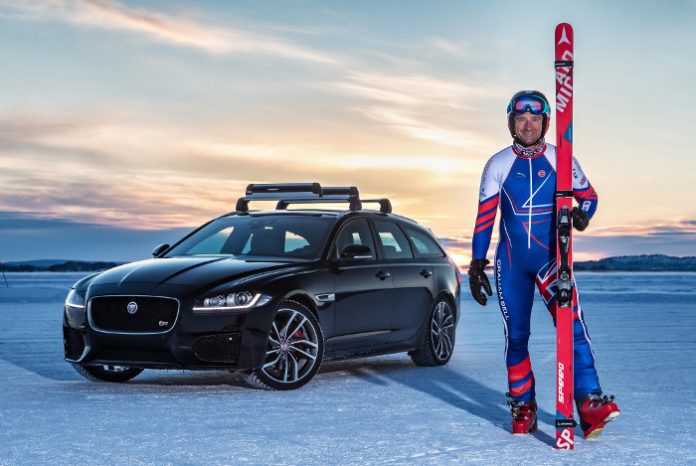 Jaguar's XF Sportbrake has enabled former British Olympic Skier Graham Bell to set a new Guinness World Record for the 'Fastest Towed Speed on Skies'. The task was a daunting one because Bell would have to battle the -28 degrees Celsius temperature at high speed at Jaguar Land Rover's Revi Test Centre in the Arctic Circle.
Attempting this wasn't an easy feat considering the relative dangers involved with high speed skiing. But the task was made easier thanks to the XF Sportbrake's Adaptive Surface Response (AdSR) and All Surface Progress Control.
These systems oversee the power delivery of the car's all-wheel-drive system and ensure that the XF remains planted and well within the control of the driver. Maintaining stability at high-speeds is something that is extremely important in a situation such as this.
As a result, not only did Bell break the previous record of just under 113 km/h, but managed did so by a huge margin. He was able to clock a time of 188 km/h which is about 76 km/h faster than the previous record. This is a testament to the capabilities of Jaguar's AWD system, which kept the former Olympic skier out of harms way.
Speaking of the feat, Jeremy Hicks, Jaguar Land Rover UK MD, said, "The XF Sportbrake's superb traction, handling and high speed stability made it the perfect choice for this speed record attempt."
"We're extremely proud to have supported Graham in this incredible world-beating achievement – it's this kind of trail-blazing activity that really tests our cars to their limits," he later added.
This adds to the list achievements of the Jaguar XF family, which includes being ranked the "Large and Luxury Car" in the JD Power Survey. The latest crop of Jaguars are leaps and bounds better than their predecessors and evidently, many are taking notice of topic.