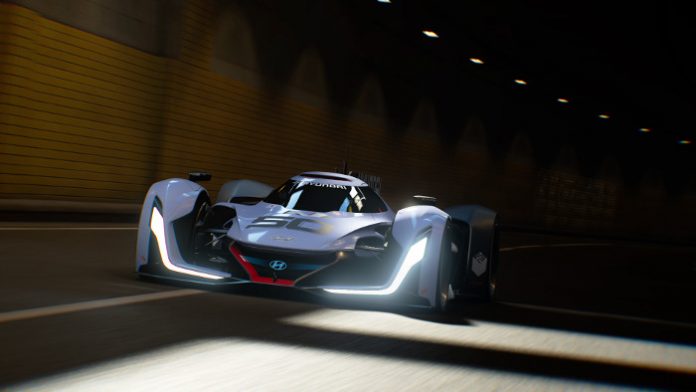 The highly anticipated PlayStation 4 racing game, Gran Turismo Sport, has now been made available for purchase worldwide. The game features some of the best graphics and gameplay ever seen on the gaming platform.
Like previous installments of Gran Turismo, the game has a whole host of amazing real world and concept vehicles that are bound to enthrall gamers and spectators alike. One of the main attractions of the game is the inclusion of a slew of concept vehicles designed by mainstream automakers especially for the game.
Manufacturers such as Mercedes-Benz, BMW and Hyundai have their own respective Gran Turismo vehicles that will be featured in Gran Turismo Sport. Hyundai's N 2025 Vision GT, which was introduced last year will be especially intriguing to try out in the game.
It incorporates styling from the prototype racing series as well as other open wheel competitions to form a body that looks both menacing and functional. It has been placed in the game's Group 1 Category where it will join other manufacturers' own virtual racers that bear the Vision Gran Turismo nomenclature.
These vehicles will also join other well-known real-world prototype racing cars from different manufacturers including Aston Martin, Bugatti and McLaren. Besides this, the game also features a plethora of real world sports cars and supercars made by mainstream automakers.
Speaking of the N 2025 Vision GT, Chris Chapman, Chief Designer at the Hyundai Design Center in Irvine, CA, said, "The N 2025 Vision GT is our ambitious take on what we think prototype racing could look like in the not-too-distant future. We're thrilled to see it presented anew in one of the most visually stunning racing simulations ever created."
He then added, "This concept is a point of pride for Hyundai on so many fronts. It effortlessly combines beauty and function as a racing car, and it boasts a fuel-cell powertrain that is as progressive as the bodywork wrapped around it."
The car will be joined by other Hyundai racers that are based on the Genesis Coupe platform that include racing and Group B rally cars. Check out the videos and picture galley below and let us know what you think of Hyundai's virtual product portfolio.