Lamborghini has finally introduced its highly-anticipated SUV to the masses. It's called the Urus, after a famous Spanish fighting bull – the nomenclature of choice for many of the automaker's models. The styling is inline with lamborghini's current design language, featuring a swooping bonnet, angular headlights and massive front bumper.
The front fascia, especially the lower region, have been assembled with a series of fins and honeycomb styled inlets that offer sufficient cooling for the car's engine and also aerodynamic efficiency. The raked roof line makes the Urus look more like a hatchback than a full-fledged SUV. A minimalist approach to the LED tail lights, diffuser and bumper assembly lend a cleaner look to the entire look of the rear.
On the subject of engines, the Urus features a twin turbocharged 4.0-litre V8 powerplant that produces 650bhp and 850Nm of torque. Mated to an 8-speed automatic transmission that sends power to the road via Lamborghini's all-wheel-drive system. Torque is split 40/60 between the front and rear, which changes depending on the chosen mode (Off-road, Snow, Sand or tarmac) and driving behaviour.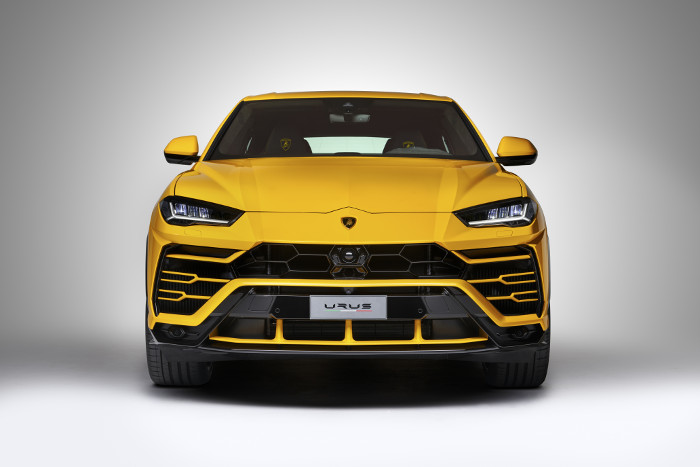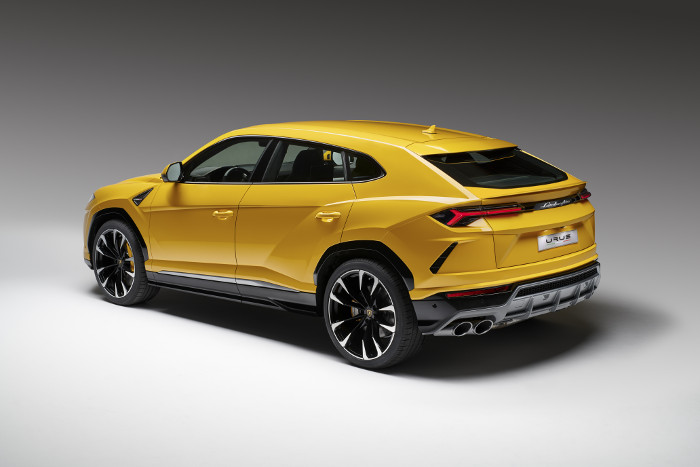 As such, the Urus is able to sprint to 100km/h from a standstill in just 3.6 seconds and reach a top speed of 305km/h. It has an air suspension system, that enables ride height changes as well as rear wheel steering, which at low speeds, turns in the opposite direction to the front ones, for better cornering ability. Lamborghini's various driving mode selection enables the muffling of the exhaust note when discretion is needed.
Despite its size, the Urus' body has been kept fairly light through the use of aluminum and Steel. This blend offers a good level of rigidity and lightweight properties, and contributed to it weighing only 2,200kg. It features frameless doors, torsional beams replacing a C-pillar, and cross-members made of aluminium.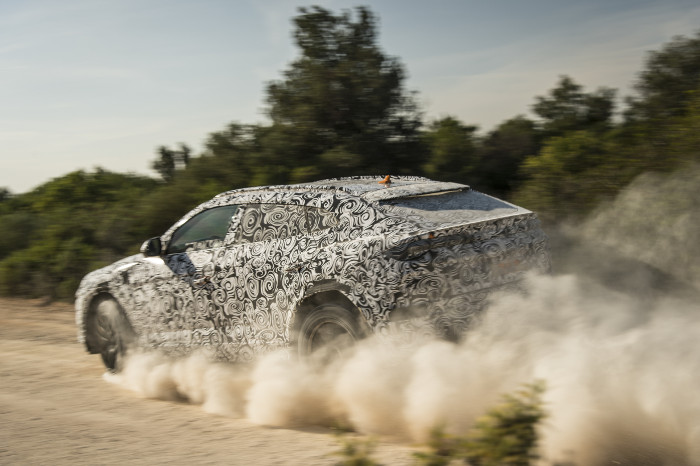 Stopping power has been made available through the use of carbon ceramic brakes measuring 440 x 40 mm at the front and 370 x 30 mm at the rear. They are said to offer virtually no brake fade and optimizes pedal feel regardless of driving conditions. Wheel options range from 21 to 23-inches that can be fitted to a variety of tyre types that have been especially developed by Pirelli for the automaker.
Like other Lamborghinis, the interior has been layed out with a decent blend of sportiness and luxury appeal. There's a decent infotainment system and a slew of connectivity options to cover your entertainment needs. It is coupled with an 8-speaker setup that can be upgraded to a high-end Bang & Olufsen Sound System with 3D sound and 1,700 watt output and 21 fully active speakers.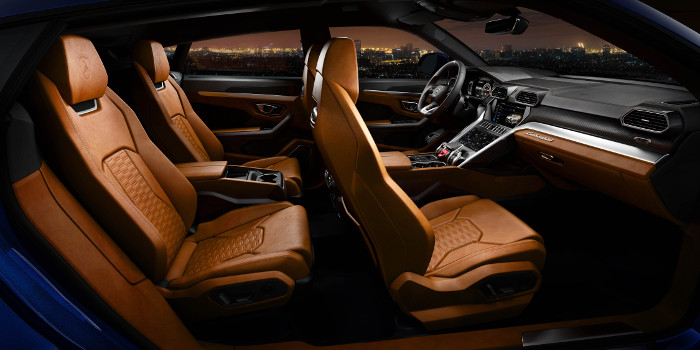 Advanced Driver Assistance Systems are fitted as standard and offer a decent level of safety and security to driver and passengers. The High Beam Assistant automatically fades headlights in and out of high beam mode as required, front and rear parking sensors and cruise control are also included as standard, as is the PreCognition system preventing or mitigating collisions.
The Urus is one of the the most technologically advanced Lambos in the stable and features keyless start, electrically operated rear taligate as well as a whole slew of others. Unlike other models, the Urus is meant to offer a blend of luxury, comfort and sportiness that isn't really offered by other vehicle manufacturers.