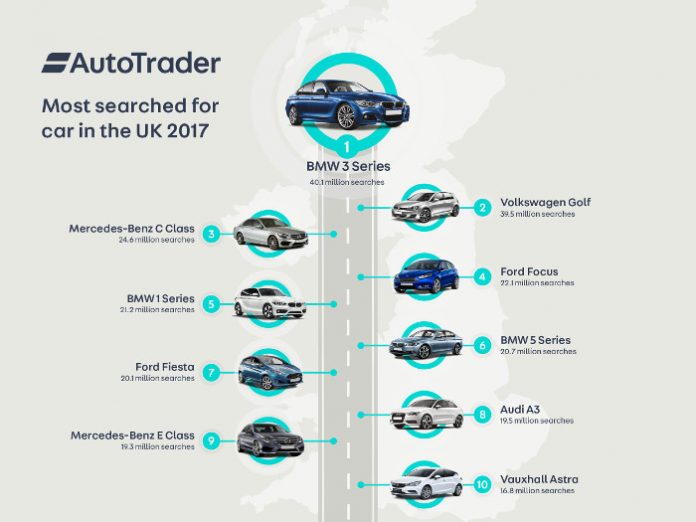 Auto Trader, one of the UK's biggest online marketplaces for new and used cars, has published a list of the top 10 most searched vehicles of this past year. The results were based on users who searched through Auto Trader's online portal for their desired vehicles in 2017.
The results portray a very interesting story, and despite the unstable economic situation, Brexit and the dieselgate saga, premium vehicles are still in high demand. At the top of the list is the BMW 3 Series, thanks to youthful styling, peppy turbocharged engines and a slew of tech features, it was the most desired car of the year.
Finishing second, was the Volkswagen Golf. The Mack Daddy of family hatchbacks was very popular among visitors but not enough to be crowned king of the hill. The Mercedes-Benz C-Class came in a respectable third place, just edging out another stalwart, the Ford Focus.
Following is the top ten list of most searched vehicles:
1. BMW 3 SERIES
2. VOLKSWAGEN GOLF
3. MERCEDES-BENZ C CLASS
4. FORD FOCUS
5. BMW 1 SERIES
6. BMW 5 SERIES
7. FORD FIESTA
8. AUDI A3
9. MERCEDES-BENZ E CLASS
10. VAUXHALL ASTRA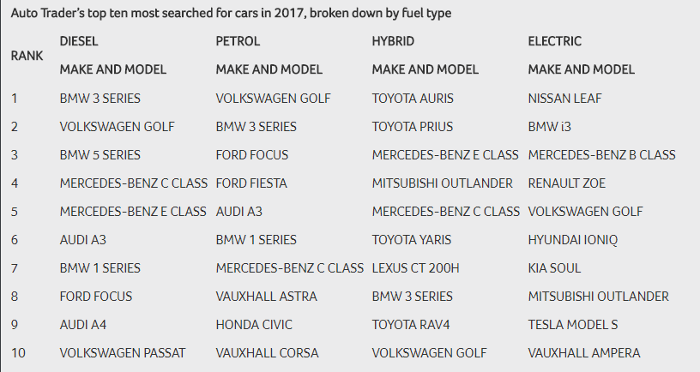 Ivan Aistrop, Road Test Editor at Auto Trader, said, "In fact, if you look at the list of most searched-for diesel cars, you'll see it contains more premium products than for any other fuel type, suggesting that diesel cars are still desirable for buyers despite recent negative press coverage."
Apart from this, Auto Trader also came out with a list of the most searched for electric cars. Dominating the list was Nissan's Leaf due in part to its sensible styling, conventional knobs and switchgear as well as its 'down to earth' method of operation. Tesla's Model S was placed much lower than expected, finishing in 9th place, just ahead of the Vauxhall Ampera.
The influx of efficient and advanced electric cars in the next few years, could mean that an EV, not a petrol or diesel car, will take the No.1 spot for next year's Top 10. Overwhelming demand for vehicles like the newly launched Tesla Model 3 may relegate today's most wanted petrol cars to the bottom section of the 2018 list.