BMW Group Malaysia has introduced the first-ever BMW 5 Series Hybrid with eDrive Technology. Priced at a very respectable RM343,800, the all-new BMW 530e Sport is the fifth BMW iPerformance model to be introduced in the country, further reinforcing the premium automaker's expertise in Plug-in Hybrid Technology.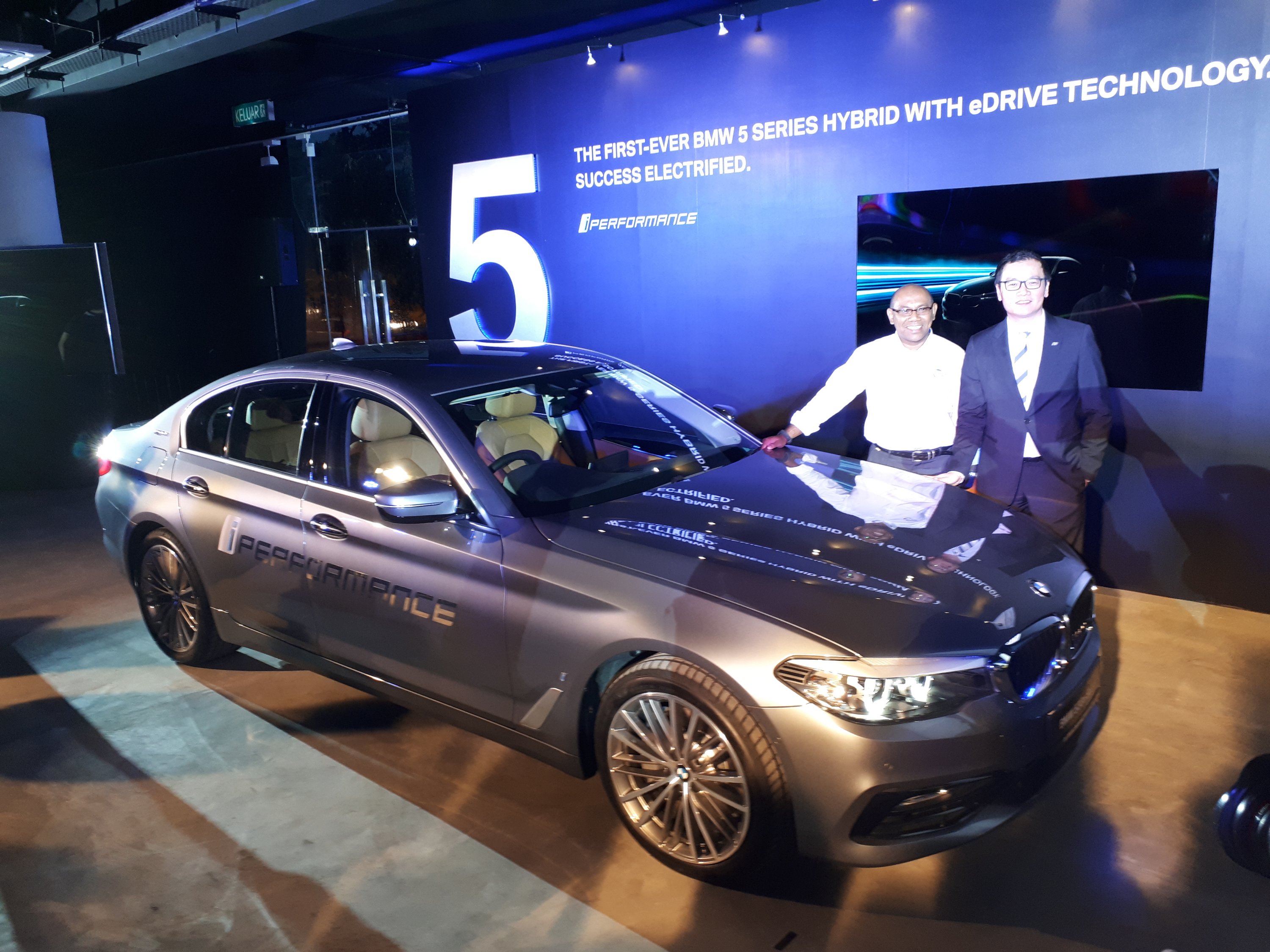 Raymond Tan, Head of Sales, BMW Malaysia (above, right) said, "The All-New BMW 5 Series now offers eDrive Technology, an innovation taken from the Mobility of the Future – BMW i. More than this, however, is the fact that the All-New BMW 530e Sport also increases our portfolio of premium Plug-In Hybrid vehicles here, enabling us to offer the largest portfolio offering by any automaker in the country and to further demonstrate our commitment to Visionary Mobility in Malaysia."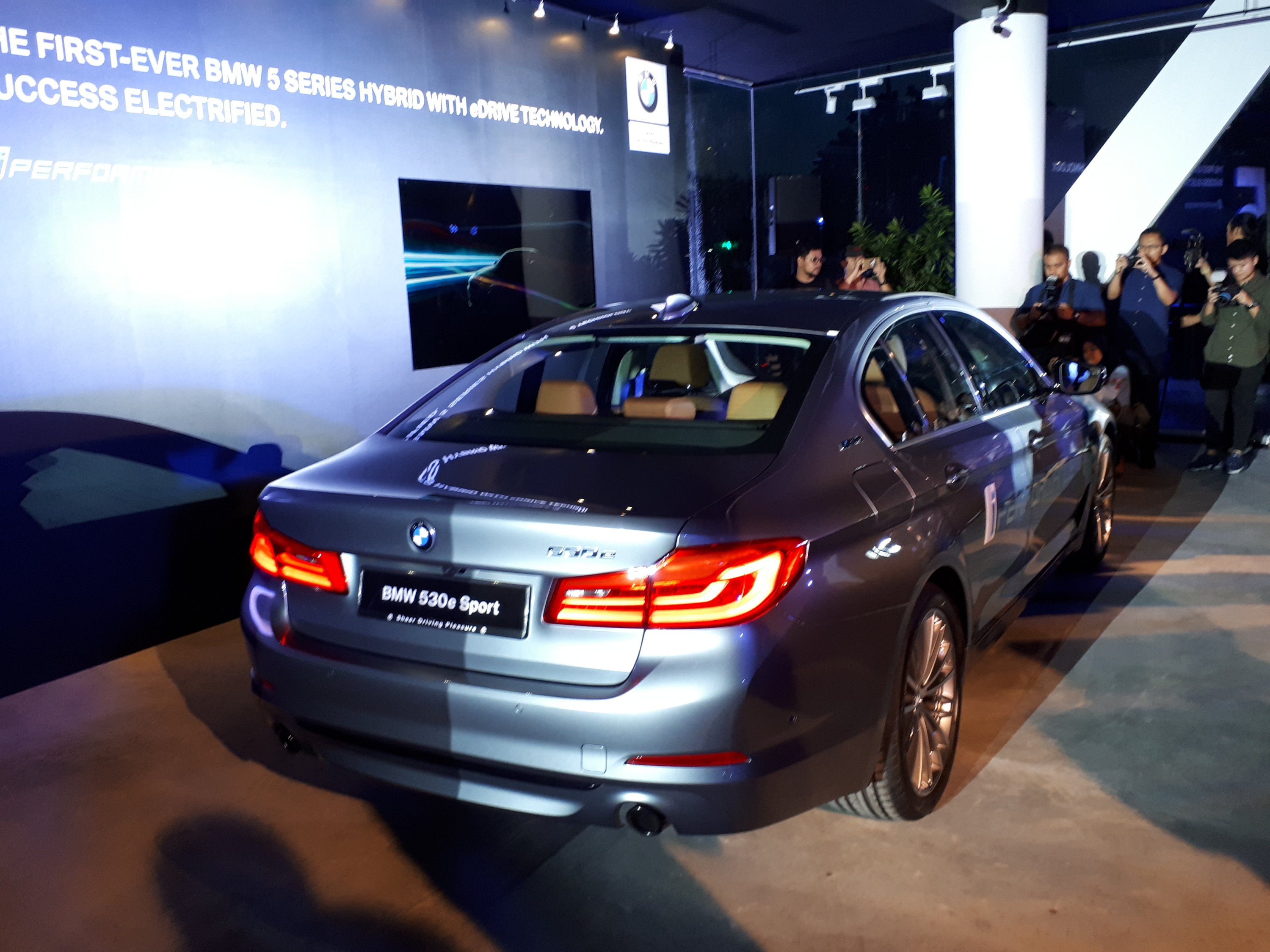 Charting more than half of BMW Malaysia's total sales volume in 2017 with a profound 55% units of BMW Hybrid with eDrive Technology delivered, BMW Group Malaysia has a stronghold as the most successful premium hybrid brand in Malaysia. Tan said, "In terms of model mix share, we are also proud to share that 55% of our total models for the country are hybrid vehicles with eDrive technology. This also makes us fifth in the world in terms of deliveries of plug-in hybrid vehicles."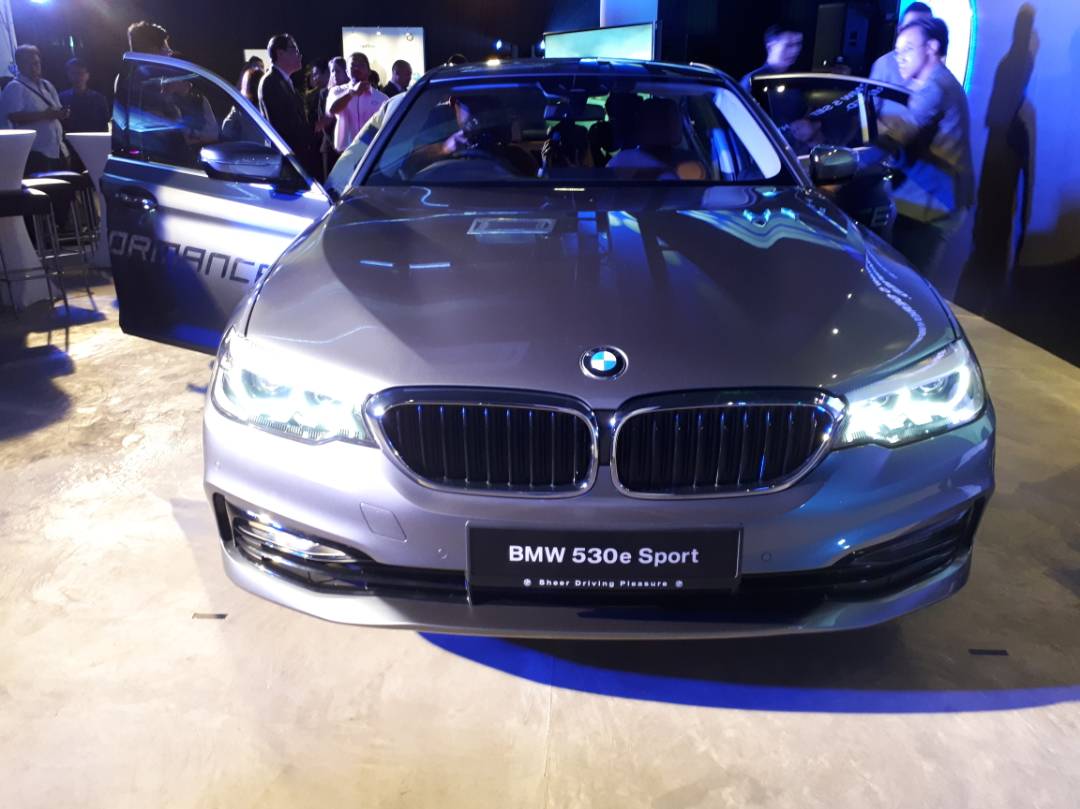 In the details, BMW Group Malaysia set an all-time high sales record for the BMW X5 xDrive40e by delivering over 3,000 units in 2017 alone, making Malaysia the second largest market after America for the model.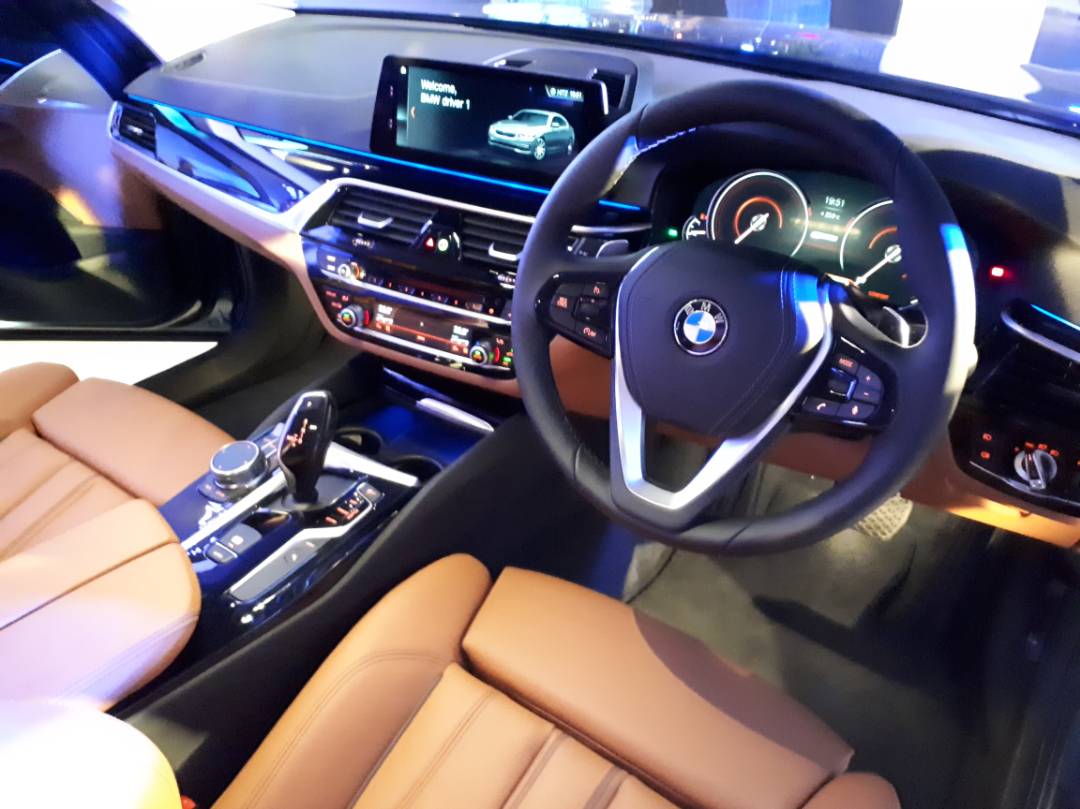 Malaysia is also the third largest market for the BMW 330e and the BMW 740Le xDrive with over 2,400 units and over 450 units delivered respectively in 2017. "The All-New BMW 530e Sport will be a meaningful addition to our iPerformance portfolio and we are confident it will further underpin us as leaders in shaping mobility of the future here in Malaysia," said Tan.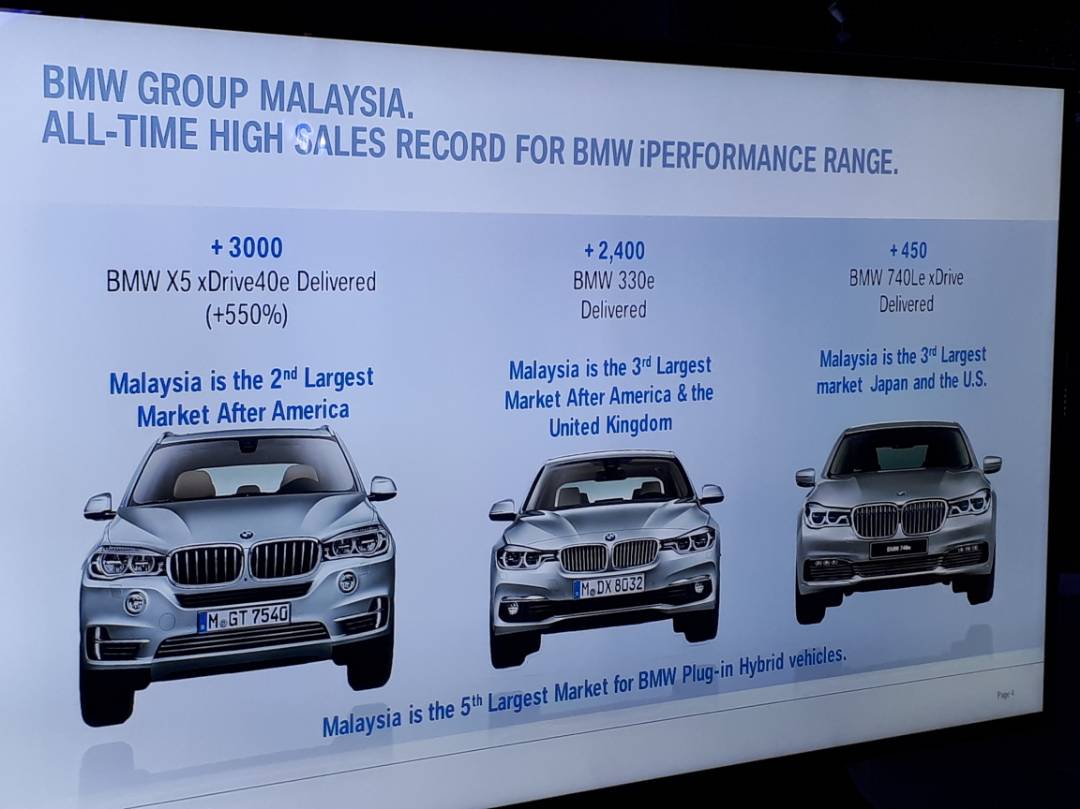 BMW Group Malaysia continues to be committed to Malaysia's plan of reducing its carbon intensity by 40% by 2020. This was first announced in 2014 at the UN Climate Summit in New York and reiterated in 2016 at the Paris Agreement of the 21stConference of Parties (COP21).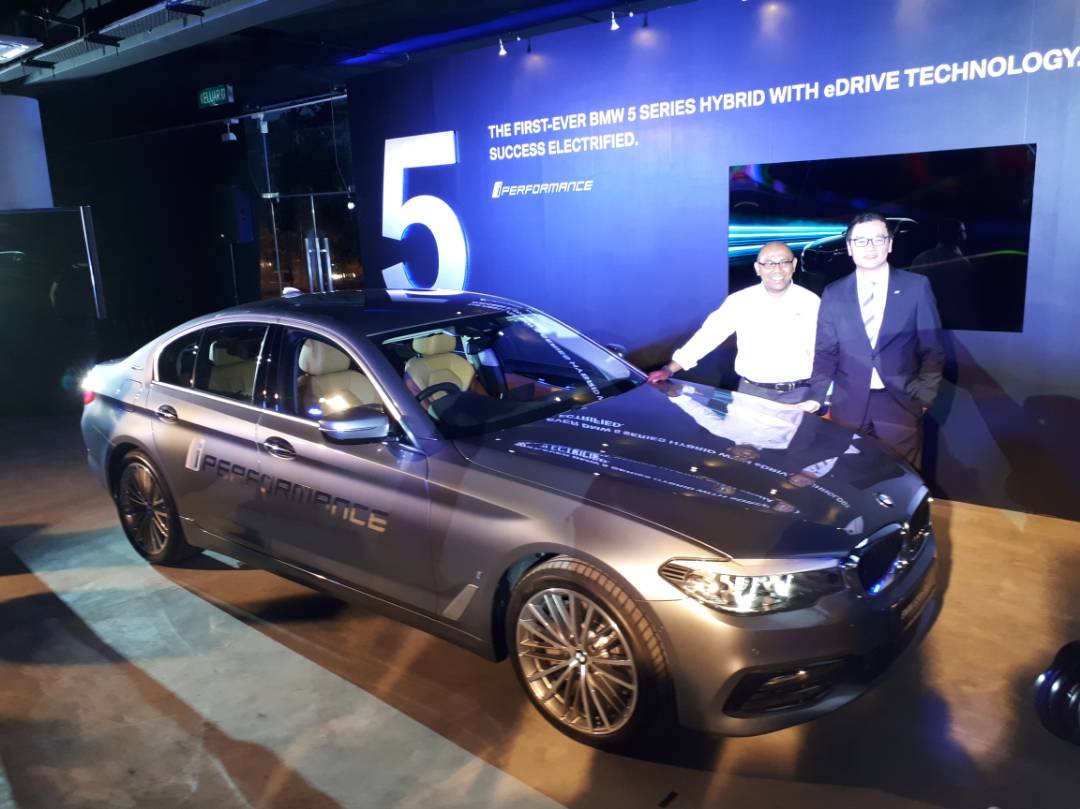 Speaking at the launch ceremony, Dr. Mohd Azman Zainul Abidin (above, left), Group Chief Executive Officer of Malaysian Green Technology Corporation said, "A key strategy for Malaysia to move towards low carbon mobility is through industry wide cooperation and partnerships. We at GreenTech Malaysia are pleased to have BMW Group Malaysia as a partner from the very beginning, to ensure necessary and sufficient infrastructure is provided to support the new innovation of Plug-in Hybrid technology and eventually Electro Mobility. This will increase consumer confidence in the viability of electric vehicles and plug-in-hybrid vehicles. It is reassuring to see BMW Group Malaysia taking initiative to further propel Malaysia into a futuristic future of electromobility, while we continue to grow the number of ChargEV charging stations across the country."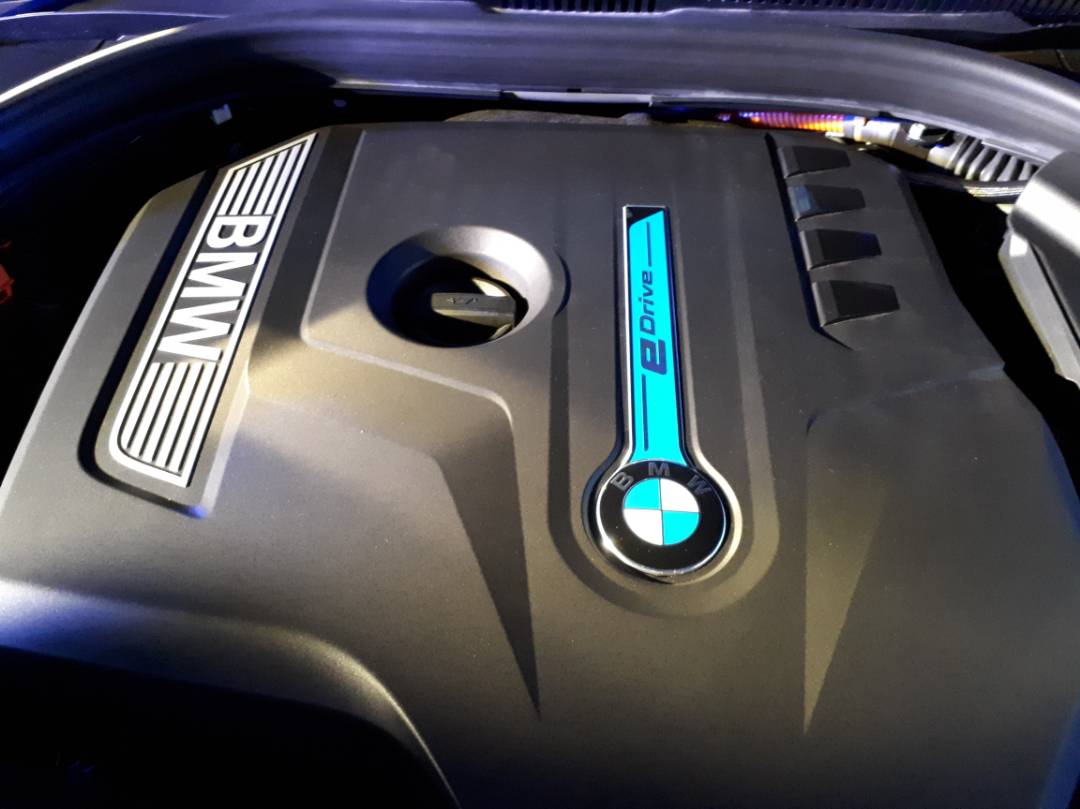 Design: charismatic athleticism.
The All-New BMW 530e Sport is the most innovative model in its class and offers the full wealth of BMW 5 Series driver assistance systems, in all modes including eDrive. The premium business sedan promises to serve up the dynamic driving experience, for which the BMW brand is renowned, combined with outstanding efficiency and seamless everyday practicality.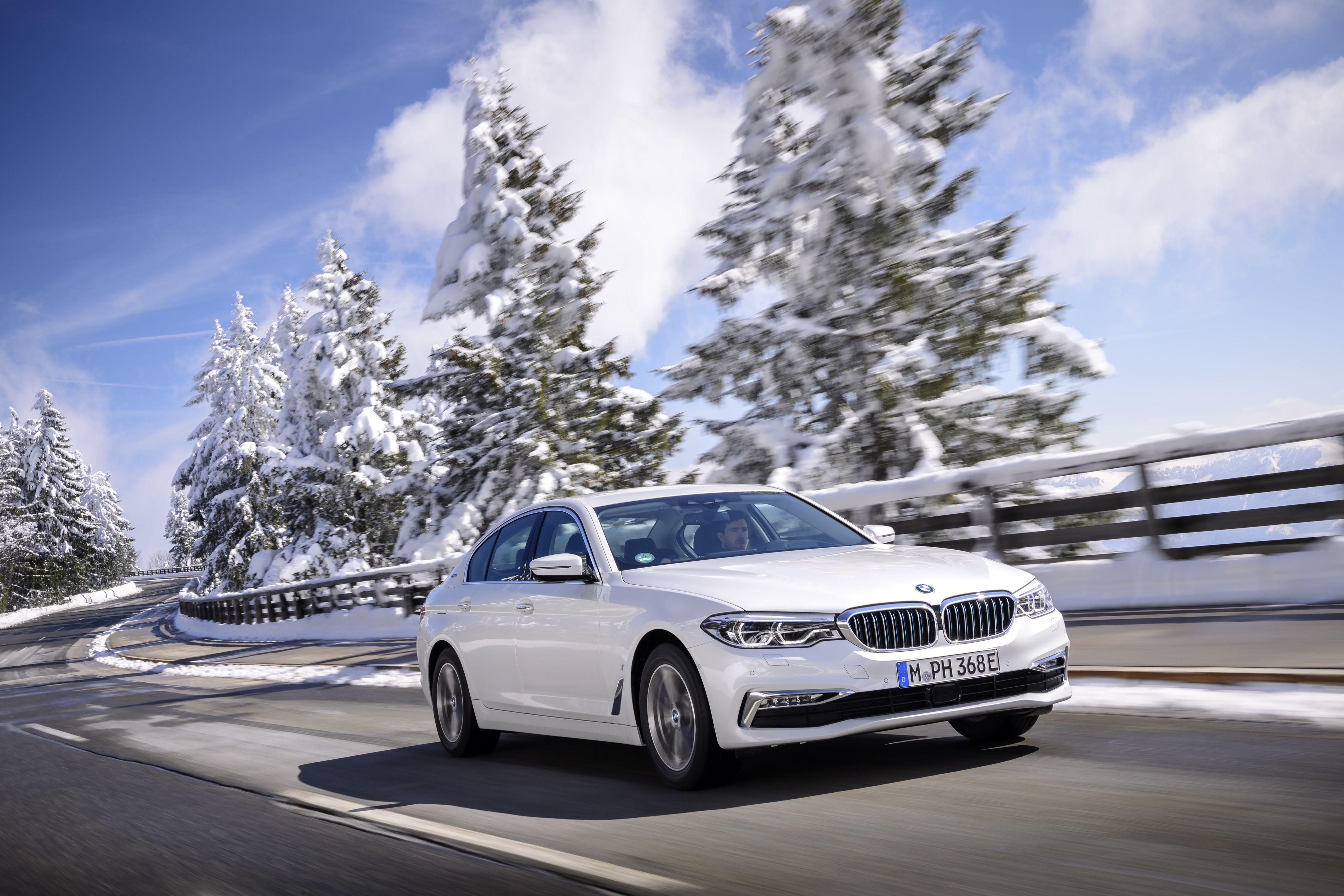 Starting with its signature feature, the air stream kidney grille is designed to further empower aerodynamics – opening and closing to adapt to different situations. The All-New BMW 530e Sport is offered in Sport Line and features LED headlights for both low-beam and high-beam, side lights, as well as daytime running lights, which complements the elegant high-gloss black front bumper, ready to turn heads on the road. The '530e' badge is the most noticeable identifying feature of the plug-in hybrid variant. The highly visible i logo above the air breather as well as the eDrive logo at the C-Pillar provides insight to the fact that the premium business sedan receives technology know-how from the BMW-i sub brand.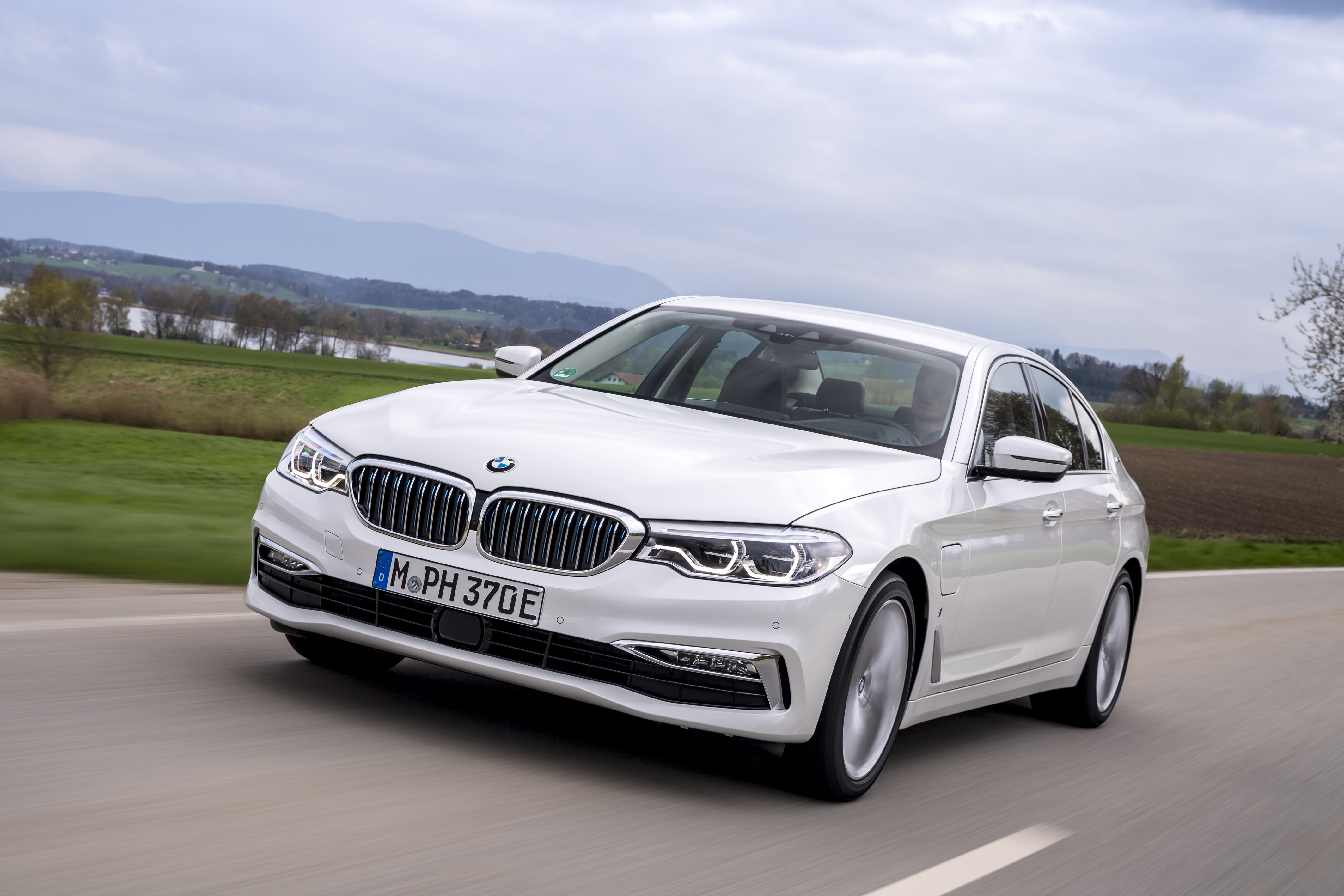 For additional convenience, the All-New BMW 530e Sport offers Comfort Access – providing a seamless owner experience without having to reach for your car key. From unlocking your doors to starting your engine, the All-New BMW 530e Sport is designed to be aware of your car key's unique sensors, which resonates solely with the car's internal system; as such, no two keys are alike. To further emphasise on convenience, the All-New BMW 530e Sport also provides owners contactless boot operation.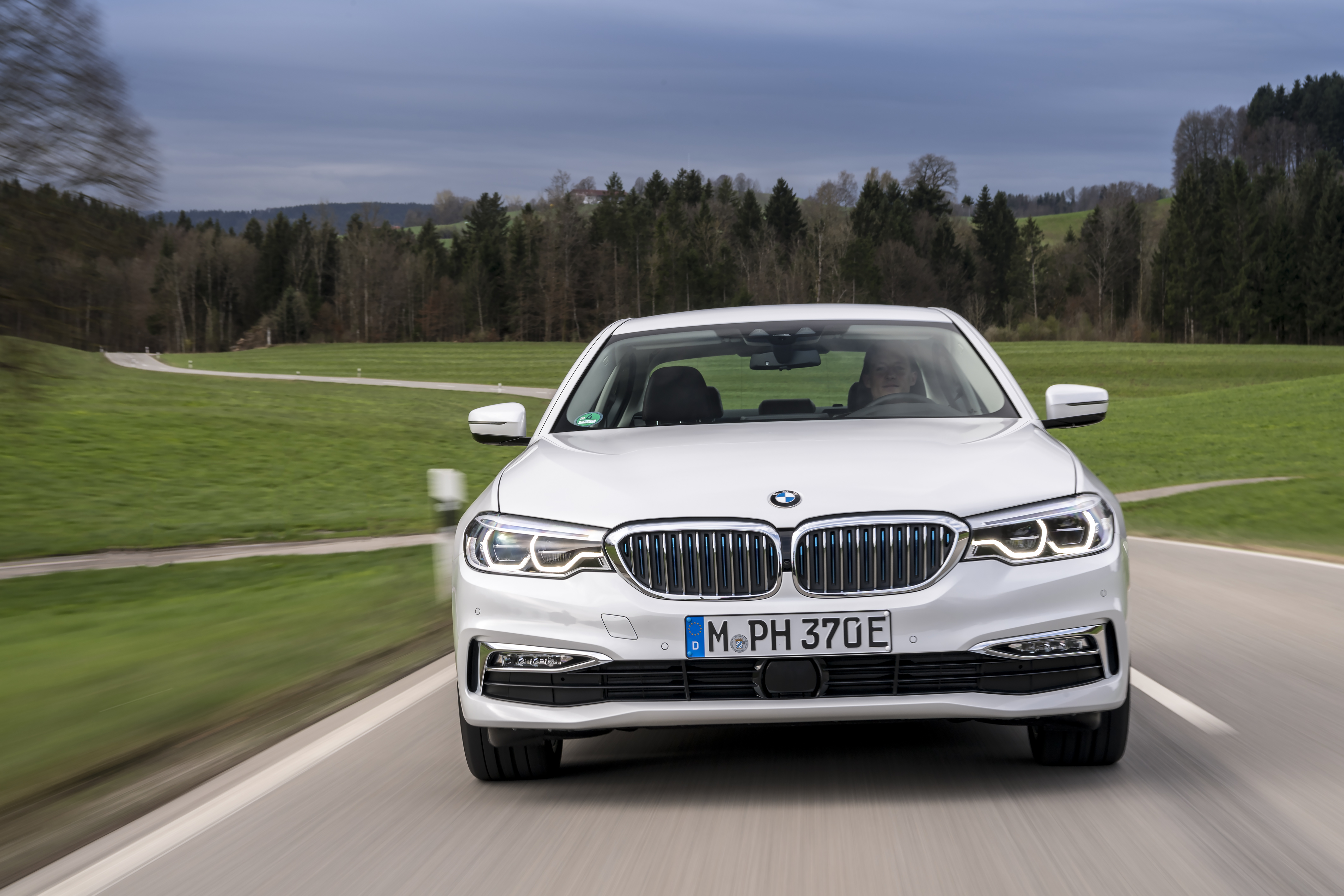 Accentuating its sporty vibe to the rear of the new premium business sedan from BMW is the double round exhaust tailpipe on both left and right of the eDrive variant. Fitted with 19" V-Spoke light alloy wheels, the All-New BMW 530e Sport hints at an agile driving experience.
Dynamic interaction enabling powerful delivery.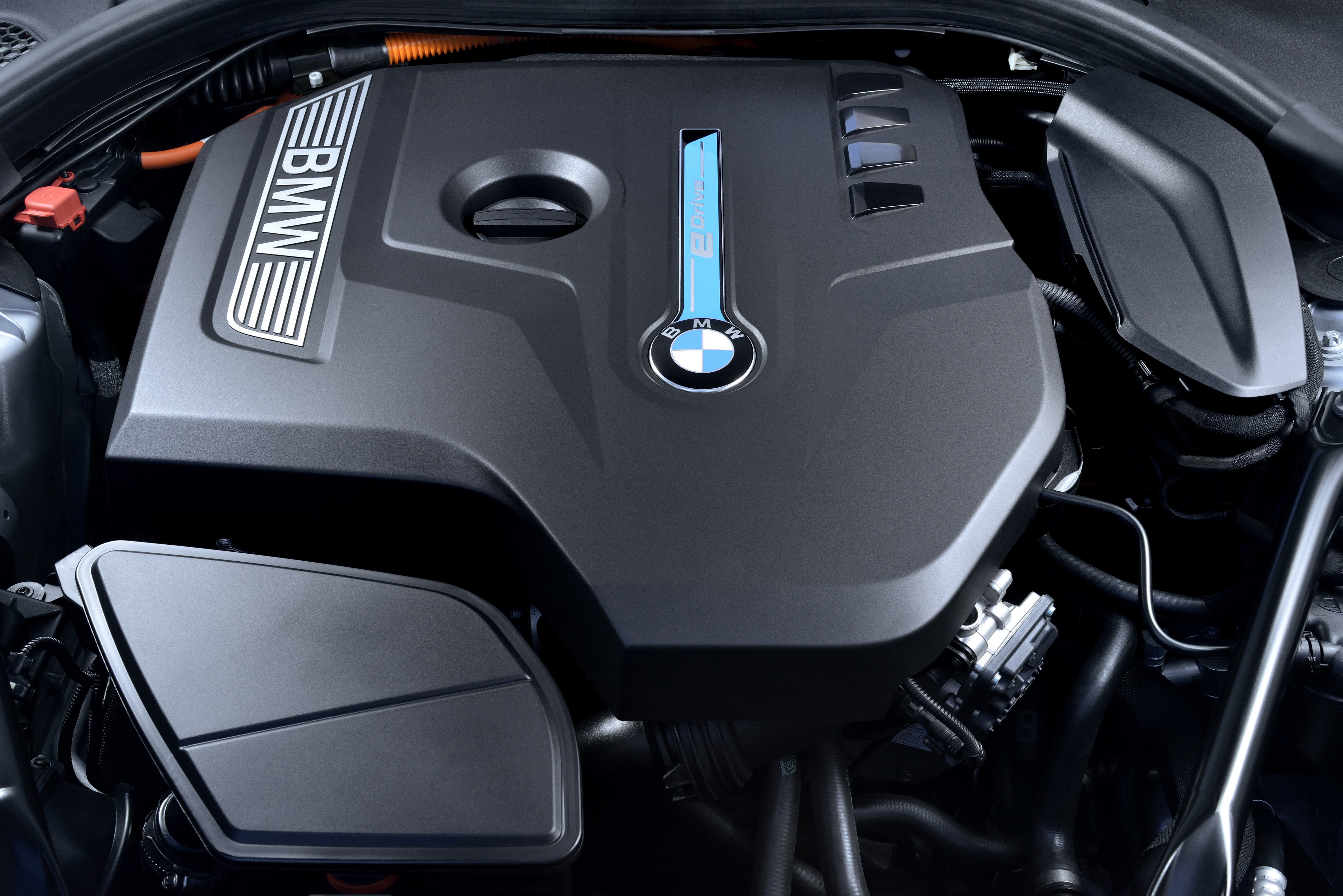 Powering the All-New BMW 530e Sport is the latest-generation inline 4-cylinder BMW TwinPower Turbo 2-litre petrol engine which generates 184hp and 320 Nm of torque. Combined with the BMW eDrive system's state-of-the-art electric motor, the All-New BMW 530e Sport has an overall system output of 252hp and 420 Nm of torque, enabling the car to sprint from 0 to 100 km/h in 6.2 seconds. With a top speed of 235 km/h, the All-New BMW 530e Sport enjoys segment-leading figures of consuming only 2.0l/100km of fuel with a significantly low CO2 emission of 46g/km.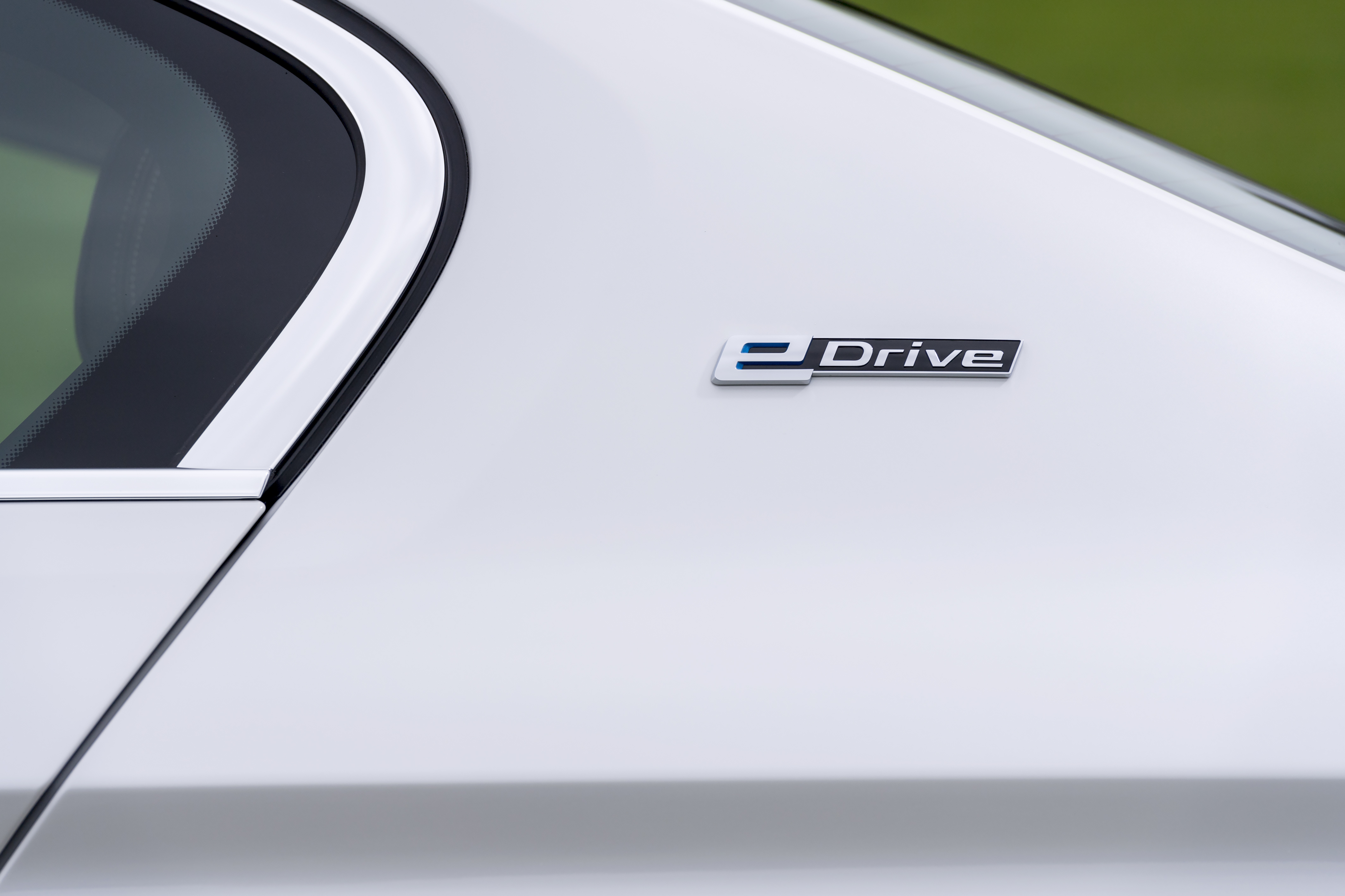 The electric drive boasts powerful efficiency with its combination of electric motor, lithium-ion high-performance battery, and intelligent energy management. The intelligent energy management optimises the effectiveness of the electric drivetrain and the high-performance battery with a predictive operating strategy. The All-New BMW 530e Sport offers an all-electric driving range of up to 48km with a maximum speed of up to 140km/h – the best in its segment.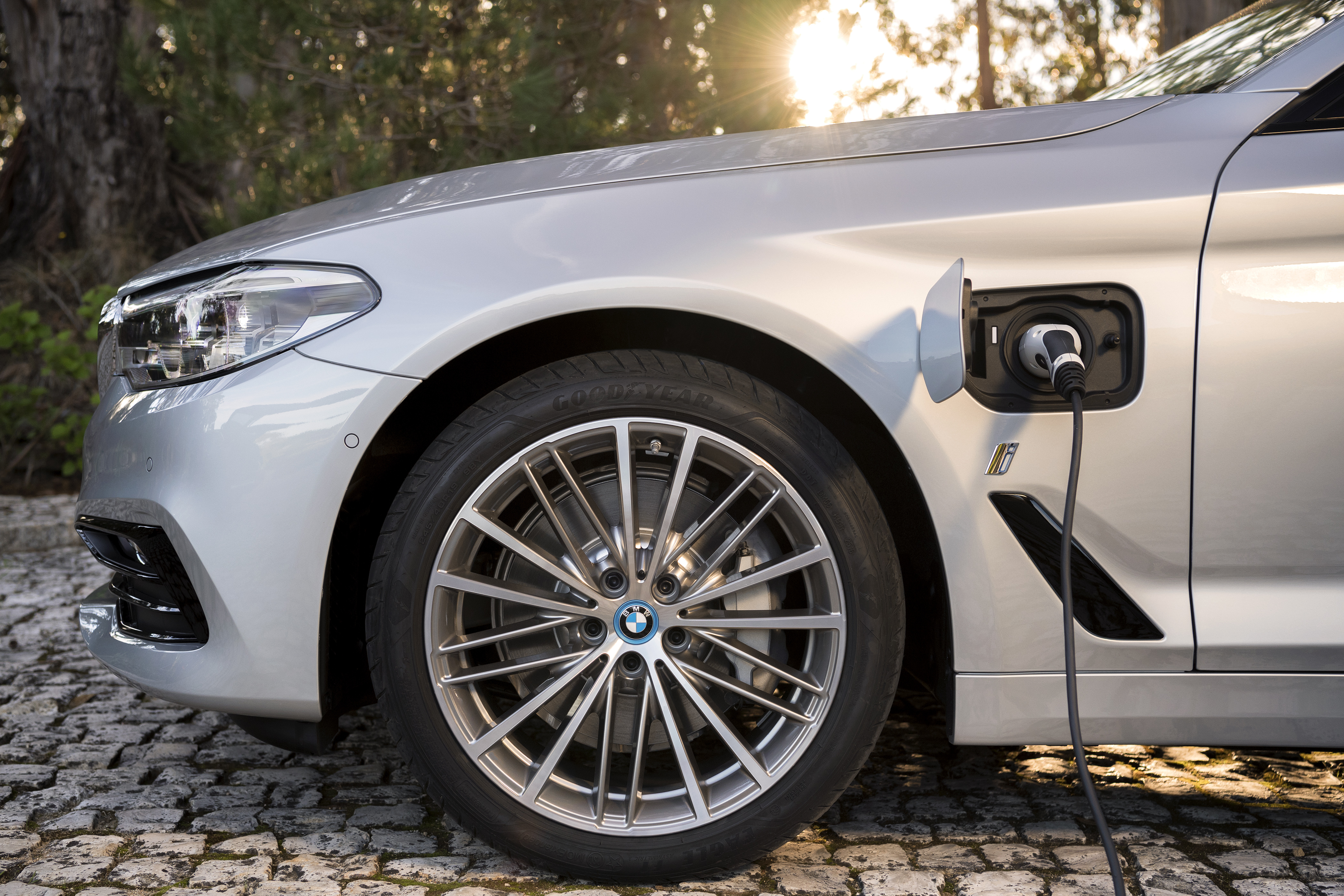 For the FULL press release on the new BMW 5-Series Hybrid eDrive, click this: Press Release – BMW Group Malaysia Introduces the First-Ever BMW 5 Series Hybrid with eDrive Technology
BMW 5-Series Hybrid eDrive FULL Specs & Price List:
BMW 530e Spec Sheet_Pen Malaysia
BMW 530e Spec Sheet_East Malaysia
LATEST! Nationwide campaign offering special ownership programmes for BMW models and BMW iPerformance models.
Additional special ownership programmes for BMW vehicles and BMW iPerformance range is also offered at BMW Malaysia's ongoing nationwide campaign, held at all authorised BMW dealerships. This includes special financing interest rates from 0.88% as well as attractive rebates across a wide range of BMW models.
New owners of the BMW iPerformance models – BMW 330e M Sport, BMW X5 xDrive 40e, BMW 740Le, and now the All-New BMW 530e Sport will also have unlimited, complimentary access for a whole year for the ChargeNow mobility services via the ChargEV platform in collaboration with GreenTech Malaysia.  The special offer also comes with a complimentary BMW i AC Fast Charging Cable. Specifically for new owners of the BMW X5 xDrive40e and BMW 740Le xDrive, the new programme by BMW Malaysia offers a complimentary BMW i Wallbox Plus, with RFID detection and can be managed and controlled remotely using the BMW iV smartphone app. The campaign ends 31st March 2018.