Groupe Renault has increased sales for the 5th consecutive year with 3,761,634 vehicles sold. Including Lada, The Groupe reported an 8.5% rise in global registrations (passenger cars + LCVs) in a market that grew 2.3%. The group market share now stands at 4.0% (+0.2 points vs 2016). In the LCV (light commercial vehicles) segment, the group set a new record with 462,859 registrations, a rise of 4.1% on 2016.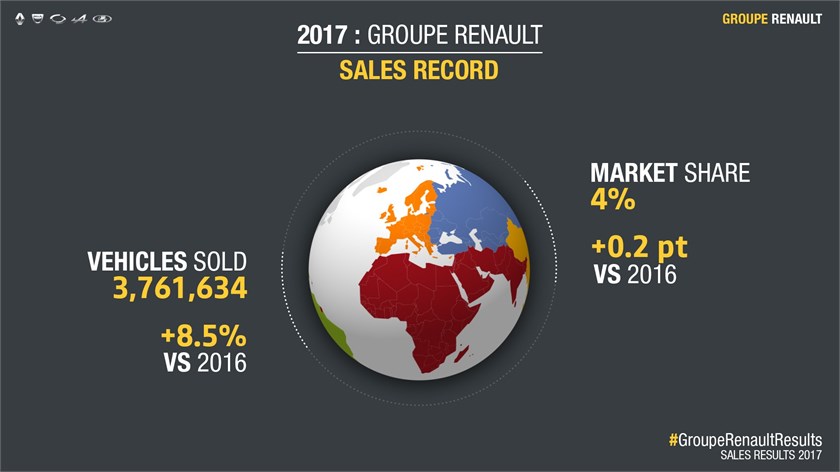 The Renault and Dacia brands increased sales to record levels with 2,670,982 and 655,235 vehicles sold respectively. Lada sales jumped 17.8% to 335,564 registrations, while Renault Samsung Motors sales fell 10.1% to 99,846 vehicles.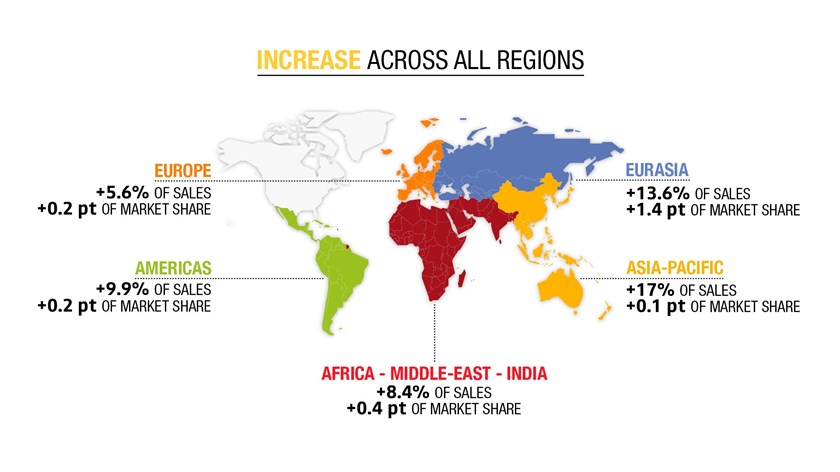 "We set a new group record with sales of over 3.7 million vehicles in 2017. We are continuing to increase sales volumes and market share across all regions. Our strategy of range renewal and geographic expansion is continuing to bring results. In 2018, we will pursue our growth and internationalization of our sales in line with the Drive The Future plan," said Thierry Koskas, member of the Executive Committee, EVP, Sales and Marketing Groupe Renault.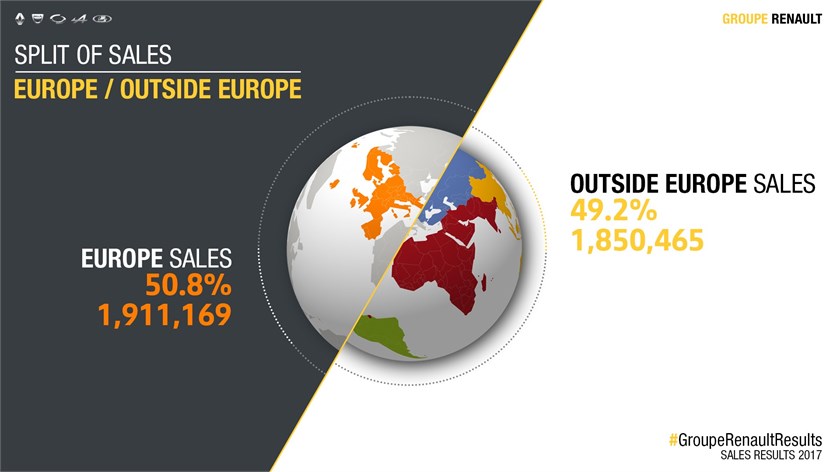 In Europe, in a market that grew 3.3%, group registrations rose 5.6% to 1,911,169 vehicles. The group took a 10.8% share of the European market, up 0.2 points. The Renault brand alone saw sales rise 3.7% for a market share of 8.2%. Renault sales were buoyed in particular by the complete renewal of the Megane family in 2016, and the launch last June of new Koleos. Clio remains Europe's second best-selling vehicle, while Captur is the number-one crossover in its class.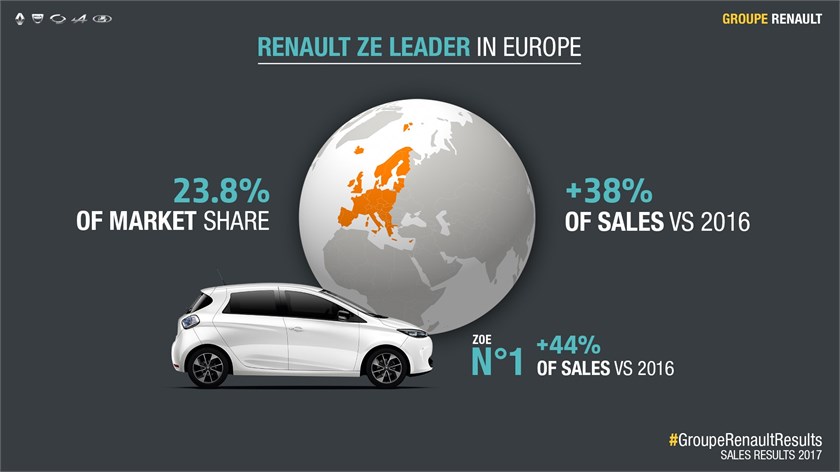 Electric Dreams – In the electric vehicle segment, Renault maintained its leadership with a market share of 23.8%. Sales volumes increased 38%. Registrations of ZOE, Europe's top-selling electric vehicle, rose 44%. Even before the launch of new Duster at the very start of 2018, the Dacia brand set a new European sales record with 463,712 registrations (+11.7%), and market share of 2.6%, a rise of 0.2 points. The rise is linked primarily to the strong results of Sandero phase 2, launched at end-2016.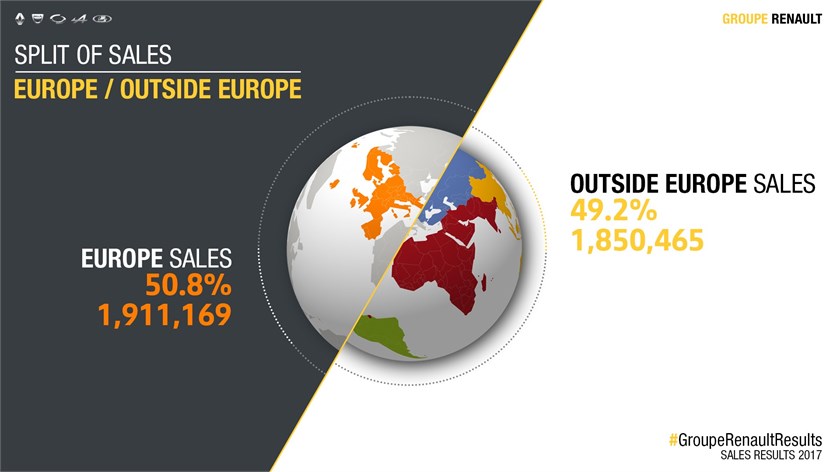 Outside Europe, the group increased volumes and market share across all regions. Group registrations rose 11.6% in a market that grew 3.3%. Sales outside Europe now account for 49.2% of the total. Groupe Renault consolidated its positions with the success of its new range: Renault Kaptur, LADA Vesta and LADA XRAY in Russia, Koleos in China, Megane Sedan in Turkey, Duster Oroch and Kwid in the Americas.
Over on this side of the globe, In the Asia Pacific region, registrations increased 17.0% in a market that expanded 2.7%. In China, Renault sold over 72,100 vehicles compared with 35,278 in 2016, thus doubling sales volumes in the space of one year. New Koleos consolidated its success with over 43,400 registrations. In India, Renault continues to rank as the number-one European car brand with market share of 3.1%. Sales fell 14.9% pending the ramp-up of Captur.
2018 Market Outlook for Groupe Renault – In 2018, the global market is expected to grow 2.5% vs 2017. The European market is expected to expand 1% with an increase of 1% for France. At international level, Brazil is expected to expand by 5% and Russia close to 10%. China is expected to grow by 5%, and India by 6%. Against this backdrop, the group is expected to reap the benefits of range renewal across all regions in 2018 and to pursue growth2 in sales, driven by international markets, in connection with the new Drive The Future plan.
For the FULL listing of Global Renault 2017 Sales, click here: Global News Release_A new sales record for Groupe Renault
1At constant scope
2At constant scope