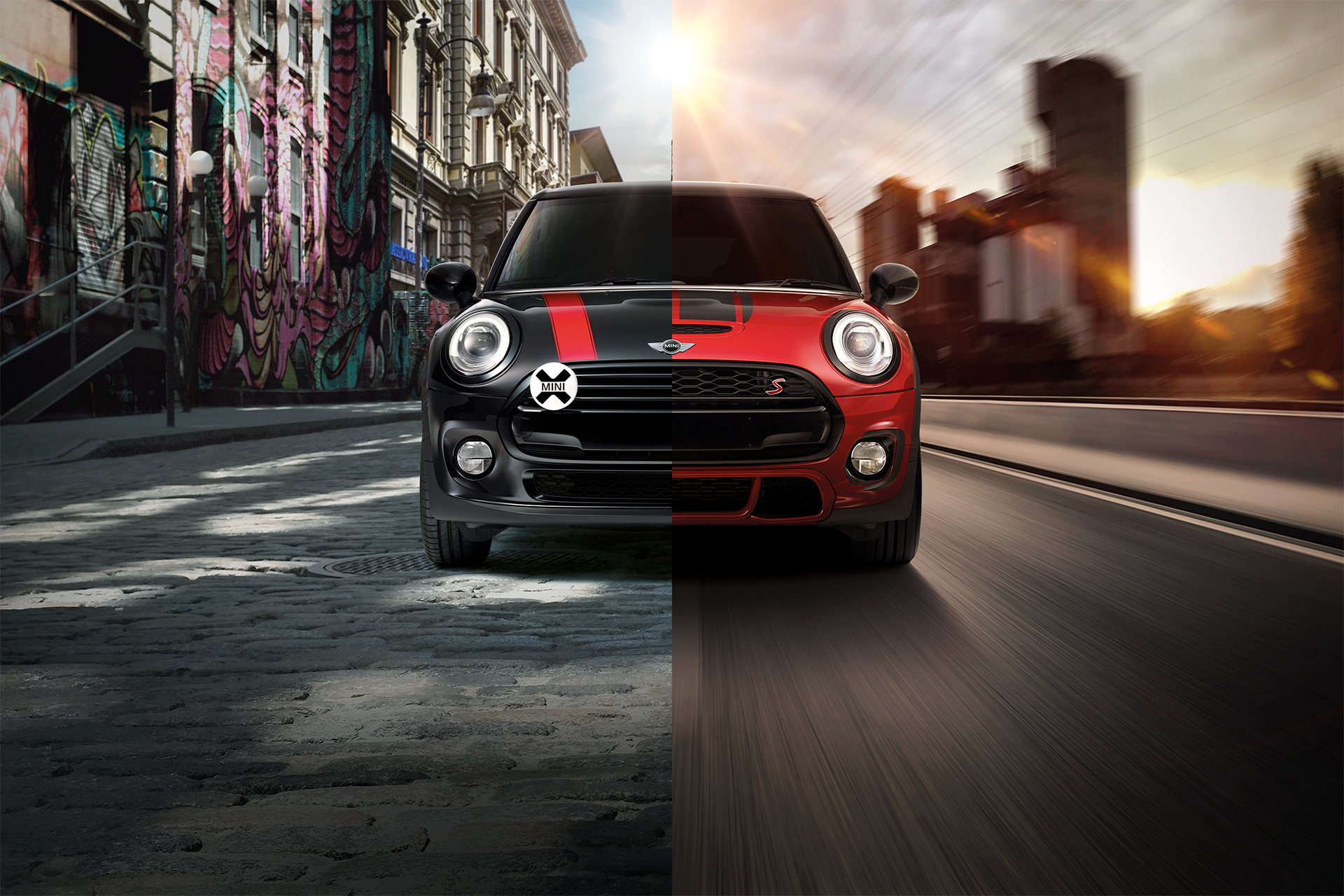 "Prosperity is only a ride away with New and Exclusive editions of the MINI Cooper 5 Door and MINI Cooper S 3 Door for the festive trendsetters and edgy inspired". How's that for an intro? So, hear ye, hear ye, MINI Malaysia, has just introduced two of its newest limited MINI Hatch Editions – the MINI Urbanite and MINI Amplified.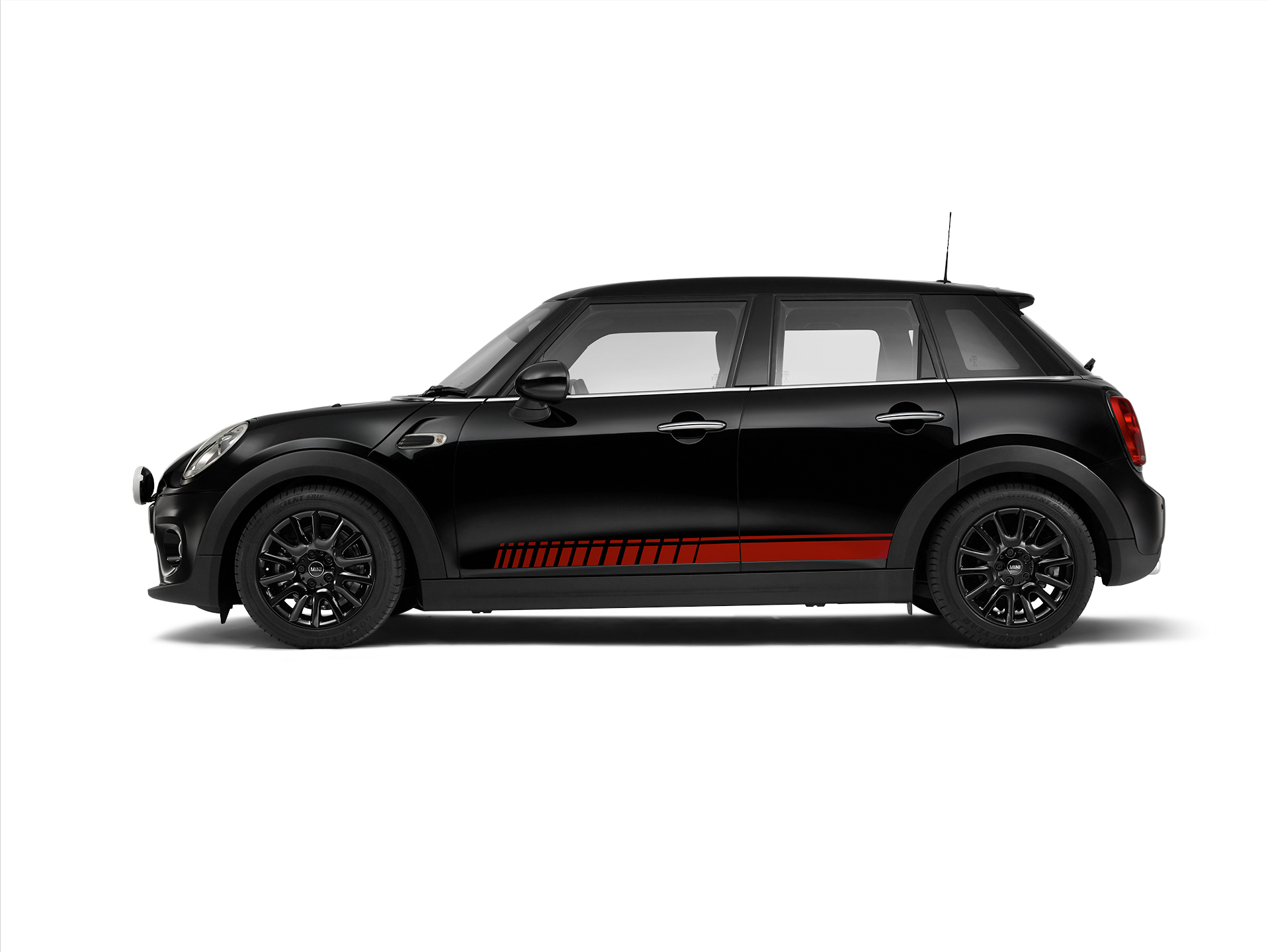 Designed for edgy and trendsetting individuals as well as engineered for the sporty and energetic, the New MINI Urbanite Edition (above) is created in the MINI Cooper 5 Door platform while the MINI Amplified Edition is created in the form of the MINI Cooper S 3 Door (below)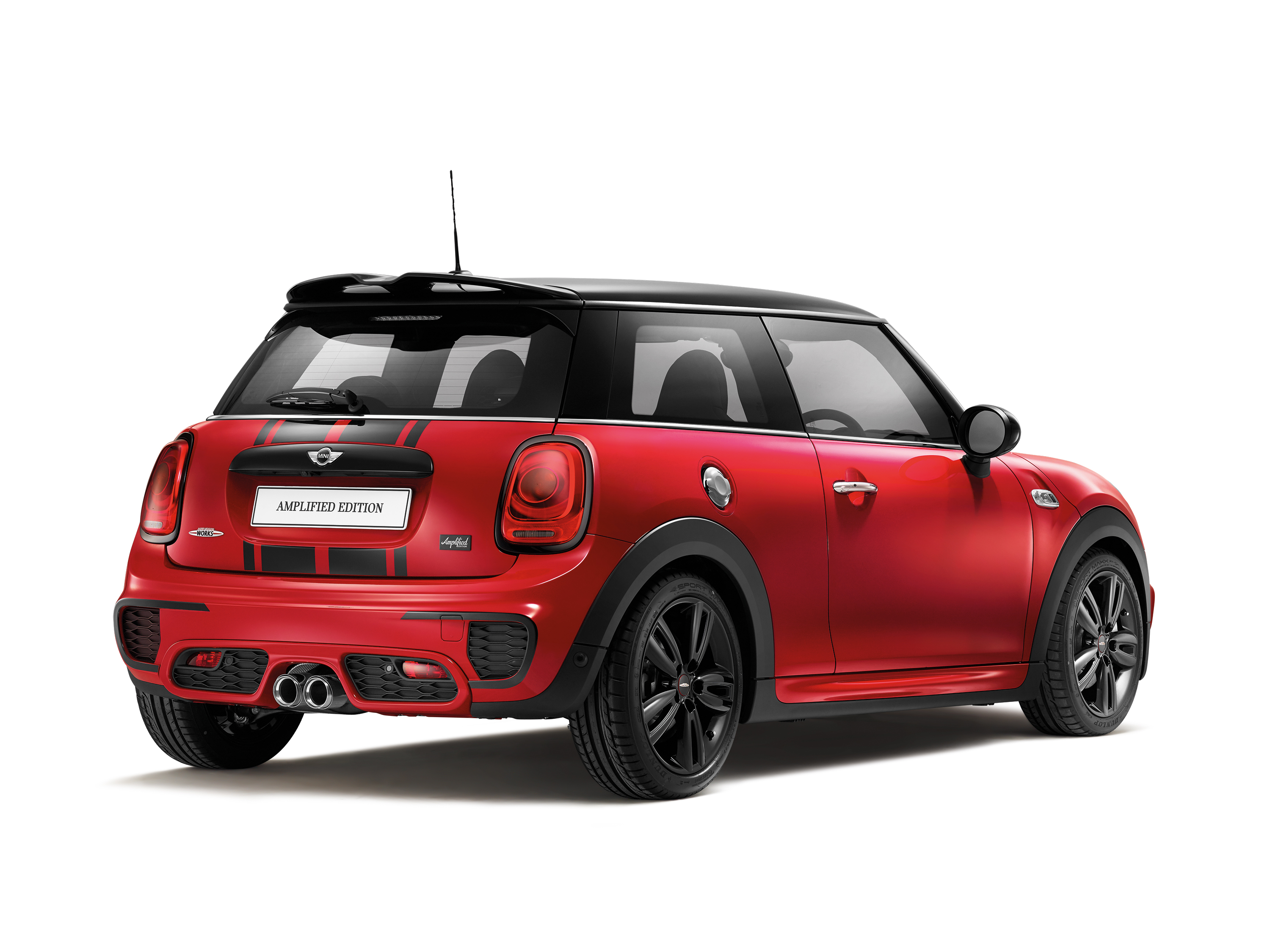 Introducing both, Han Sang Yun, Managing Director and CEO of BMW Group Malaysia said, "This Chinese New Year, MINI is going bold and loud! We have curated two new cars for individuals with discerning preferences to ring in the festivities of the Year of the Dog. The MINI Urbanite Edition is the perfect embodiment of the youthful, fresh and innovative trendsetting style of the brand whereas the MINI Amplified Edition exemplifies the sporty verve and agile handling MINI is known for. All Red and Prosperous for the New Year!"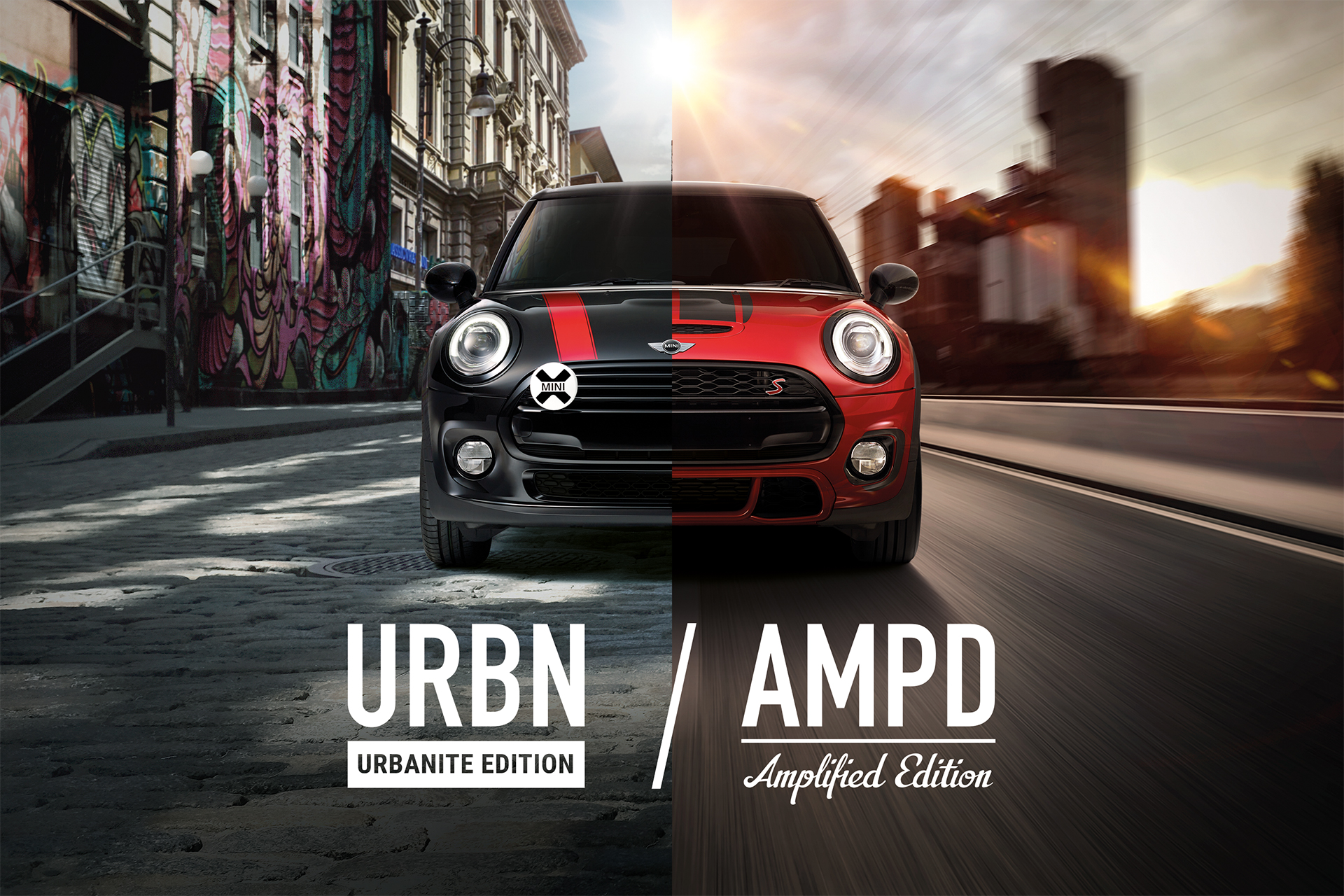 Both the New and Limited Editions of the MINI will be at all authorised MINI showrooms nationwide from today, 5th February 2018. More info on both including price after the photo gallery.
MINI Urbanite & Amplified Editions Photo Gallery…
More on the MINI Urbanite Edition…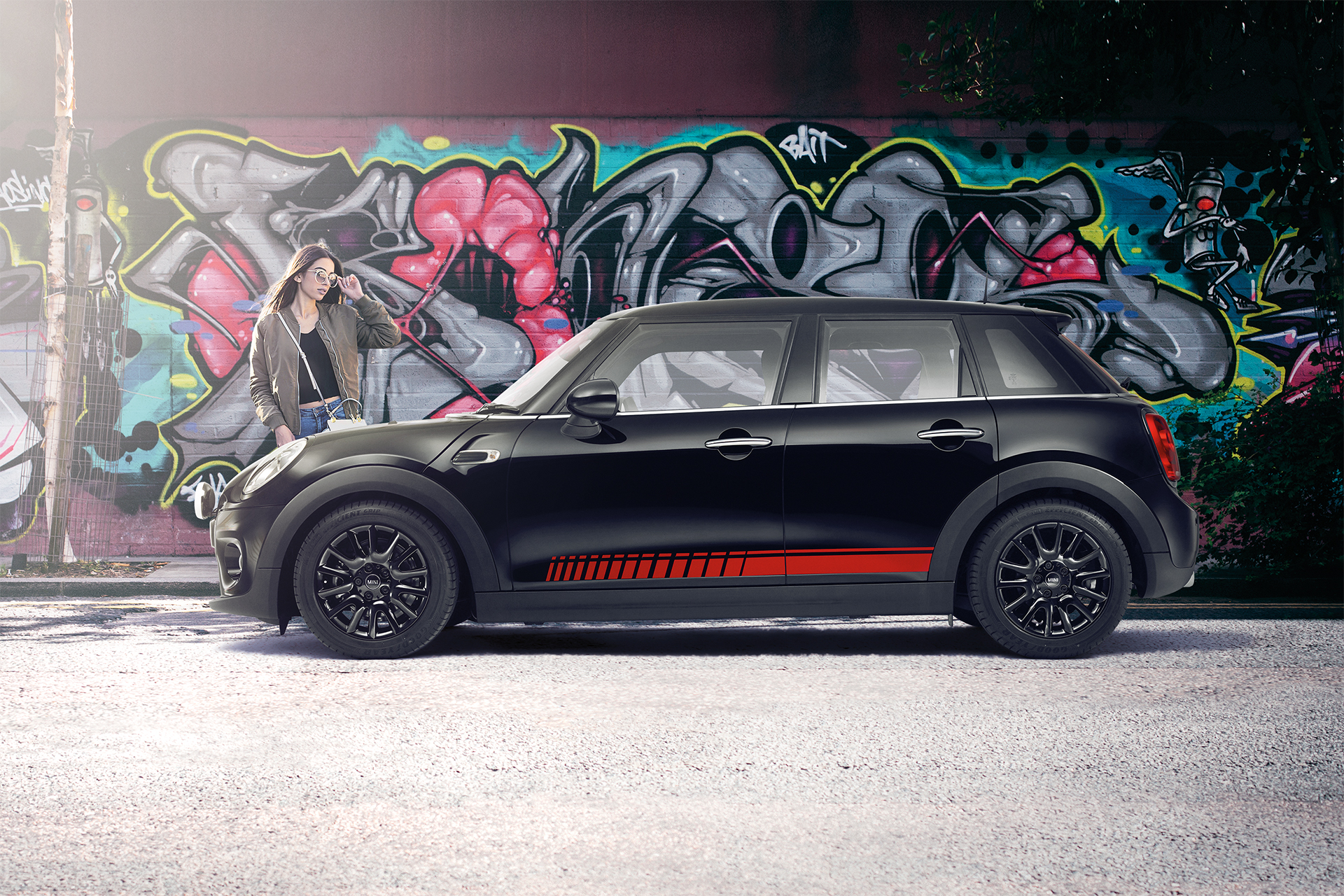 Created in the profile of the MINI Cooper 5 Door, the MINI Urbanite Edition exudes an assertive street character having undergone a substantial restyling to accentuate its boldness. Onlookers will initially be greeted with a distinctive additional LED Headlight – a modern touch to the classic Minis in the Monte Carlo Rallye. The MINI Urbanite Edition further demonstrates confidence by featuring the black the 16" Victory Spoke Rims with Piano Black light trims and grille. The Racing Stripes on the bonnet and along the body further underscores its dynamic design – exuding boldness with every turn it makes.
Mirroring the bold exterior approach, owners can enjoy the John Cooper Works Colour Line in Glowing Red in their MINI Urbanite Edition with Anthracite Headliner accentuating the sporty interior. On top of the MINI Connected standard feature with Bluetooth and USB, it now spots a new Rear-View Camera system with parking guidance lines and obstacle marking that detects and marks stationary objects. Getting in the driver seat, you will be greeted with a chic sport leather steering wheel.
Boasting an inline 3-cylinder engine with 4 valves per cylinder, the MINI Urbanite Edition delivers 136 horsepower and 220Nm of torque to accelerate from 0 to 100 in just 8.1 seconds with a top speed of 207km/h while only consuming an average of 5 litres per 100km of fuel.
The New MINI Urbanite Edition offers colours in mysterious Midnight Black with Red Racing Stripes, Blazing Red or Pepper White with Black Racing Stripes.
More on the MINI Amplified Edition…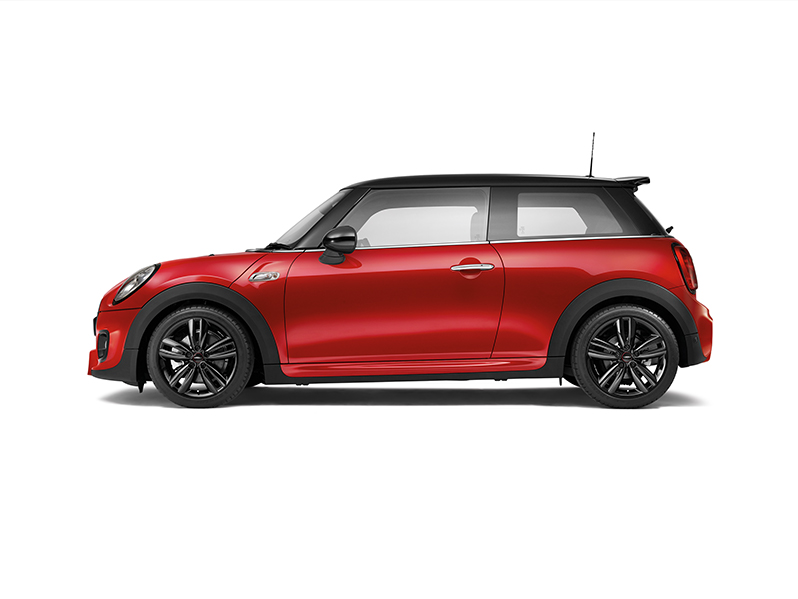 In spirit of amplification, the MINI Amplified Edition is engineered based on the MINI Cooper S 3 Door for the band of energetic, sporty elites. The exterior is anything but ordinary. Underlined by the John Cooper Works Aerodynamic Kit, the MINI Amplified Edition is fitted with a striking rear spoiler – the last thing bystanders will be able to rave over as this MINI Hatch Edition disappears into the distance. The MINI Amplified Edition is equipped with new Piano Black grille and matching headlight and taillight trim for a darker appearance. The Racing Stripes design on the MINI Amplified Edition pays homage to the MINI John Cooper Works Concept car giving it an extroverted personality, while the 17" John Cooper Works Track in Black Spoke adds a touch of flare to the MINI Amplified Edition – all of which equates to an impeccable identity.
The interior boasts a perfect balance between emotion and function. The distinctive John Cooper Works Racing Seats with integrated headrests designed in Alcantara Leather with contrasting Red Dinamica are built in to secure you in place while you enjoy the dynamism around you. Besides the Anthracite Headliner, the MINI Amplified Edition now features new exclusive accents in Glowing Red which was only available on the John Cooper Works Hatch previously. The bold colour makes for an exceptional match to the contrast stitching of the 6-Speed Sports Automatic Shifter as well as the John Cooper Works Perforated Leather Steering Wheel embroidery. To enable considerably easier and safer reverse parking and manoeuvring, the new Rear View Camera provides parking guidance lines and obstacle marking that detect and mark stationary objects. As a standard, the MINI Amplified Edition comes with comfort access and Black Chequered interior trims.
On the performance level, the MINI Amplified Edition is capable of 211 horsepower and 300Nm of torque thanks to the John Cooper Works Tuning Kit and the new John Cooper Works Valve Silence System. This accelerates the MINI Amplified Edition from 0 to 100 in merely 6.7 seconds with a top speed of 233  km/h. To amplify your presence with a sporty and aggressive tone that's tastefully louder, the MINI Amplified Edition features a new Track mode which can be activated via the John Cooper Works Bluetooth Remote Control.
Spot the New MINI Amplified Edition in Midnight Black with Red Racing Stripes, Chilli Red or Pepper White with Black Racing Stripes.
Standard Features…
Unique in their own ways – aesthetically and in performance – both the MINI Urbanite and MINI Amplified Editions feature LED headlight with daytime driving lights, as well as LED taillights and fog lights on top of auto driving lights. On top of rain sensors, they also share the Park Distance Control to help curb stress – enabling easy access into and out of tight parking spaces.
Inside, owners can indulge in the automatic dual zone air conditioning surrounded by 12 colour ambient light. Both the limited MINI Hatch Editions boast the high-resolution 6.5" MINI Visual Boost with 5 key controller, interactive LED ring on central instrument display, and automatic start / stop with Keyless Go. Get the soundtrack of your drive with MINI Connected with Spotify integration as it works to provide you with over 30 million songs streamed live to the car. On top of MINI Driving Modes, MINI Urbanite Edition and MINI Amplified Edition also come with cruise control with braking function to provide a leisure driving experience.
MINI Roadside Assistance…
Both MINI Urbanite and MINI Amplified Editions are covered by MINI Malaysia's 5 Years Roadside Assistance programme, available for all new MINI vehicles with a comprehensive list of services that include a 24-Hour, 365-days-a-year Accident and Help on the Phone and On the Spot Hotline, Free Towing Services and when needed (over 200KM from residential home), Replacement Vehicle, Seamless Mobility, Accommodation, Mobility Services Solutions as well as Repatriation services.
The MINI Roadside Assistance program can be accessed by contacting 1800-88-8808.
MINI Service Online…
Making a service appointment has never been easier. The new online service programme will now allow customers to schedule their service needs directly at their preferred MINI Authorised Dealerships via service.mini.my.
The limited MINI Hatch Editions will be making their debuts at all MINI showrooms nationwide from today and also offers new, edgy and trendsetting ownership programmes courtesy of the MINI Full Circle programme. With 70% margin of financing, ownership of the MINI Urbanite Edition starts from RM 1,758.00 per month, while ownership of the MINI Amplified Edition can begin from RM 2,158.00 per month. The MINI Full Circle programme is offered courtesy of BMW Credit Malaysia, a company of BMW Group Financial Services.
The limited-edition MINI Urbanite and MINI Amplified arrive with the MINI 4-Years Unlimited Mileage Warranty with Free Scheduled Service. The retail price (on the road for personal registration, without insurance) is:
MINI Urbanite Edition:             RM 198,888.00
MINI Amplified Edition:           RM 248,888.00
More information on the New Limited Edition MINI Hatches in conjunction with Chinese New Year can be found atwww.mini.my/urbn-ampd