Coming in just shy of RM200k, the MINI 5-door is quite a lot of fun to hoon around in! But with this kind of sporty handling, does one really need additional doors? We find out!
All MINI's from MINI Malaysia come with MINI 4 Years Unlimited Mileage Warranty with Free Scheduled Service as well. The estimated retail prices (on the road for personal registration, without insurance) are:
 MINI Cooper 3 Door                        –           RM 188,888.00
 MINI Cooper S 3 Door                     –           RM 229,888.00
 MINI John Cooper Works 3 Door  –        RM 293,888.00
 MINI Cooper 5 Door                         –           RM 193,888.00
 MINI Cooper S 5 Door                     –           RM 239,888.00
For the FULL Mini 5-Door Press Release, click this: Press Release – MINI Malaysia Introduces New 5-Door
Review: A week with the Mini Cooper 5-door by Vincent Vega…
Reviewing a Mini Cooper 5-door is like an adult reviewing a toy gun. You have grown out of it but yet you will still pick one up even for just a few seconds. Whether it is for the memories and the few seconds of child-like freedom that a toy gun offers, or for other reasons, but you never really grow away from a toy gun, you would still have fun with it but your everyday toys just become expensive.
The Mini Cooper works along similar lines too. When you're young, the Cooper is probably up there among your must own cars, or perhaps you have even owned one, in which case you would probably love the car for its iconic one-of-a-kind design, superb handling, and all out fun it offers.
But just as you would grow away from the toy gun, there will come a time where the size and practicality that a Mini Cooper offers does not match your life and style any longer. Perhaps you need more room, more freedom to accommodate your everyday life, more doors even.
But unlike the toy gun which you may chuck into a dark corner never to see again, you can actually take your Mini Cooper to the dealer and trade it in for the Cooper you see in the photos here – the Mini Cooper 5-door.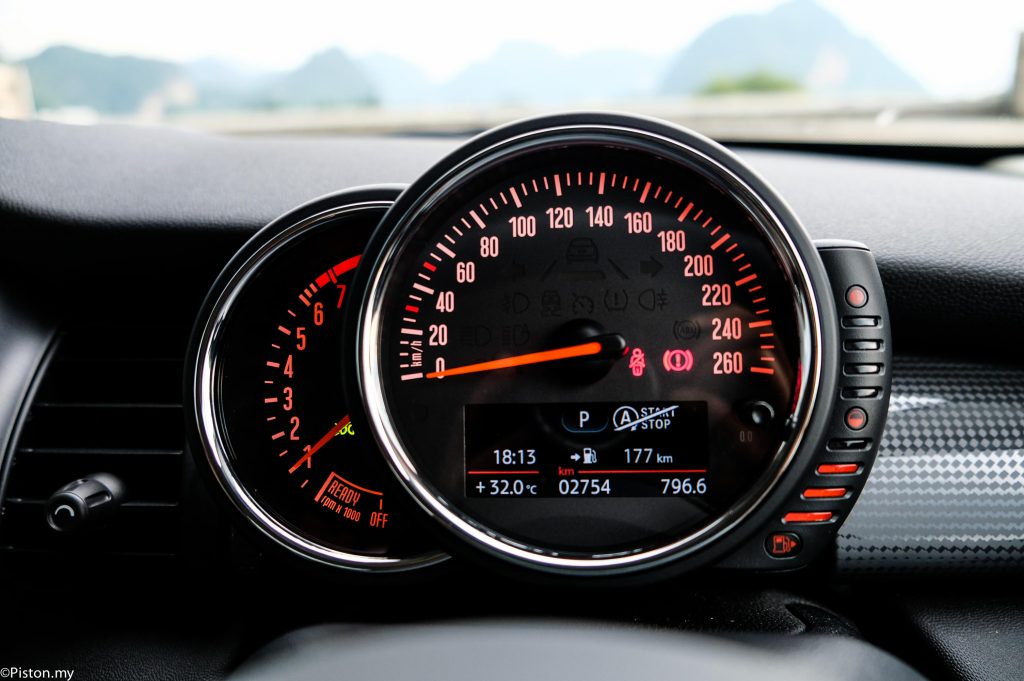 Still stylish, still iconic and yet practical, the 5-door is an "adulting" Mini Cooper, and it is quite good at it too.
But it still flaunts the Mini in the Cooper, the back seats are better suited for the vertically challenged as anyone beyond 5'10" will have a tough time (as demonstrated by the kind soul above who measures in at 6'5″). Booth space is decent, much better than the standard two-door variant and with the foldable rear seats, you get even more practicality. But that is about it as far as practicality goes. The Clubman and Countryman would be better associated with practicality, while the Cooper 5-door is what you get when your wife tells you that you have outgrown 2-door cars.
But even if practicality isn't the name of the game for the 5-door, it is still holds true to its DNA of fun and style.
Everywhere we went during the week long review people who sneak a curious glance and the girls would drop their pants, wink, blow kisses, had a curious twinkle in their eyes, basically everyone was curious. That is what a Mini does, it takes people back in time, to a place where they felt young, free and even stylish. It makes people curious about how the car will make them feel.
The fun factor in this Cooper 5-door is in the way it handles, and not in the way the car performs. Mini's have always been known to have sweet, edgy handling, at the sacrifice of overall comfort, and modern Mini's have mastered the art of something called "go-kart like handling." Visit the website, attend a Mini event, or explore the driving modes the car offers and you will see messages about "go-kart handling". And the handling is spot on perfect, twitch the steering just a little and the car responds almost immediately. And this isn't the fire-breathing JCW model.
But being the base model, the car is powered by a slouch an unexciting engine. The 1.5-litre, 3-cylinder puts out 136hp and 220Nm of torque. This translates to an acceleration time of 8.1 seconds to 100km/h with a fuel consumption figure of just 5-litres per 100km, which is quite close to the City hybrid.
The engine is geared towards everyday practicality with a focus on fuel efficiency rather than all out performance. If it is the latter you seek then the Cooper S or the JCW model is the car you want, this one though is a partner for everyday life. But the car can still merrily cruise at 160-170km/h on the highway without sounding like it was about to have its internals explode out. The car has noble intentions, even though it isn't very powerful, it has the intentions, and if you can find a stretch of road where it can hold its speed, then you can rely on that marvellous chassis to provide you with plenty of giggles.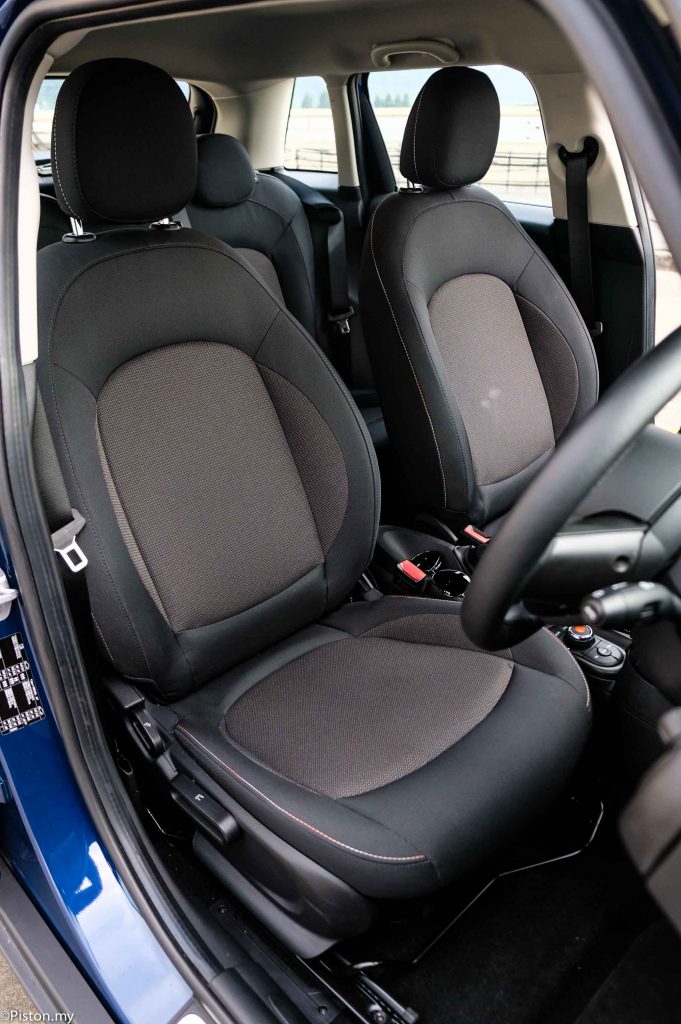 Comfort isn't the star of the show either. It is a nice car to be in around town or the city highways, but the fabric seats are hard and smallish, venture out of town and the chassis proves to be a little too stiff – it may give you the type of handling that would make a good hot hatch blush, but it will also bounce and jiggle parts of your body you never knew you had. I am also quite sure I need a b-cup bra now, or spend a good chunk of my life at the gym rather than at the bar.
Anyway, the Mini Cooper 5-door is all about style and convenience, but just don't expect it to excel at the latter. For the price of RM193,888, there are many more cars out there that offer better practicality. You buy a Mini Cooper for the style and for its heritage, you can never go wrong in that aspect. Oh and it makes you feel young and fantabulous again.
by Vincent Vega