The Porsche GT3 does not need an introduction, it is probably the epitome of performance in its segment. Engineered to be raw, wild yet tameable, the 911 GT3 promises unparalleled performance to the discerning few. And it is about to get even better for those interested to buy one in Malaysia.
Sime Darby Auto Performance (SDAP), the company behind brand Porsche in Malaysia, introduced three unique GT3's exclusively for the Malaysian market, and these are – Meissen Blue, Signal Green and Riviera Blue.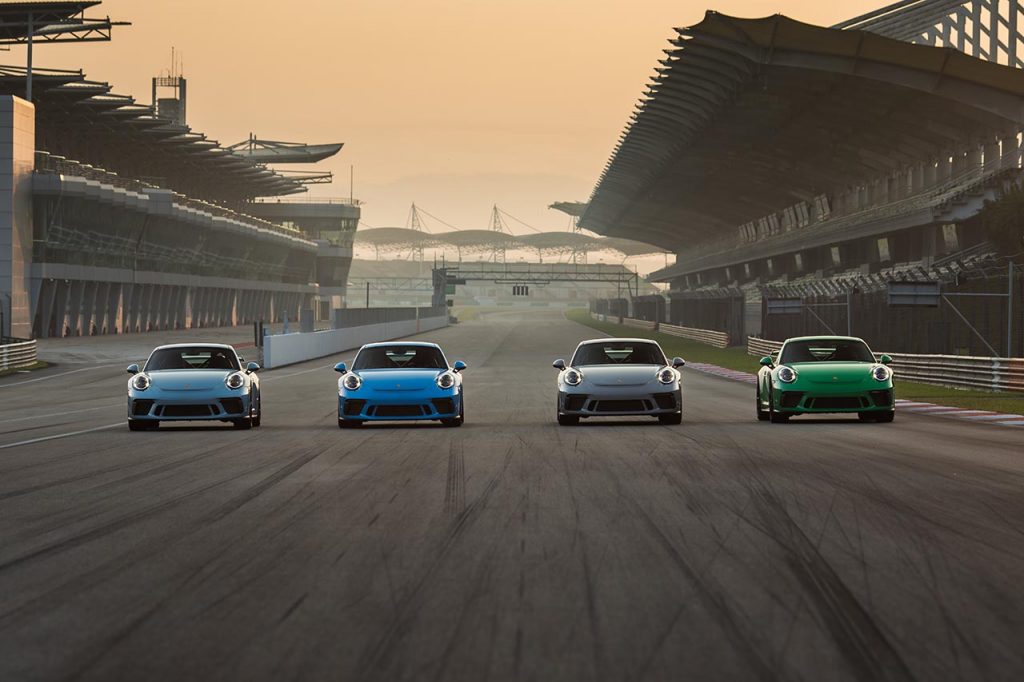 These new colours were ordered by SDAP through the Porsche Exclusive Manufaktur, a department within Porsche that specialises in bespoke modifications for their owners. And this means that there is a very good chance that whoever ends up buying these cars, will probably be the only person with such a colour in Malaysia, the region, and though there is a lesser chance of it happening, but maybe even the world.
These unique GT3's don't only offer a special colour, but according to a press release sent out by SDAP, also offer a mixture of high-quality materials such as leather interior package featuring extended alcantara detailing. And nothing shouts performance than the colour red, and that is exactly the colour adorning the instrument dials, seat belts and the Sport Chrono stop watch, all of which are painted in a colour Porsche calls Guards Red. The cars also feature illuminated carbon door sill guards and body-guard air vents.
Just to recap, the Porsche 911 GT3 offers a power-to-weight ratio of 2.86 kg/hp with an overall weight of 1,430kg. The car transfers all of its 500hp to the rear wheels via a seven-speed double-clutch transmission (PDK), and even with a full tank of fuel, the GT3 demolishes the 0-100km/h sprint in just 3.4 seconds, on to a top speed of 318km/h. But if you opt for the manual transmission, the GT3 sees off the 0-100km/h run in 3.9 seconds, and reaches a top speed of 320km/h.
And just for your information, the 4.0, flat-six engine is the same engine that powers the 911 GT3 Cup race car.
Full press release: Sime Darby Auto Performance unveils three exclusive and unique 911 GT3
Riviera Blue
Signal Green
Meissen Blue