It's been about 10 years since I first attended the Bangkok International Motorshow, commonly known as "BIMS" at the IMPACT Challenger just outside Bangkok, Thailand, and I have to say, both in terms of displays and organisation, this is one of the best motorshows in the region, if not THE best. Here was the first walk-around video upon arriving…
BIMS 2018 was held from 28th March to 8th April 2018, and from the time I touched down in Bangkok, till the time I left the show four days later, once again, GPI (Grand Prix International) the organisers of BIMS did a remarkable job ensuring that the media were well taken care of. Facilities included a full-fledged media centre for both local and international media, stocked with food, drinks, lockers, and tables replete with laptops for our use, printers, fax machines (yes, some still use those) and photocopiers. Having settled, it was time to head for the official opening ceremony…
The BIMS show itself is unlike anything in the region, literally. Not so much in the way it's presented, but for the fact that BIMS is a 'sales motorshow' as well, one of the only, anywhere. While the actual display pavilions set-up by the various carmakers are of international standard – i.e. both the BMW and Mercedes-Benz pavilions look like they were brought in wholesale from Geneva or Frankfurt – behind the scenes, or rather display areas, and away from the main gaze of visitors, a frenzy of selling is taking place.
This year, a total of 42,499 vehicles were sold at BIMS, far surpassing their set target of 40,000; a conservative figure set forth from the 38,000 vehicles sold at BIMS 2017 . I also heard from the organiser that in 2017, one particular German brand sold more cars at BIMS than they did for the whole year on the outside. Such is the importance of this show, so much so that Ford decided it would be the perfect venue to launch the much-anticipated Ranger Raptor…
A staggering 1.6 MILLION visitors attended BIMS 2018, and while undoubtedly this was the truck everyone was waiting to see, it was just one of the many attractions to be found at BIMS, which really wouldn't be complete without the lovely ladies that adorn every pavilion. This year, however, the organisers did something different; a catwalk! So in the span of 30min, everyone was able to meet and say hello to all the girls that would be part of BIMS 2018…
While in this day and age, many may question the need for girls to still be part of a motorshow, as Dr.Prachin Eamlumnow, (below) Chief Executive Officer of Grand Prix International himself put it…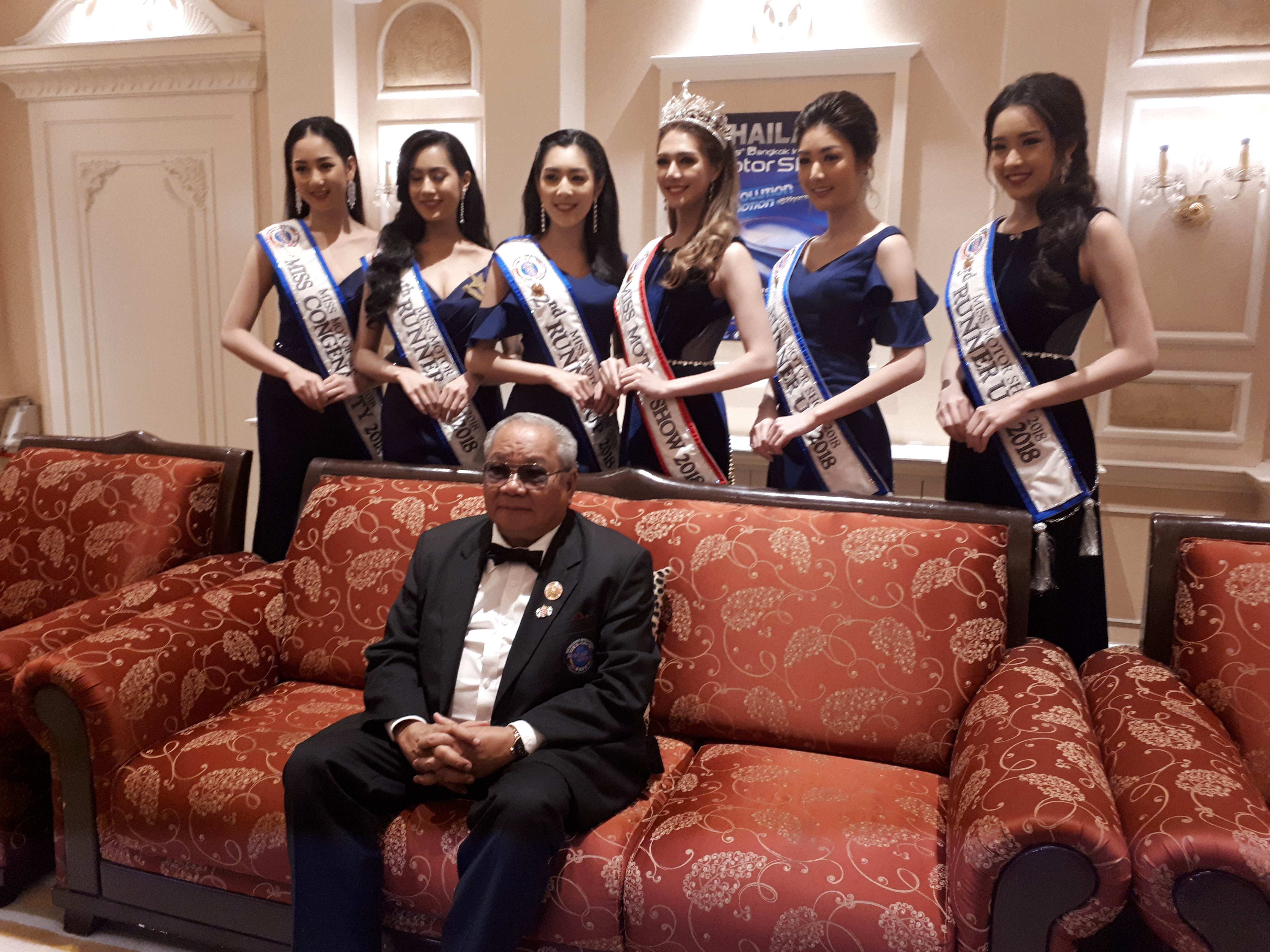 "Cars and beautiful girls go hand-in-hand, both are lovely and both are unique, so why keep them apart; they should both always be celebrated and honoured at a motorshow; one compliments the other." We tend to agree. So Formula One, you can just suck it for dispensing with them. And it's not like they just stand there doing nothing at BIMS, for example this Suzuki girl was definitely waxing lyrical about the new bikes that were launched at the show…
Apart from new metal, BIMS holds the distinction of having the only "Used Car Fair" as well. Yes, you read that right, if the new cars don't tickle your fancy, about a week after the official launch of BIMS, the organisers hold a second launch for the Used Car Show. All the cars sold here are certified and come with warranties, in addition to special 'motorshow financing schemes' that offer better and more flexible rates. Krungsri Auto, an official partner of BIMS for five years running, is at hand to assist anyone wishing to buy a used car at the show.
Another attraction of BIMS is the annex hall of IMPACT Challenger, which by the way is the largest piller-less hall in SEA, in which the Car Accessories section is housed. This is a must-stop for anyone visiting BIMS, because car accessories wise, it's like a one-stop, anything-you-want-under-the-sun type of place. Here's my walk-around, which in retrospect was ill-advised because I ended up spending half my money here later. Get this, I even found an aftermarket high-flow air-filter from Hurricane for my classic 1983 Mercedes W126 280SE… who the HELL sells stuff like that at a motorshow??? Trust BIMS to have it…
As night falls, the action doesn't stop. Out the back of IMPACT Challenger, and at one of the many open air venues that's home to external exhibits as well as test-drives, the car clubs and modders would take centre stage to show off their wares. I caught the tail-end of the modded truck show, and was (almost literally) blown away. The crazy amounts of bass that some of these trucks produce can apparently stop a heart from beating if you get too close….
Well, like I've always said, nobody wants to read about a motorshow, so until next year and the 40th Edition of BIMS, here's the FULL photo gallery of the 39th Bangkok International Motorshow 2018! – Chris Wee.
BIMS 2018 Photo Gallery… (More Videos after the jump)
:::::::: MORE Videos ::::::::
BMW @ BIMS 2018…
Aston Martin @ BIMS 2018…
Suzuki Bikes @ BIMS 2018…
Bikes, Accessories & MORE GIRLS @ BIMS 2018…
Acknowledgement: With heartfelt gratitude, Piston.my (and me personally) would like to thank the organisers of BIMS, Grand Prix International, for the invite to cover this yearly event yet again; GPI are the most gracious hosts I've ever had the privilege of meeting, and it's a genuine pleasure and honour to cover this event annually.Thank you! – Chris Wee.