Let me tell you a story… There was a time when I went full-retard for the world of 4×4's, no, really. It was quite a sight I tell you, and since it was me, and everyone knows you never go full-retard, needless to say it was pretty epic… And one of the 4×4's I had early on was a little Suzuki Jimny SJ413, which looked almost exactly like this (minus the roof-rack, alloy rims, bull-bar, air-press, spot-light, decals, etc.)…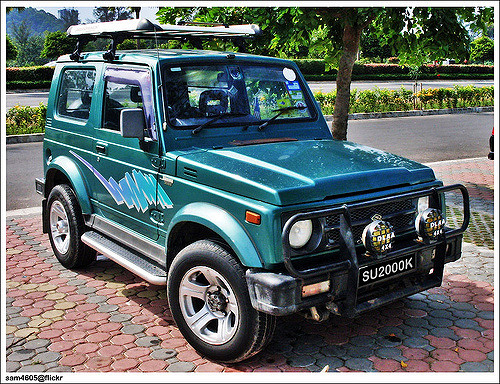 It was the most uncomfortable vehicle I'd ever owned in my life, and I also later learned that during previous ownership, a fire had broken out in the engine compartment. Wow. Powered by a small, naturally-aspirated 1300cc engine mated to a 5-speed manual gearbox, it had manual-locking front hubs if I needed to get into 4×4 mode, but more importantly, it also had a 4WD High & Low transfer case, and that's what mattered most. Actually, forget the photo above, mine looked exactly like this one, bare-bones and basic as hell – and also that filthy – cos it looked better that way…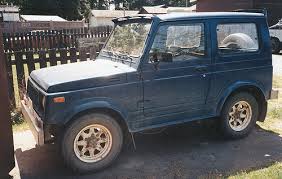 You see, I was crazy into off-roading back then, and often accompanied friends, who happened to be in the 4×4 line, as a back-up car when they went to recce locations for upcoming 4×4 events. The thing I recall most fondly about my SJ413 SWB (short wheelbase, there was also a LWB, but that was pretty rare even back then) is that it never got stuck, not once. The bigger 4×4's in the convoy would always invariably get stuck at some point, and had to be winched or snatch-strapped free, but not the little Jimny. It would just scuttle along merrily past them, seeing as how it was so light, so nimble and much smaller than the rest.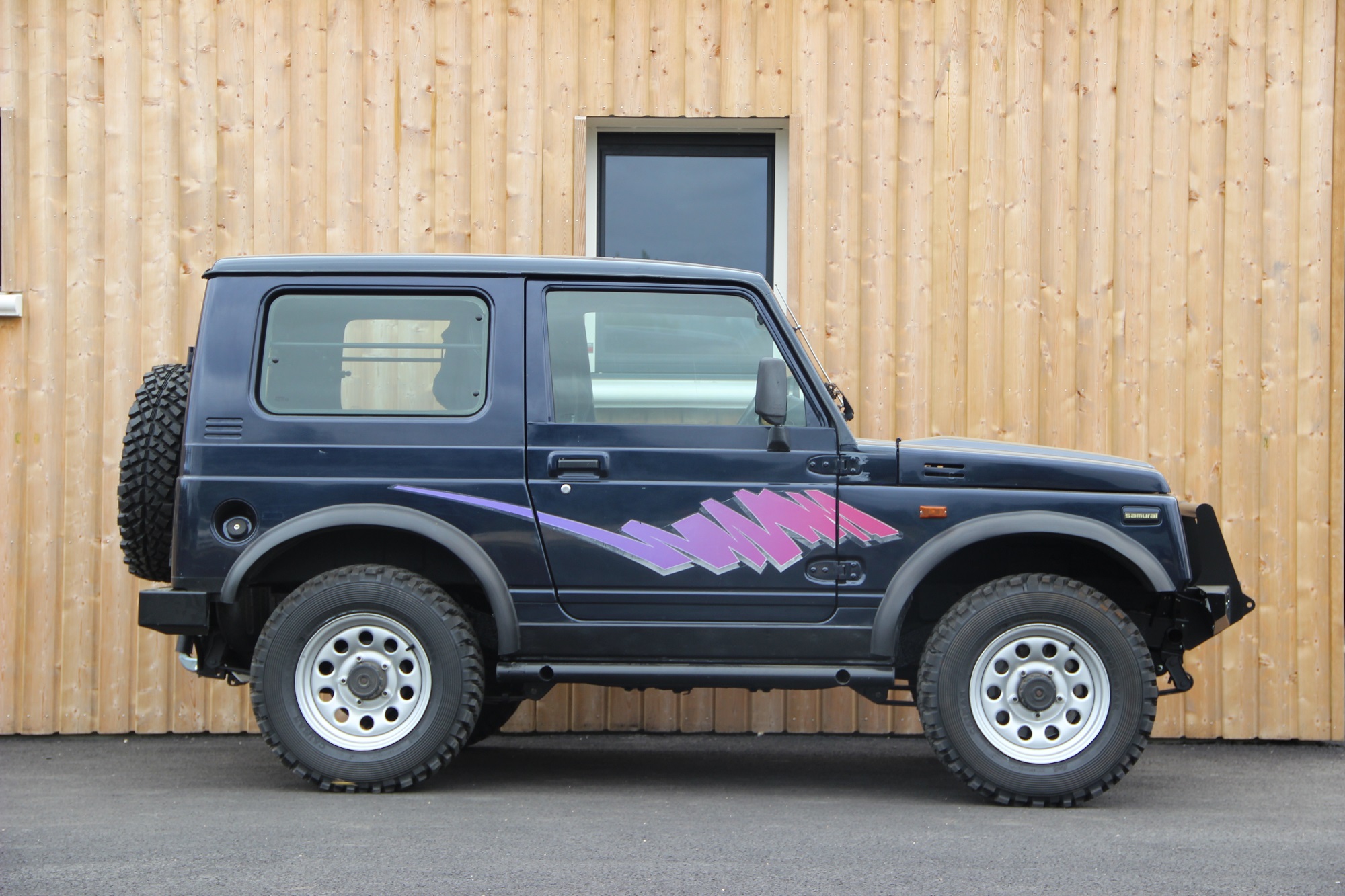 And you wanna know the best part? Short of a set of M/T tyres (mud-terrain), my Jimny was bone-stock-standard. No bull bars, no snorkel, no body-lift, no raised suspension, no winch, not even a tow-hook to speak of. This always made me smile (well, snigger actually) when those who had gotten stuck earlier in the day would talk about their expensive 4×4 modifications and add-ons around the campfire later that night. Stock-standard, never stuck.
Here's an old video showcasing the SJ413 against its (then) newer sibling, which debuted in 1998. A bit of an unfair comparison seeing as how the (then) newer one seemed to be on road tyres, and traction matters most when you're ascending a slippery incline, but it does show just how tough and nimble the old one was…
I still occasionally scour the on-line classifieds to scope out used Suzuki Jimnys, and I'm quite pleased to see that they've maintained their value in the used-car market. Good ones still command five-digit figures easily, and sometimes those digits don't start with 1.
Sadly though, the Suzuki brand is no longer represented here, which is a shame really, because the new Jimny set to debut next year looks brilliant. It looks like a mini Merc G-Wagen to be honest, and well if you're gonna be design-inspired, it might as well be by one of the best out there right? Here's the intro video:
And now from CarBuyer UK, check out the new Suzuki Jimny due in 2019!
These are the first official pictures of the 2019 Suzuki Jimny, showing that the new version of this diminutive SUV will look tougher than ever when it arrives next year. The Jimny has a reputation for being a superb off-roader despite its small size and the outgoing model has the oldest design of any car on sale, with few major changes in the past 20 years.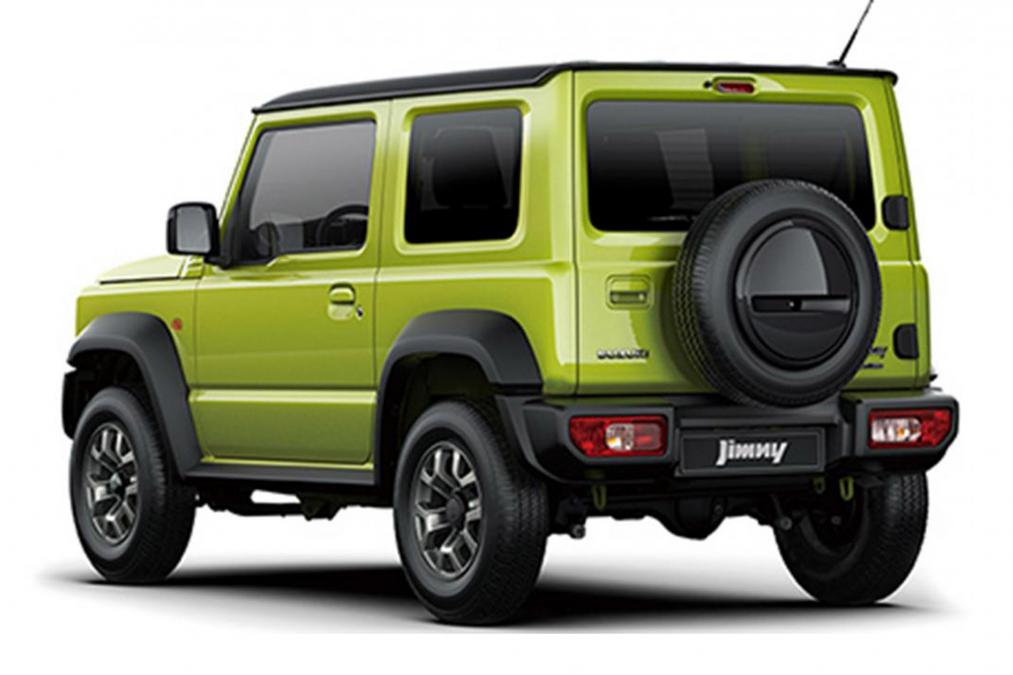 Its long-awaited replacement is clearly recognisable, but has squared-off lines, a table-top bonnet, upright windows, bright colours and a black roof. Viewed from the front, its two-tone look apes cars with a 'floating roof' design, including rivals like the Ford EcoSport. The Jimny could also tempt buyers away from the Dacia Duster and Jeep Renegade.
Funky features like round headlights and a slotted grille pay tribute to the old model, as do rear light clusters either side of its simple bumper and the spare wheel hung on the tailgate. The overall effect is similar to a Mercedes G-Class (toldja! – Ed.) that has shrunk in the wash. Basic versions will come on practical steel wheels, while chunky alloy wheels will be offered on Jimnys further up the food chain.
The angular design theme carries on inside, where the staunchly horizontal dashboard has been treated to a large infotainment screen, sitting above Suzuki's modern switches and dials for the heating and ventilation system. There's also a new steering wheel and large gauges sunk into an old-school square binnacle.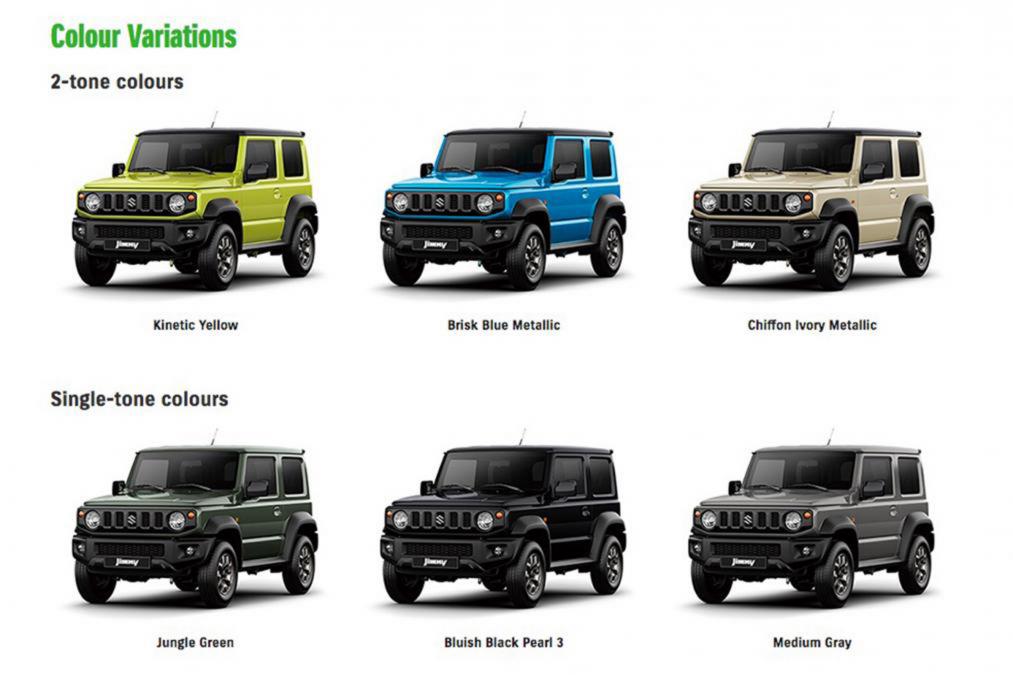 Under the retro bodywork, there's a tough ladder-frame chassis featuring rigid axles and part-time four-wheel drive, with a low-range set of gears you can switch into for serious off-roading. There's no word on engines yet, but we'd expect Suzuki to fit petrol engines from its current portfolio, with the 1.2-litre Dualjet and advanced 1.0-litre Boosterjet from the Swift the most likely candidates.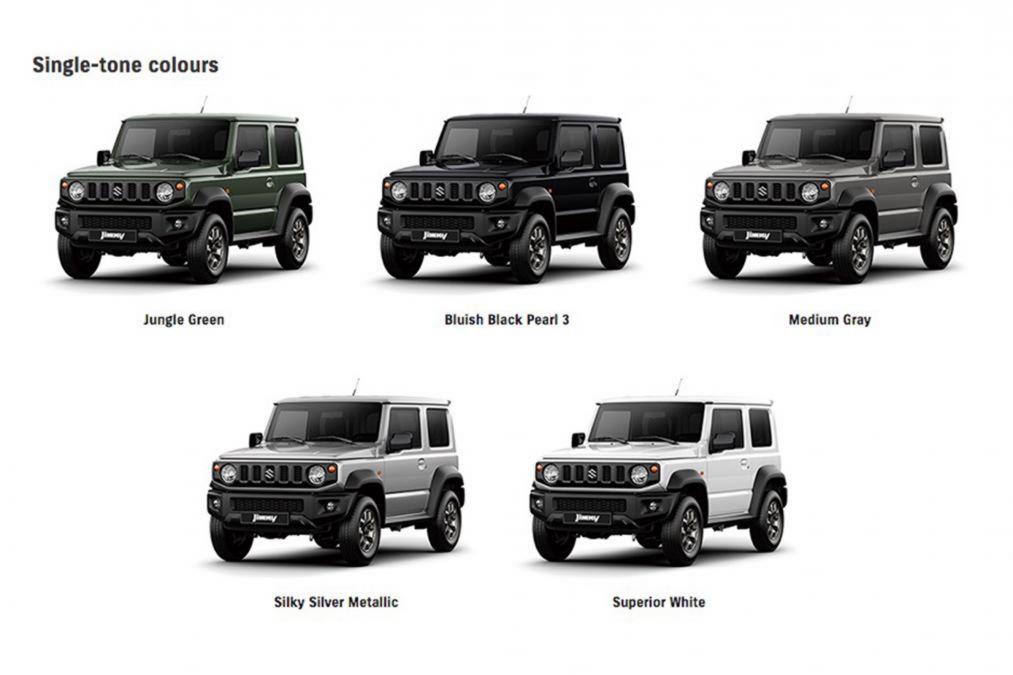 Sitting between the smaller Suzuki Ignis and larger Suzuki Vitara SUV in the Japanese manufacturer's line-up, the new Jimny is expected to sell for close to the £12,999 price of the current model.
WikiHistory: The history of Suzuki four-wheel-drive cars dates to 1968. Suzuki bought former Japanese automaker Hope Motor Company which had introduced fifteen small off-road vehicles called the HopeStar ON360. The first Suzuki-branded 4-wheel drive, the LJ10 (Light Jeep 10), was introduced in 1970. The LJ10 had a 359 cc air-cooled, two-stroke, in-line two-cylinder engine. The liquid-cooled LJ20 was introduced in 1972 with the cooling changed due to newly enacted emission regulations, and it gained 3 hp. In 1975, Suzuki complemented the LJ20 with the LJ50, which had a larger 539 cc, two-stroke, in-line three-cylinder engine and bigger differentials. This was originally targeted at the Australian market, but more exports soon followed (Malaysia included).