3M Malaysia, the global science company known for its cutting-edge automotive solutions, today launched its car care range of DIY products that enables car enthusiasts, restorers and do-it-yourselfers to economically preserve the aesthetics of their vehicles with professional grade products.
Additionally, in an effort to make its products more accessible to Malaysians, 3M Malaysia also announced the launch of its first official 3M Automotive Flagship Store on Lazada. The store on the e-commerce site will feature past and current car care product ranges that are simple to use and gets the job done.
Speaking at the launch, Mr. Parameswaran Nair, Managing Director of 3M Malaysia said, "3M has always been at the forefront of automotive science and innovation, and today, we are pleased to introduce our new range of car care products that brings decades of scientific development right in your hands. Our DIY car care kits are easy to use and delivers exceptional results at the fraction of the cost. We are also very excited to launch our first official 3M Automotive Flagship Store with Lazada to make our products more accessible digitally to consumers,"
Lazada Malaysia CEO Christophe Lejeune said: "We are pleased to have 3M Malaysia onboard with us on LazMall (see below photo gallery) with their automotive-focused flagship store, as we are driven to continuously elevate our customers' experiences by diversifying our product portfolio and services. With the recent introduction of LazMall, we are able to offer users a brand-new shopping destination and services with carefully curated international and local brands on the Lazada platform."
Hazy lights mean risky nights – improve the brightness of your headlights…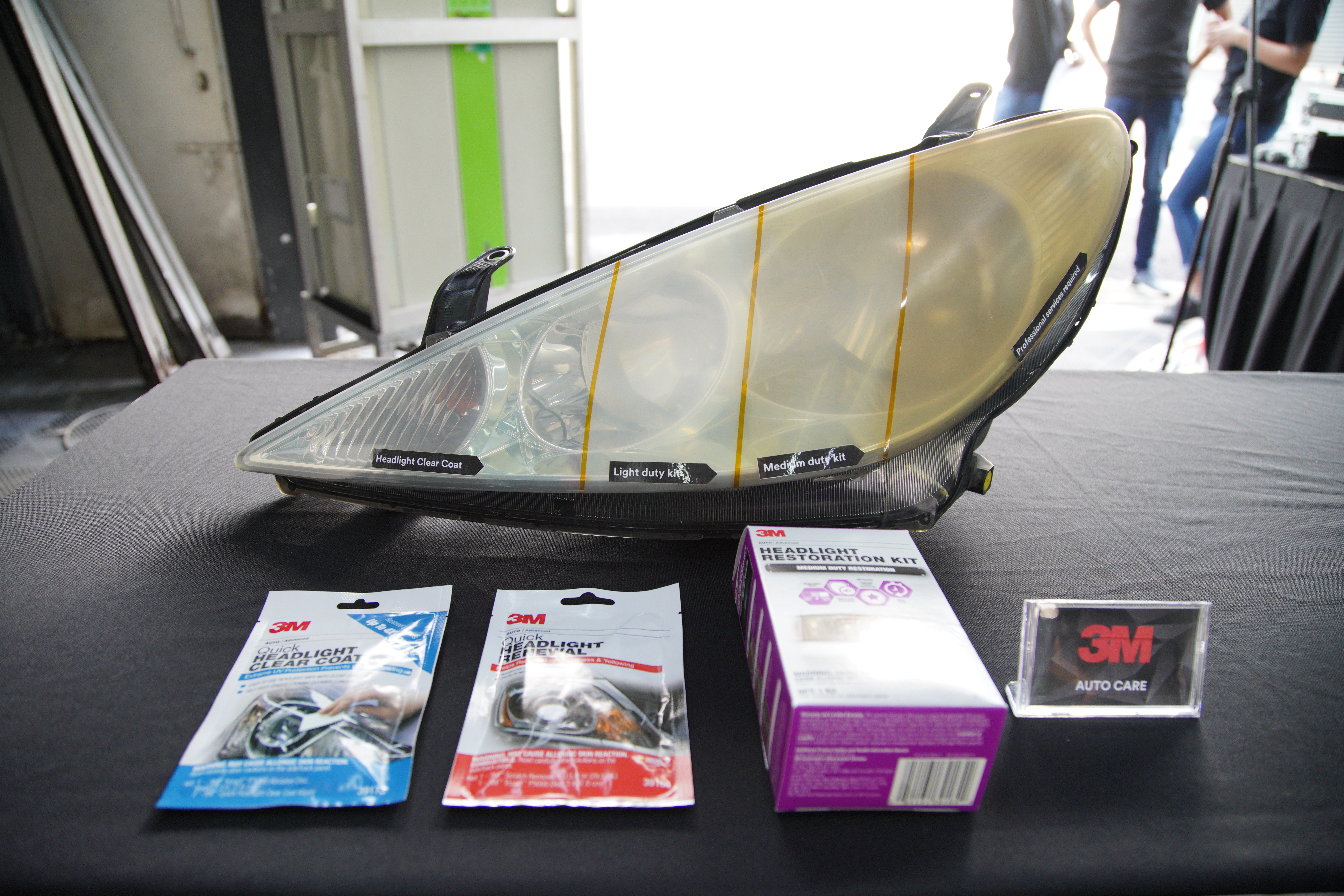 Headlights play a critical role in ensuring optimal visibility especially at night, and it is important to maintain them. Unfortunately, the plastic headlight covers that millions of Malaysian cars have, tend to haze or turn yellow over time. If left unchecked, it considerably reduces the light output from the headlamp, which makes for a dim and dangerous driving experience at night.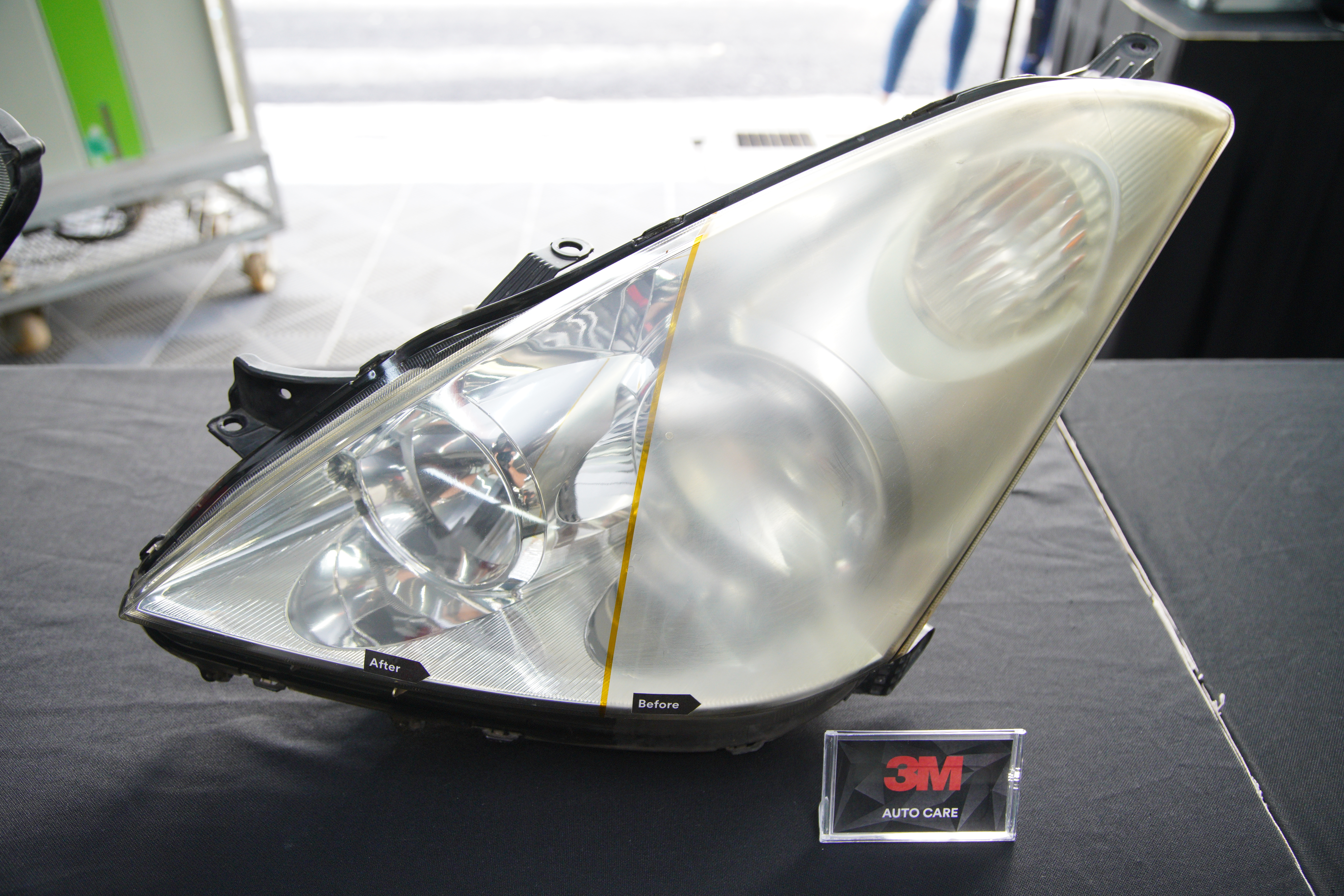 However, fixing dull headlights does not have to be a complicated process. The 3M™ Headlight Restoration Kit features four simple steps that improves the brightness of plastic headlights. The Trizact™ Abrasives feature microreplication that are reproduced and uniformly distributed to remove yellowing, dirt build-up and small scratches without damaging the lens itself.  The kit also comes equipped with a sachet of synthetic wax for added protection against the elements for long lasting results.
Removing light to medium scratches…
Getting scratches on a car or motorbike is a fact of life for any vehicle owner. Scratches on car door handles and from minor accidents can add defects in the auto paint finish that can dull a vehicle's appearance.  To effectively remove scratches, the 3M™ Rubbing Compound smoothens and cleans surfaces, making it a dual-purpose product. The product also removes oxidation and other stains and blemishes.
It is safe to use for 2K paint, clear coats and lacquer paint finishes. With just a light rub, the scratches are removed with impressive results. Then finish off with the easy-to-use 3M™ One-Step Cleaner Wax. As a result, dull and tired looking auto body finishes are revived with impressive and immediate results. However, it is best to investigate the scratches on your vehicle first. If they are too deep or wide, the product would not be able to completely remove them.
Fixing your pain-t points…
Got into a minor accident where paint from the other vehicle is transferred to yours? 3M™ Scratch & Scuff Removal Kit allows you to restore the shine and gloss of light to medium scratches and scuffed painted areas of the vehicle quickly, easily and without tools. Inclusive of the 3M™ Rubbing Compound, the kit also features an extremely fine P3000 grit abrasive square which eliminates scuffs and scratches. Then, simply apply and wipe off the 3M™ Rubbing Compound to restore the shine and gloss of your vehicle.
One-stop Shop…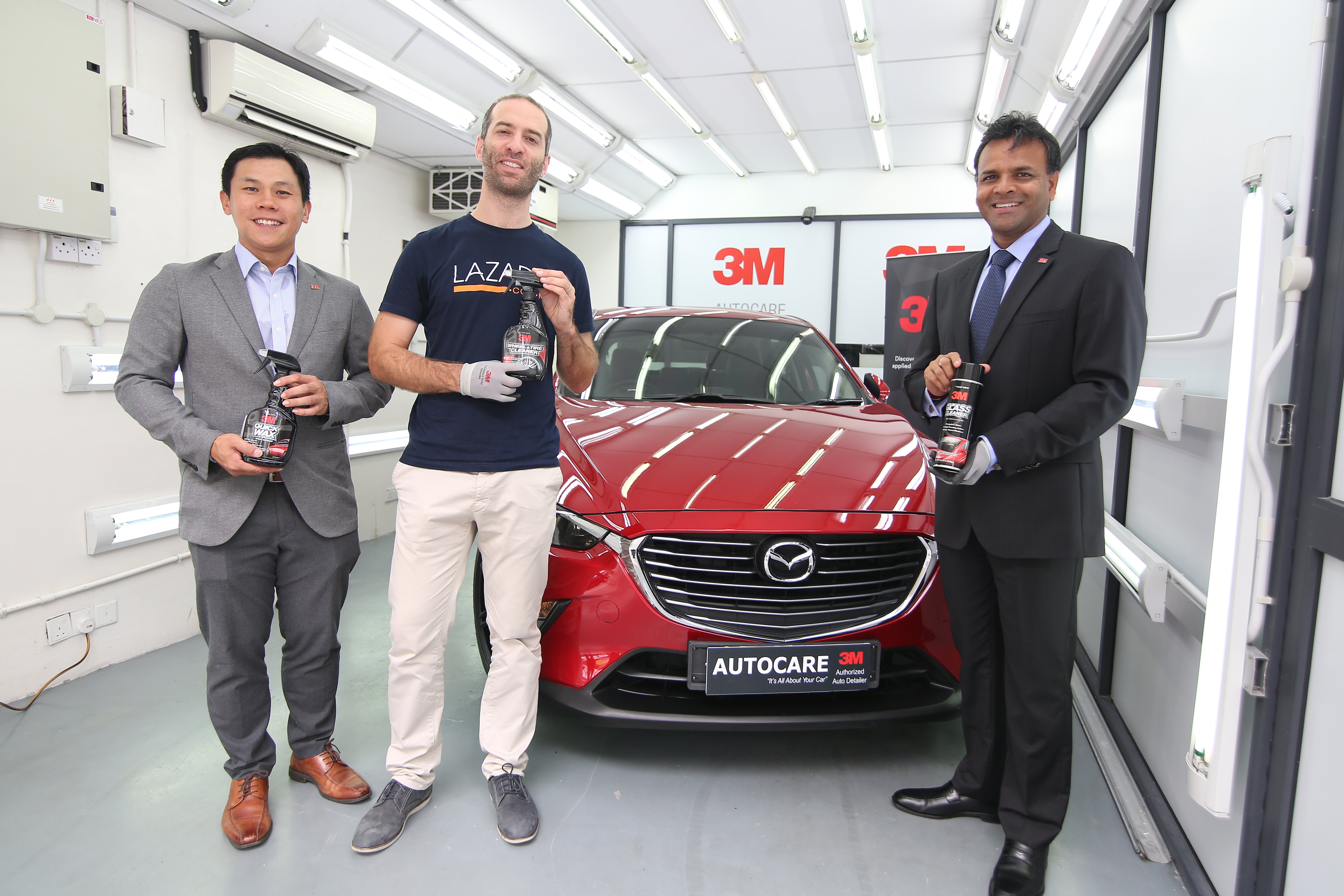 Malaysians love to shop online, and the official 3M Malaysia Automotive Flagship Store on Lazada aims to provide its consumers with a viable and convenient purchase option.  The online store will host a range of premium and genuine automotive products such as the 3M™ Complete Fuel System Cleaner, 3M™ Glass Cleaner, 3M™ Leather & Vinyl Restorer and 3M™ Tire Restorer at affordable prices. "At 3M Malaysia, we pride ourselves for always exploring innovative ways such as digital partnerships to ensure that we are continuously offering consumers easy-to-access products and convenience, and we hope that the launch of the online store will also drive awareness of our range of car care products amongst Malaysians" added Parameswaran.
As part of the launch, 3M Malaysia is offering exciting discounts to shoppers on Lazada. From 19 September to 19 October 2018, four special car care bundles will be offered at RM30 off the original price. These four bundles are designed to help solve or prevent some of the more common problems that car users face, and these include:
1 – Those looking to remove scratches can purchase the light to medium scratches bundle for RM99.00. This bundle includes the 3M™Rubbing Compound, 3M™ One-Step Cleaner Wax and a 3M™ Microfiber Auto-Detailing Cloth.
2 – The second bundle is designed to help restore foggy headlights. Priced at RM154.30, the bundle includes the 3M™ Headlight Restoration Kit, 3M™ Headlight Clear Coat and a 3M™ Microfiber Auto-Detailing Cloth.
3 – The third bundle features a collection of products that will help car owners remove minor scratches and paint transfers after minor accidents. The bundle contains the 3M™ Scratch and Scuff Remover, 3M™ One-Step Cleaner Wax and a 3M™ Microfiber Auto-Detailing Cloth for just RM145.20.
4 – To prevent watermarks, the last bundle includes the 3M™ Glass Cleaner, 3M™ Glass Coat Windshield and a 3M™ Microfiber Auto-Detailing Cloth. This final bundle is priced at just RM63.90.
For more information, please head over to the 3M Auto Care Facebook page @3mAutoCareMY or visit the 3M Automotive Flagship Store on Lazada at https://www.lazada.com.my/shop/3m-automotive.
What is LazMall?
LazMall is Southeast Asia's largest shopping mall, presenting a selection of trusted, leading international and local brands, top-rated online brands and authorised brand distributors. Shopping on LazMall is the highest-quality online shopping experience you can get – just like shopping at your favourite department store and online brands all in one place. LazMall allows consumers to shop with peace of mind from anywhere in Malaysia with the assurance of receiving 100% authentic products and offers the option of next day delivery, with up to 15 days easy return.