Stunning. Photos really don't do this SUV any justice whatsoever folks. First-off, in terms of physical size, the XC40 was built using Volvo's Compact Modular Architecture (CMA), and this in itself should allude to the fact that the XC40 is not a large SUV. In fact, it's about the size of a Honda HR-V or BMW X1. Here's the walk-around video…
Despite its compact exterior dimensions though, the XC40's CMA build-philosophy seems to have pulled-off that all-so-important "small on the outside, big on the inside" trick quite well. Just from casual observation, it's clear there's a lot of room within the cabin, which by the way, is beautifully crafted and put-together.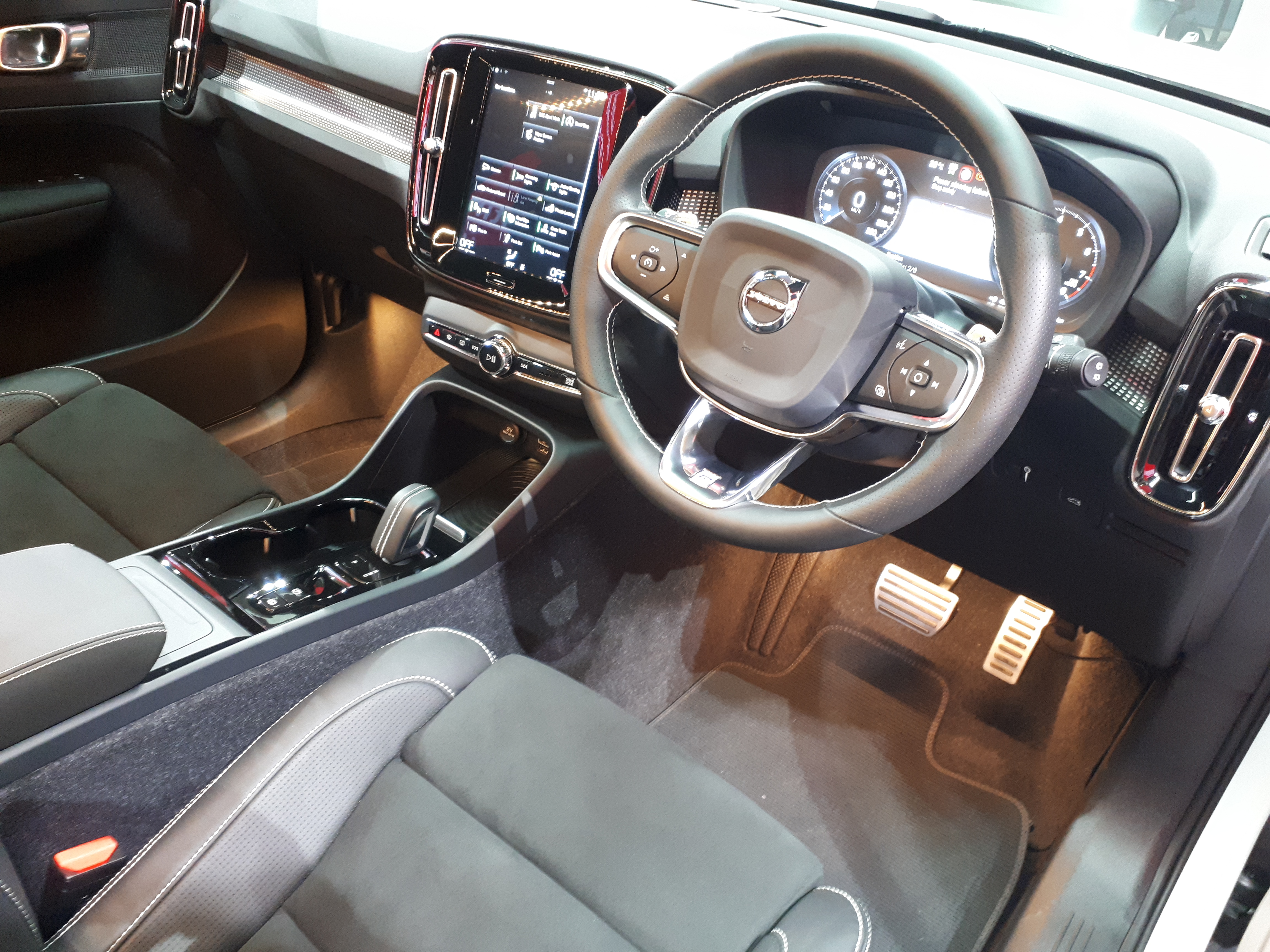 There's only one variant on offer, the XC40 T5 R-Design, which is powered by a turbocharged, petrol-driven 2.0-litre Drive-E powertrain that churns out 252bhp and 350Nm of torque, allowing the XC40 to sprint from a standstill to 100kmh in just 6.4 seconds. More sedate driving will see it return a combined fuel-consumption figure of 7.7L/100km. For the full specifications, click this link. (The full press release is below the photo gallery)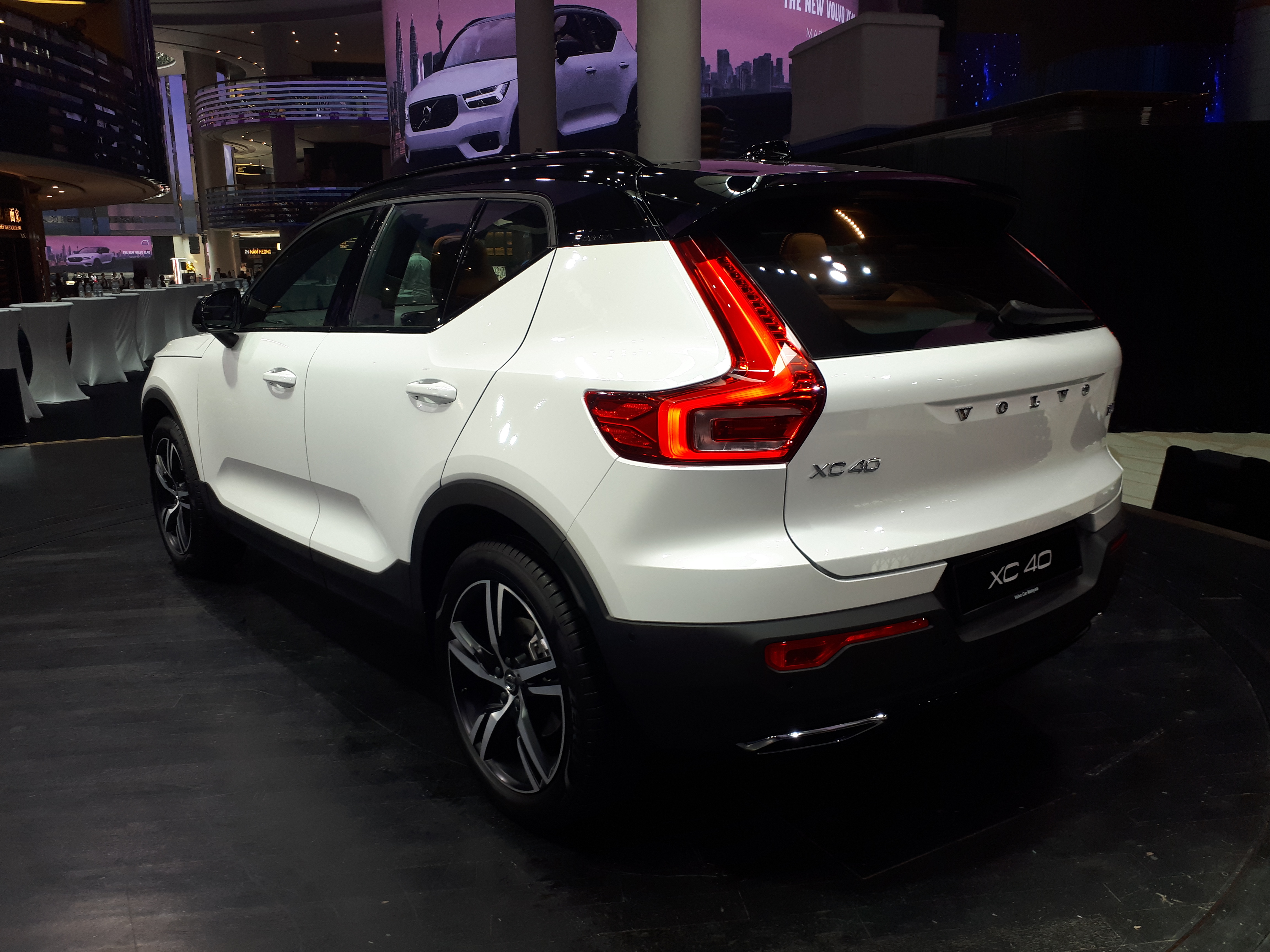 Priced at RM255,888 (OTR w/o insurance), the all-new XC40 will be at all VCM's dealerships starting 6th October 2018. Stay tuned for the full review coming soon!
Introducing the new Volvo XC40
GENTING HIGHLANDS – Volvo Car Malaysia, the premium car maker, will bring a new standard of safety and user experience to the premium small SUV segment with the launch of the 2018 European Car of the Year, the new Volvo XC40. The new XC40 is developed around the challenges of modern city life, aimed at making the daily urban commute less stressful and more enjoyable, as drivers and passengers within this segment can now enjoy Volvo's award-winning safety, semi-autonomous driving, and infotainment technologies that are well-known with Volvo's 90s and 60s range.
"The new XC40 builds on our heritage as a human-centric brand that focuses on the well-being of the driver and passengers through the combination of innovative technologies that offers the best in safety standards, driver-assistance technologies, and intuitive design," said Lennart Stegland, Managing Director of Volvo Car Malaysia.
Built on Volvo's new Compact Modular Architecture (CMA), the new XC40 will enjoy a range of ground-breaking technologies that were first introduced in its larger siblings, based on the larger Scalable Product Architecture (SPA).
These technologies include Pilot Assist (semi-autonomous driving), the latest generation of City Safety (autonomous collision mitigation and avoidance, including pedestrian, cyclist and large animal detection), Run-off Road Protection and Mitigation, Cross Traffic Alert with Auto Brake, and many more.
"On top of these innovations that we're introducing into this segment, the new XC40 will also seek to end clutter inside the cabin by carefully designing practical and functional storage areas that was done based on extensive consumer insight," adds Stegland. During the development phase of the XC40, Volvo Cars' customer research team spent a considerable time investigating how city dwellers across the globe use their cars, and more importantly, how their belongings are stored within the cabin.
For instance, to provide better storage space in the doors of the new XC40, Volvo designers chose a radical new approach. By moving speakers from the door and developing a world-first, air-ventilated dashboard-mounted sub-woofer, Volvo created enough storage in the door compartment for a laptop and a tablet, or a couple of water bottles.
"The core tenet of Scandinavian design is the perfect balance of aesthetics and function. For example, the tunnel is not only designed to be visually pleasing but the cup holders themselves provide areas for coins, card, charging cables and a usable space for your phone which offers wireless charging as well as USB ports," said Stegland.
The XC40 also offers slots for credit and service cards that can be neatly inserted into the dashboard, making them readily available when needed. In the tunnel console, under the armrest, there is a large storage area with room for a tissue box. A special, removable bin allows you to discard and quickly get rid of waste. A small fold-away hook has been added to the glove compartment, allowing you to secure small shopping or take-away bags. The driver's side offers a storage space under the seat, large enough for a mini tablet or other smaller items.
Malaysians will get to enjoy the R-Design as a standard trim level for the XC40 T5 which reflects a more dynamic and premium feel, matching the demands of the local market. "We have acted on the feedback from our customers and the media to explore more vivid exterior colours, on top of having the R-Design trim level as a standard – with this new selection of exterior colours, we hope to offer our customers a greater range of self-expression," said Stegland.
Customers will have the option to choose between four distinct colours: Bursting Blue, Fusion Red, Cyrstal White and Osmium Grey. In terms of performance, the XC40 T5 R-Design will be equipped with Volvo's highly-innovative, 2-litre Drive-E powertrain which will output a total of 252 hp (metric) and 350 Nm of torque, returning 7.7 litres for every 100 km travelled (NEDC, combined cycle) and recording an acceleration to 100 km/h of only 6.4 s.
The XC40 T5 R-Design will be priced at RM255,888 (on-the-road, without insurance, inclusive of excise duty and sales tax). The new XC40 will be available for viewing at all authorised Volvo dealers nationwide starting tomorrow.