This year's Goodwood Festival of Speed is getting more and more amazing by the day. The latest to join the hype at the iconic race event is Lotus as they're planning to reveal their latest hypercar and guess what? It's called the Lotus Evija and it is a full-electric beast.
Previously introduced as the Lotus Type 130, attendees of the Goodwood FOS 2019 will be able to catch an exclusive glimpse of the new upcoming Lotus hypercar this coming weekend. Planned to enter the production stage in 2020, the Lotus Evija will be the world's first British EV hypercar and will mark a significant point in history for the brand.
The Lotus Evija will also be the first major model to be launched under the new stewardship of Geely aka "the world's fastest growing automotive group". Pronounced as 'ev-eye-a', the name signifies 'the first in existence' or 'the living one' will be the talking point of the brand's move towards greater automotive innovation.
According to Lotus Cars CEO, Phil Popham, "Evija is the perfect name for our new car because it's the first hypercar from Lotus, our first electric offering and is the first new model under the stewardship of Geely. The Evija is a Lotus like no other, yet a true Lotus in every sense. It will re-establish our brand on the global automotive stage and pave the way for further visionary models."
Sports car fans attending this weekend's Festival are invited to visit the Lotus stand – on the main grid – for an exclusive glimpse of the Evija. Hidden from general sight, visitors can join a dramatic 'light show' experience that reveals new details and provides the best hints yet of its exterior design.
The Evija will be officially launched in full later this month in London. Stay tuned to Piston.My for more updates.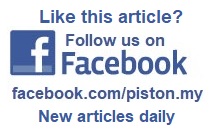 https://www.facebook.com/piston.my/