As mentioned just before the first weekend in July, there was an amazing number of Malaysian drivers involved in racing in an International/Asian series – but sadly, reports of such activities are not spread widely among Malaysians. Gary Khor, our contributor who now identifies himself as 'HardKhor Motorsports', believes that this needs to be corrected and is doing his part to highlight the drivers in his reports…
During the weekend, the professional (PRO) Malaysian drivers were Adam Khalid, Jazeman Jaafar, Melvin Moh and Afiq Ikhwan Yazid. Gentlemen drivers were Douglas Khoo in TCR Asia Series, H.H. Prince Abdul Rahman Ibrahim in Blancpain GT World Asia, and East Malaysian Zen Low in the Lamborghini Trofeo Asia. My apologies to Zen Low for having accidentally omitted him in my first article.
That's a total of 8 Malaysian Race drivers out there racing for Malaysia last weekend. Not forgetting of course Douglas Khoo's complete Malaysian team of mechanics and Engineer in the Viper Niza Racing team in TCR Asia.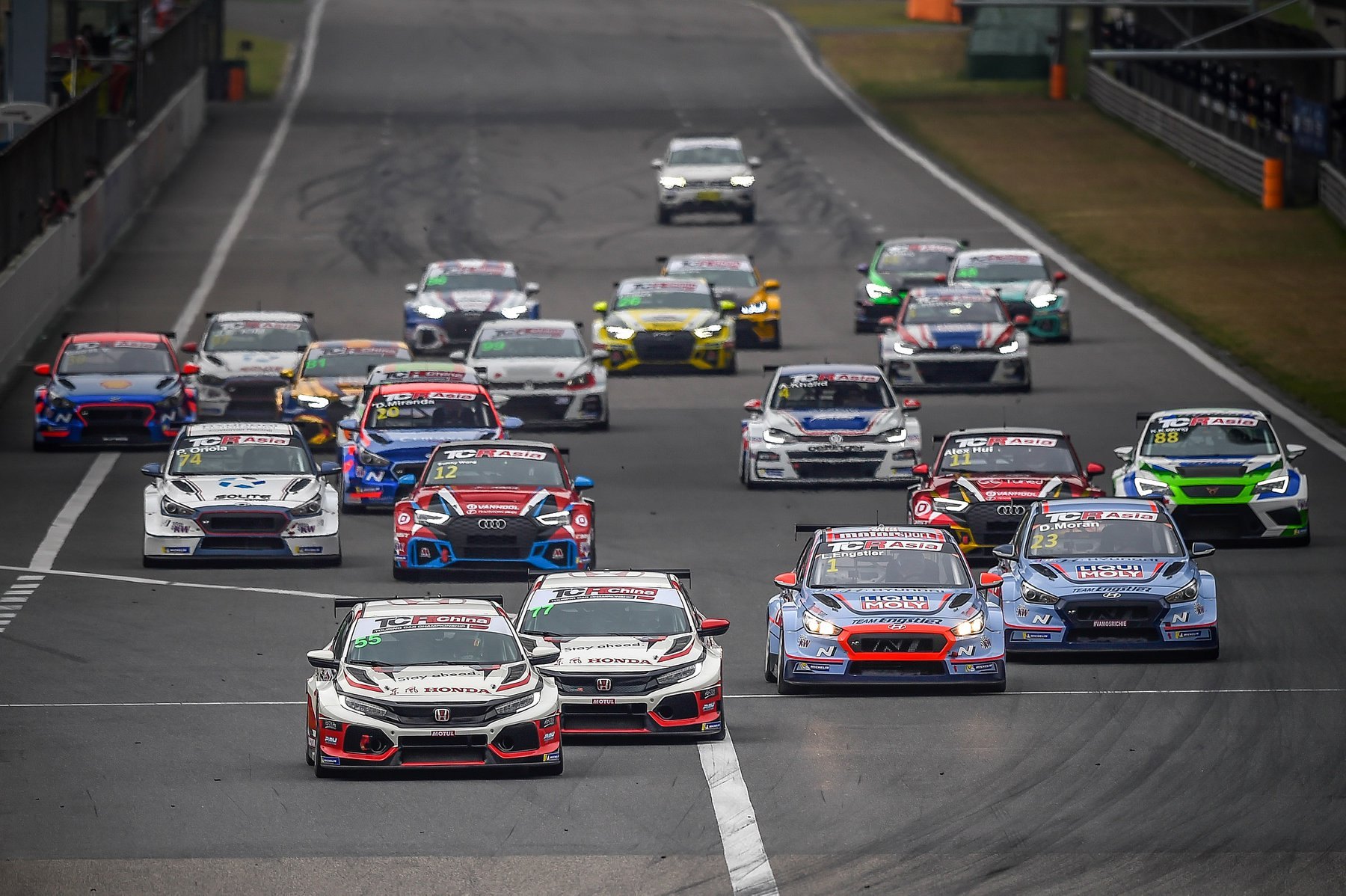 TCR ASIA ROUNDS 5&6 – ZHEJIANG
Sadly, this race weekend didn't start well for Douglas Khoo as he was having a fever from the Thursday and his Viper Niza Race team had to skip both the paid practice sessions on Friday.
In spite of a lingering and intermittent fever, Douglas nevertheless went out for Race 1 on Saturday only to incur a puncture leading to a cracked rear damper! Race 2 was uneventful and he was just glad to finish his race and collect some more points towards his championship.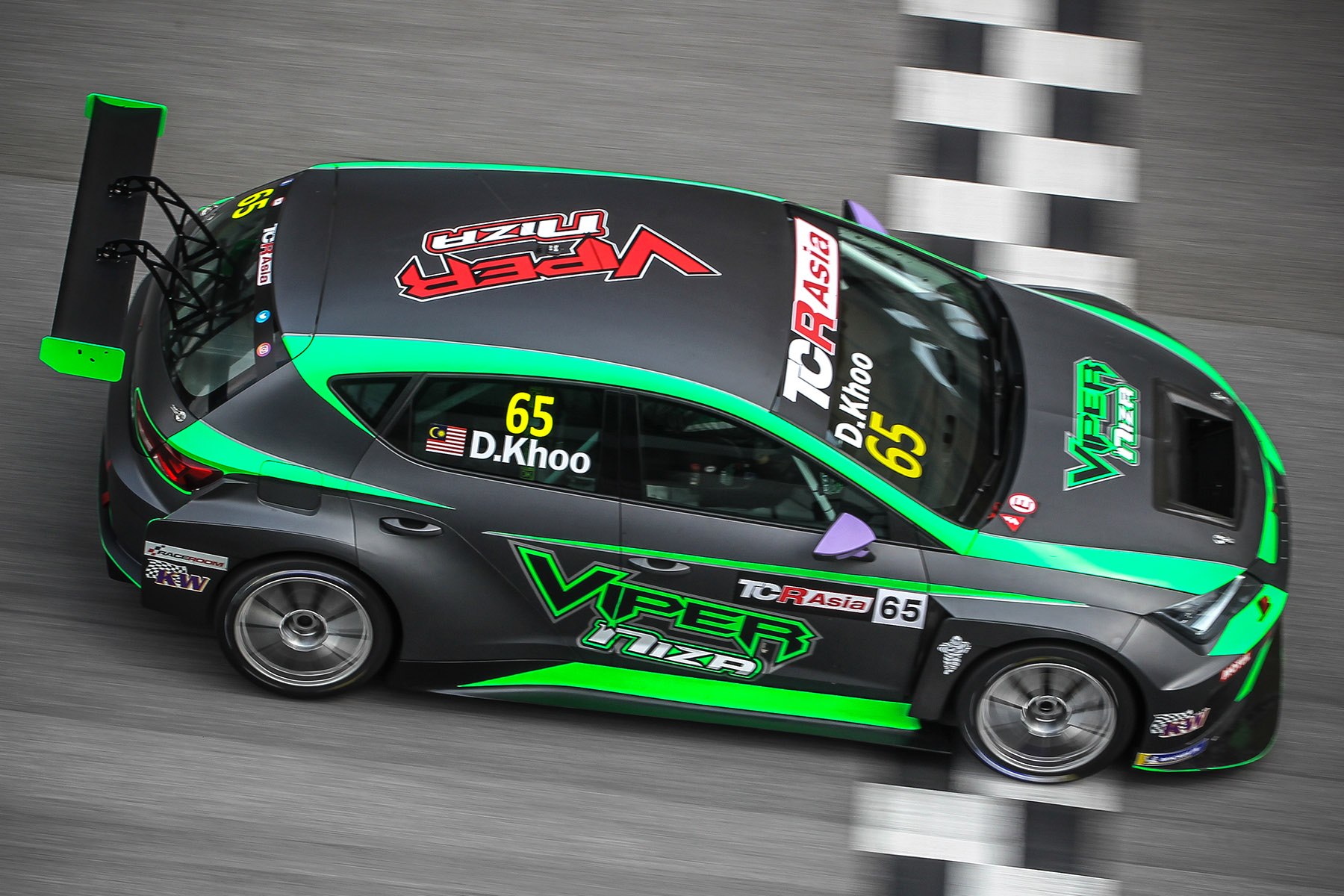 Commenting in the pits, Douglas said: "Had a good start for Race 2 but was just not physically strong to compete". A brave drive then in physically very trying conditions for Douglas. We wish him a speedy recovery and a better race in the final rounds in Thailand next month.
Adam Khalid, the rookie in the TCR Asia Series had to learn and adapt to the Zhejiang International Circuit which was green throughout the weekend. This meant that constant rain had denied the track a chance to build up rubber and therefore grip. "I owe this weekend to the team for giving me such a great base set-up on the car so we only had to make minor changes throughout practice sessions," said Adam. Qualifying in the cool conditions and green track meant a distinct lack of grip and heat in the tyres. Despite that, Adam managed a 7th starting position for Race 1 and 8th in Race 2 out of a field of 20 cars.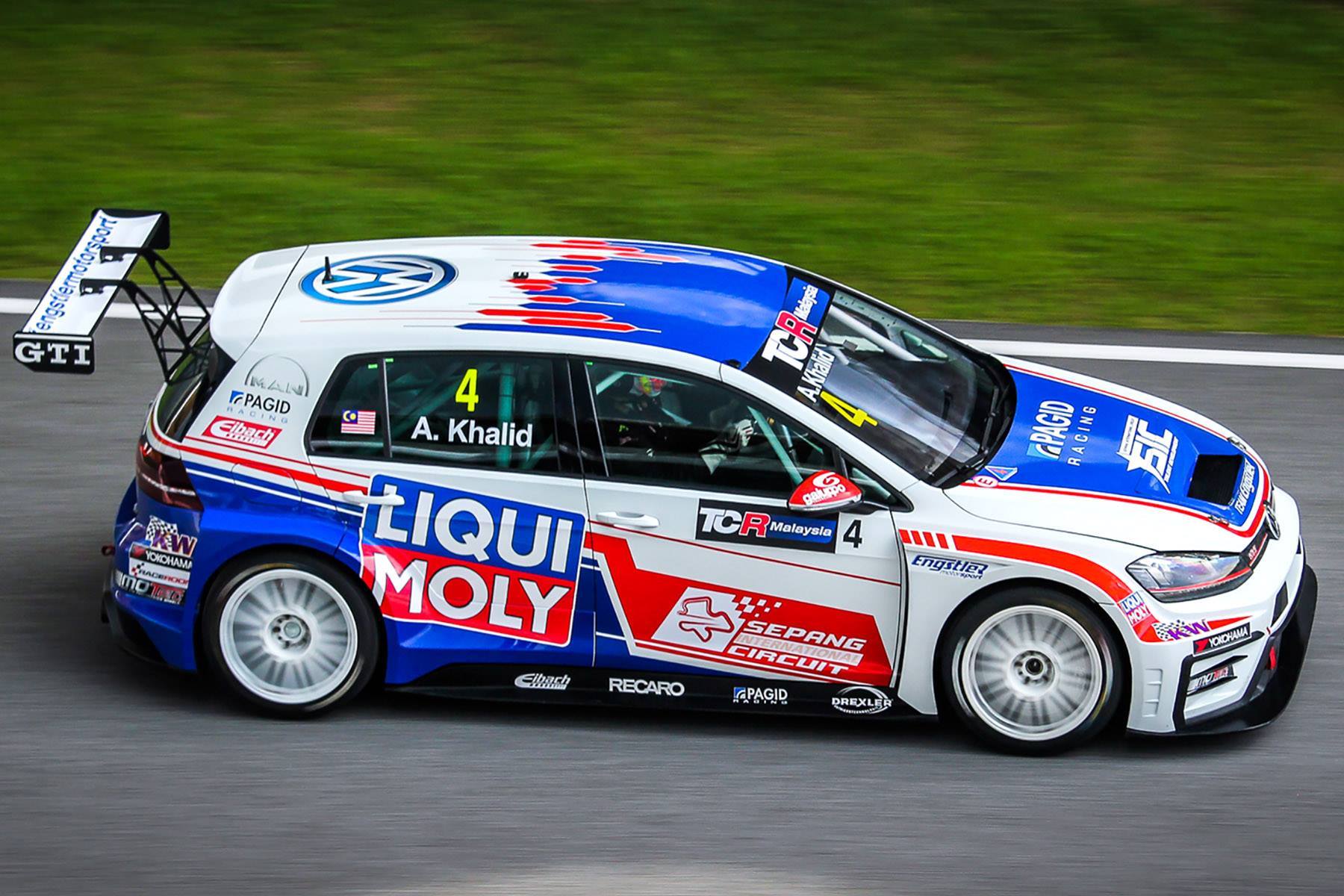 In Race 1, he moved up to 5th place and started fighting it out with cars from 2nd down to 8th as Luca Engstler had bolted from pole. Close racing like this tends to overheat the brakes and affects engine performance too, so Adam wisely dropped back to preserve his car and passed the chequered in P4 in TCR Asia and P1 in the Asian driver category!
Race 2 saw Adam start from 3rd on the grid. A big tussle (normal in TCR Racing) among some of the frontrunners saw him taking avoiding action using the scenic route and dropping him down to 11th. But a determined drive saw him climb back to finish 5th and in a similar position to Race 1. He now is 6th overall in TCR Asia standings and 3rd in the Asian Drivers title. Well done Adam!
BLANCPAIN GT WORLD CHALLENGE ASIA Rd 7 & 8 – FUJI SPEEDWAY
The premium International GT series in Asia was held in Fuji Speedway this round saw intense and close driving even before Races 1 & 2 evident from the practice sessions. Both races were 1 hour in duration with a compulsory pit-stop of no less than 60 seconds and a driver change.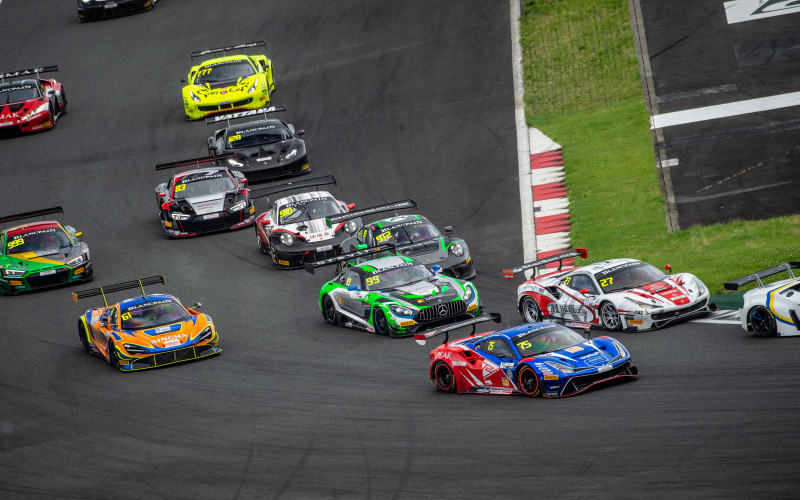 PRACTICE
Free Practice 1 on Friday saw Craft-Bamboo team mates #88 Alessio Picariello and #55 Melvin Moh first and second quickest and separated by an incredible 3/1000ths of a second! Weiron Tan in the #12 Absolute Racing Audi R8 LMS GT3 was 4th fastest while Jazeman in Triple Eight Race Engineering Australia #888 was 14th. Later, Jazeman would top the timesheets in Official Practice followed by Melvin and Weiron, 4th and 5th fastest respectively.
QUALIFYING
Qualifying 1 determines starting positions in Race 1 and Martin Rump, Weiron Tan's driving partner, put their Audi in 2nd. H.H. Prince Abdul Rahman Ibrahim, Jazeman Jaafar's team mate would start in 17th while Singaporean Daniel Au and Melvin's drive partner started in 24th.
Qualifying 2 and hence Race 2 grid positions saw Jazeman put #888 in 2nd with Melvin 4th and Weiron Tan just behind in 5th.
RACE 1
Race 1 saw 31 cars on the grid, made up of 24 GT3 cars and 7 GT4-spec cars. It was going to be an interesting race as most of the Am drivers from the PRO-AM teams would be starting this race.
Remember, of the Malaysians taking part, only Weiron Tan is in a PRO classified team and Melvin and Jazeman are both in the PRO-AM class. Weiron had to start from 7th due to a penalty incurred in the previous round in Suzuka Japan. He did very well to bring his car up to 4th by the first turn.
And then an incredible chain of incidents and accidents began to start within the next 15 mins of Race 1. During the formation lap, iRace's Mercedes-AMG GT4 spun around after a tap from the #910 Li Chao Porsche. Then the #88 Picariello/Jeffrey Lee driven Mercedes-AMG GT3 would be put into a spin by the #17 Mercedes AMG GT3.
Next, the bonnet on Vutthikorn's #918 Porsche GT3 R flipped open, blinding him and his car slid into the path of the #92 Porsche following behind and minding its own business. Then, to cap it off, the unlucky Jeffrey Lee in #88 got hit and spun around a second time by the SAME car!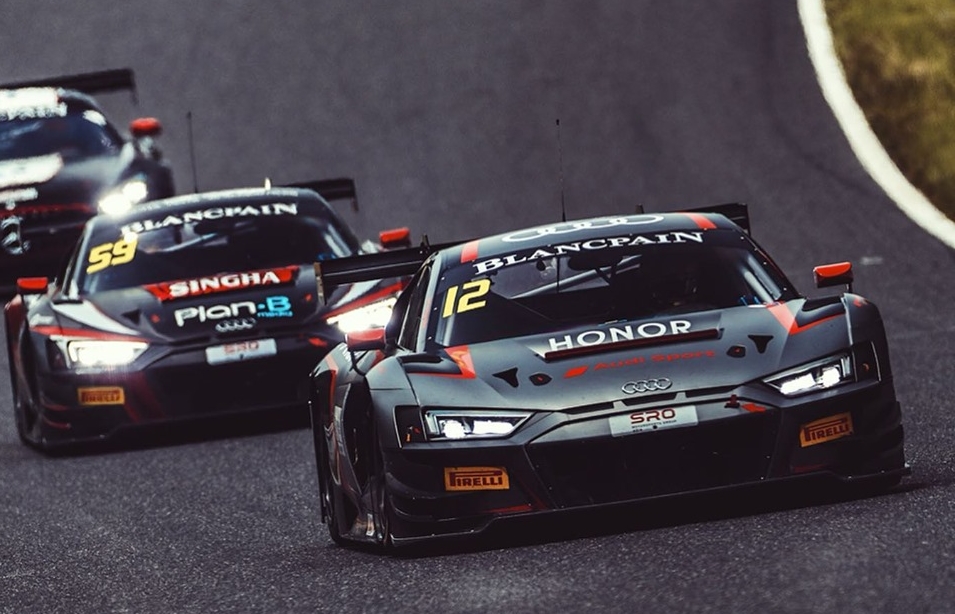 Inevitably, #17 would incur two drive-through penalties and just to add to their woes, they incurred an unbelievable 3rd penalty for speeding in the pitlane whilst serving one of the drive-through penalties. Some days, it's better to just stay in bed!
Thus, in the first 15 minutes, the pits had a flurry of activity with damaged cars limping in for repairs. Even the Thai-owned Vattana Lamborghini Huracan was seemingly not spared with some bodywork hanging off the side of the car.
Meanwhile, Weiron soldiered on to 4th and our Johor prince drove well to bring the #888 AMG up to 13th position. Daniel too drove well to keep out of the mayhem. After the mandatory pitstops, Weiron's team mate rejoined in 5th, Jazeman in 17th and Melvin below 20th.
In a thankfully incident-free 2nd half of Race 1, Martin Rump would bring the Absolute Racing run Audi to 2nd, Jazeman would finish in 11th with Melvin in 17th.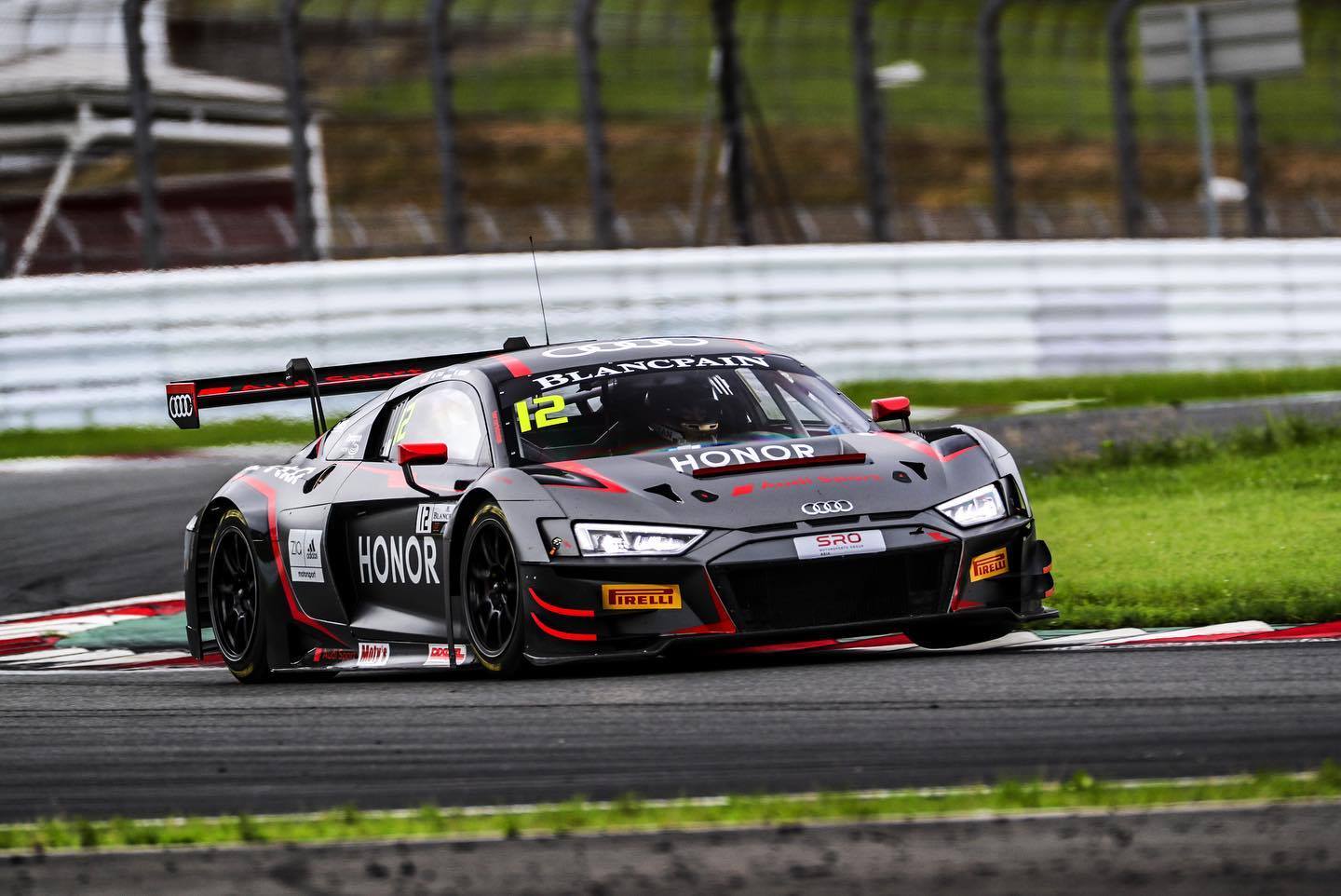 RACE 2
Sunday started out warm, overcast and a little windy but soon Fuji Speedway would heat up with the action on track. Based on Quali 2, the Craft-Bamboo #88 was on pole, followed by Jazeman Jaafar in the #888, 3rd on the grid was Yokomizo's #17 AMG which had a string of penalties the day before, and 4th was Melvin and Weiron was in 5th spot on the grid.
The action heated up straight into Turn 1 when Yokomizo tapped Jazeman in the back sending the car sideways into the side of Picariello. But everyone survived to continue through Turn 2 and settled down into a very quick train of 5 cars for the next 15 minutes.
Picariello in #88 was running away from Yokomizo, now in front of a very determined Jaafar, followed by Melvin and Weiron. Yokomizo then received a drive-through penalty for what had happened to Jazeman at Turn 1. The pit stop window opened with some 33 minutes left in the race and predictably, the PRO drivers stayed out as long as they could before coming in to hand over to their AM partners, except for Weiron who handed #12 to another PRO, Martin Rump.
With 20 minutes of the race left, Jeffrey Lee led in #88 over the Prince in #888, Weiron was in 5th when Melvin's team mate went into a spin and then a collision with the #75 Ryo Haryanto Ferrari 488. This brought out the Safety Car which would see things up front change significantly.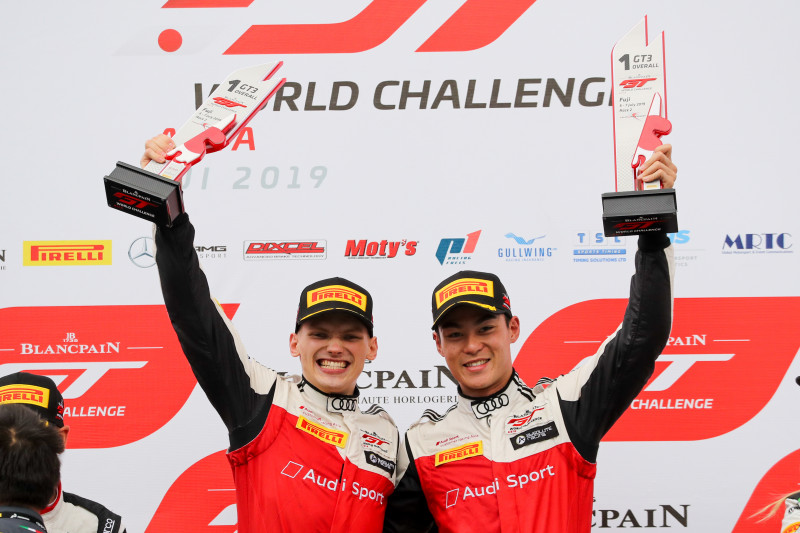 With just 9 minutes left before the chequered flag would wave and the lead car incurring a penalty for exceeding track limits, it was a frantic race to the finish. Another accident between the #17 AMG and the #27 Ferrari with 4 minutes left and more penalties for overtaking under the Safety Car for #777 and #13 meant that Malaysian Weiron Tan in #12 won with the Prince of Johor coming in 5th overall and 2nd in PRO-AM class!
LAMBORGHINI SUPER TROFEO ASIA – FUJI
This one-make Lamborghini series follows the Blancpain GT World Challenge Asia series. Weather conditions for both their races were fairly similar.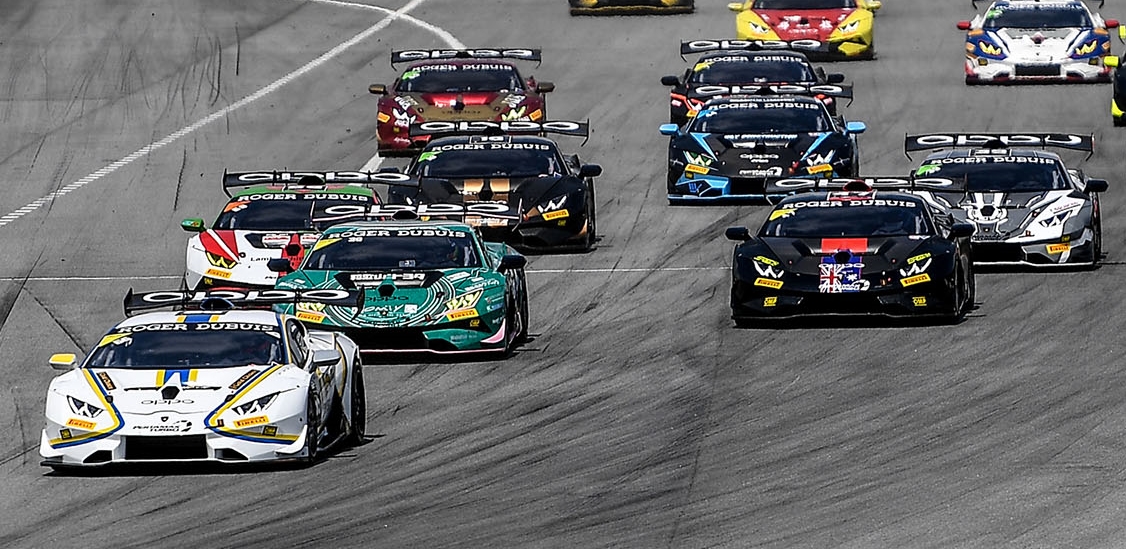 RACE 1
Malaysian PRO driver, Afiq Yazid driving for Japan-based Team Hojust Wakayama Racing started Race 1 from 4th on the grid and brought his car up to 2nd before handing over to his team mate Ochiai Toshiyoki. Ochiai kept it there to finish 2nd overall and 1st in PRO-AM class.
East Malaysian Zen Low and AM driver shared his car with A. Negro who went as high as 15th, finished in 17th. Position in Race 1.
RACE 2
Ochiai started Race 2 from 6th on the grid and managed to make up 4 places before handing over to Afiq. The Malaysian driver then drove #38 to the top spot making up a whopping 20-second deficit in the process. This was the team's first overall victory this season and they will be heading the PRO-AM class when they are at Yeongnam for the next round in Korea.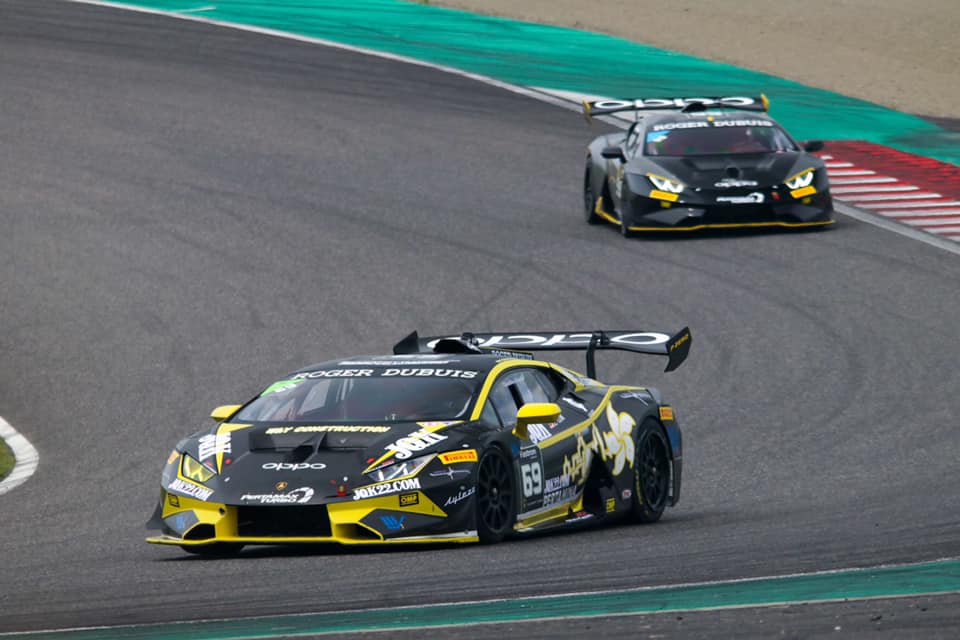 Zen Low, ever consistent and careful finished again in 17th in Race 2. Well done to both Afiq and Zen in the Lamborghini Super Trofeo Fuji!
So there you have it, in first weekend of July, 8 Malaysian drivers and 1 all-Malaysian team raced in 2 countries in 3 International Race Series and stood on podiums across all series… can't get better than that – for now!