The Hyundai brand is quickly becoming a name to be considered amongst other major Continental giants of the motoring industry. Thanks to their constant strive to research and develop their models, we are beginning to see more and more of their vehicles on Malaysian roads. We had the opportunity to test out their latest 2019 Hyundai Santa Fe yesterday and here are our first impressions of it.
Starting with the looks, it's really hard to comprehend how this beautiful full-sized SUV can actually accommodate seven people with three rows available in the cabin. The way that it has been designed to look sleek first notified us that the interior space might not be that big. Boy, were we wrong.
Step inside the cabin and anyone will quickly notice how huge the interior space really is, no matter where you sit. Loads of leg and head room all around and driving on highways proved to be no challenge at all. It's indeed a good driver's car and the only things that is a slight micro setback was that it was a slightly bouncy right for passengers sitting in the second row.
As Hyundai has stated before, this is an all-new model with updated design features that add a lot of premium touches on the Santa Fe. We especially like how smooth the entire façade portrays a state-of-the-art vehicle complete with some very sexy headlights and rear lamp combination.
There are four variants on offer for the fourth-gen Santa Fe where customers can choose either a 2.4-litre petrol or a 2.2-litre diesel powerplants. Both the petrol and diesel are offered in Executive and Premium where the latter offers a greater safety and design packages.
Hyundai-Sime Darby Motors Sdn Bhd (HSDM) organised a very unique media test ride the other day where we get to feel and witness the true capabilities of their latest model offering. All driving scenarios took place from driving in congested cities to minor off-road conditions in the middle of the Kenaboi Eco Tourism Camp, Negeri Sembilan.
Why off-road? Well, the 2.2-liter turbodiesel model comes with a very smart and unique all-wheel-drive system called the Active on-Demand 4WD (HTRAC). Coupled with an eight-speed automatic gearbox, we were presented with several driving conditions that normal cars of this size and nature won't even think of going through.
Driving through rough unpaved terrains and crossing small rivers proved to be no problem at all for the diesel model as it not only comes with 191hp and 440Nm of torque (170hp & 225Nm for the 2.4 petrol) but the reworked Active on-Demand 4WD system allows for greater mobility in these not-so-normal conditions.
The new Santa Fe is able to transfer around 20% of its power to the rear wheels if it detects that it needs that extra bit of kick to get out of tough situations. Engage the rear wheel differential lock and an even more balanced power distribution is spread out for better manoeuvrability.
Going through winding roads was also not an issue but due to its size and weight, there were noticeable body rolls if you really gas it through the corners. Put it in Comfort drive mode and things settled down quite a bit if you smoothen out your driving as well.
As for equipment, the Santa Fe comes with all the necessities to provide a safe and comfortable drive. Opt for the Premium version and you'll also get a very beautiful digital display panel that just lights up every time you switch driving modes.
Overall, the Santa Fe is a worthy opponent in its segment and those who are looking for something sleek but at the same time can ferry around seven passengers, we recommend that you give this bad boy a go. The pricing might be a bit on the steep sight in our opinion (from RM169,888 to RM211,888) but like the saying goes, you really get what you pay for.
To know more, head over to https://www.hyundai.com.my/showroom/Santa-Fe/ for more details or you check out our link, below.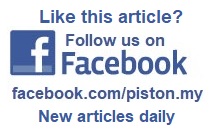 New 2019 Hyundai Santa Fe officially on sale – From RM169,888