The first and most iconic Proton has gone through quite a lot in the last 34 years since it was introduced back in 1985. Called the Proton Saga, it is without a doubt Malaysia's first and most profound model ever produced here in the country. After selling over 2 million units worldwide (half of Proton's total sales since its inception) and several generations, we have the 2019 Proton Saga.
The 2019 Proton Saga was launched just last week where it marked a significant moment for Proton and their current model line-up. Being the last model to receive some serious updates and upgrades, we can say that the company has saved the best for last. While many would say that this is just another model update for the Saga, the 2019 model is indeed more than just new looks.
Proton organised a very special media test drive to Ipoh, Perak where we get to see just how different the new Saga really is. We're going to start things off by mentioning the price. Ranging from RM32,800 to 39,800 (on-the-road without insurance), the Saga is probably one of the best 'bang for your buck' sedan you can get anywhere in the world.
For the 2019 model, it comes with several features that has basically blown all competition out of the water. On paper, this is the only car that you can get with some very cool features like Electronic Stability Control (ESC) below RM40,000. There are tonnes of safety features that work in unison with the ESC which are:
Traction Control System (TCS)*
Hill Hold Assist (HHA)*
Front Parking Sensor*
Reverse Camera*
*available only for Premium AT model
If you opt for the more affordable Standard AT or Standard MT, you'll get ABS, EBD, Brake Assist, and rear parking sensor as standard features. With that being said, we would suggest those who are interested should just jump for the Premium AT as the price is not that big of a difference and you'll get all those added safety features.
We drove the Premium AT model to Ipoh, Perak where we got to experience what the new Saga has to offer. Truth be told, we initially assumed that we can't really complain too much about a car that is priced so competitively. Instead, we were pleasantly surprised on just how good this sub RM40,000 car really was.
Starting with the looks, the 2019 Saga went through the same design updates similarly applied to its other two siblings, the Persona and Iriz. Sporting a new front bumper with LED daytime running lights and that signature 'Infinite Weave' grille, the 2019 Saga is now more premium looking than ever. We especially like how the whole front-end blends together into quite a looker. For a budget sedan, it does look expensive to say the least.
As we move towards the rear, a set of new rear bumper and integrated spoiler complete the look without looking like someone just slapping on a few aftermarket parts. Sitting on a set of beautifully made 15-inch floral-pattern alloy wheels, the 2019 Saga looks very premium indeed. In short, we're digging the whole façade.
Equipped with a 1.3-litre four-cylinder engine with DOHC and VVT, it's not that different from the previous gen except for a new four-speed automatic gearbox which replaced the outgoing CVT unit most people tend to despise. The result? A car that's livelier and more durable in the long run.
With close to 95hp and 120Nm maximum torque, it's not exactly sports car figures but it is enough to push it to high speeds (after a while). Cruising at around 130km/h is more than enough for a sedan of this nature but getting it rolling from standstill does feel a bit on the heavier side and requires a bit more time and patience. Then again, it's a RM40,000 sedan so we can safely brush that aside.
When it comes down to comfort, Proton went through great lengths to improve its Noise, Vibration, and Harshness (NVH) levels. The new Saga now has a more tolerable NVH levels when driven in normal conditions. Going through bumps and potholes are simple work for the Saga as it just absorbs them with no issues.
Kick it into Sport Mode (yes, it has that) and the gearbox revs up which to us is a bit audible than anticipated but acceptable. Tyre noise is a bit loud when cruising at 130km/h which you can probably remedy with a better set of rubber. Simply put, NVH levels are indeed lower than the previous gen but becomes more present at higher speeds.
Its steering does feel heavy at times but after a while, we became accustomed to how the car drives. Braking on the other hand does require a bit more push as the feeling will only come once a good amount of pressure is applied to its brake pedal. It takes a slightly longer time to take effect, but once the calipers bite into the bigger discs, slowing down gracefully is done without drama.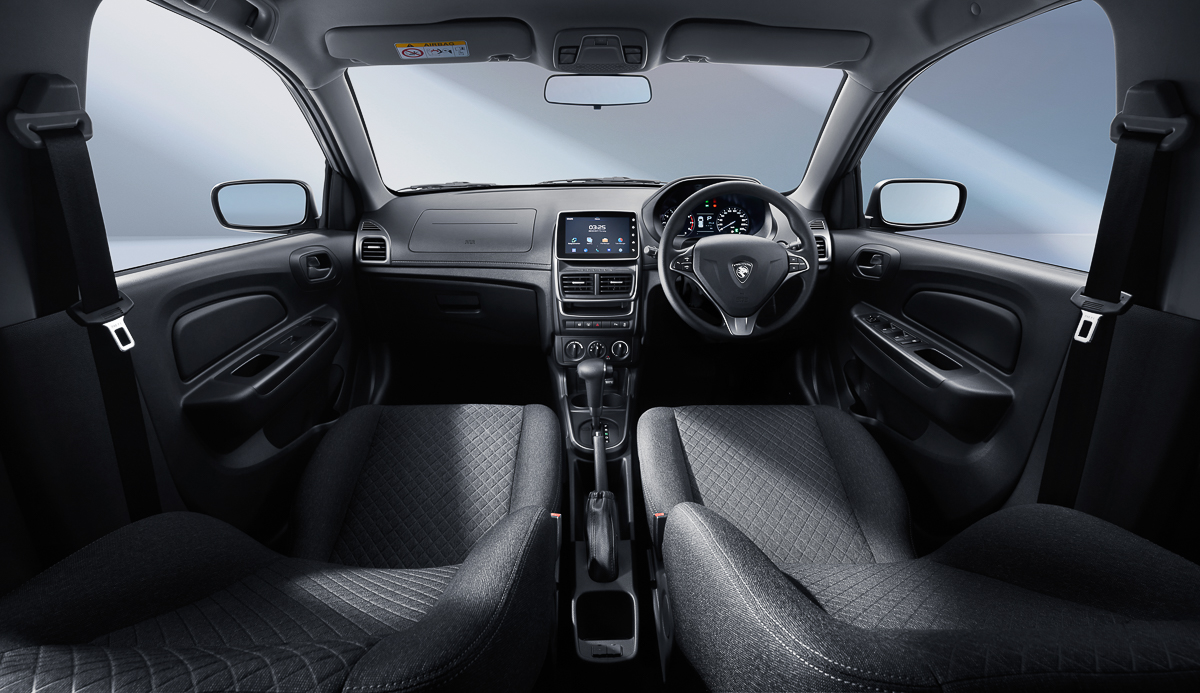 Other new interior features include:
New fabric seats
Seven-inch 'floating' infotainment touchscreen
Headlining with foldable assist grip
LED Map Lamp
Sitting arrangement is a bit snug for those who are a bit horizontally endowed but its rear seats are quite spacious with good amount of leg room. As for the 'floating' infotainment touchscreen, working it was easy and smooth as how you would with a decent tablet. This, we like very much.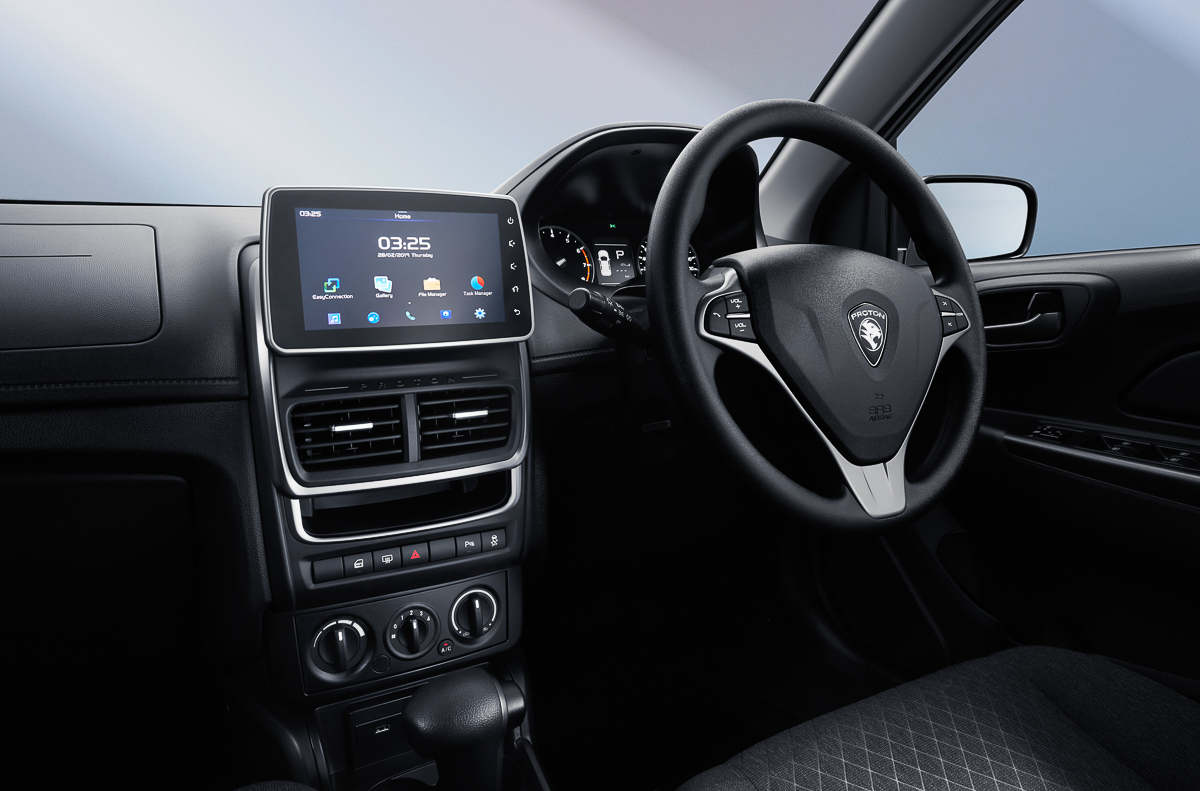 The 2019 Saga also comes with four speakers which have been tweaked to offer great audio experience. If you happen to visit any of the Proton showrooms, request the salesperson to turn up the tunes and you'll be pleasantly surprised.
All in all, we can't really say that there's much to complain about a car that's priced below RM40,000. In fact, the package currently on offer by Proton is actually quite a good investment for those who are just starting their work life or parents wanting to buy a good, reliable and reasonably priced car for their very lucky children.
For RM40,000, you'll get beauty, comfort, safety, reliability, and history all wrapped into one very appealing icon. In short, we think the 2019 Proton Saga is beautiful to look at (especially in Snow White), comfortable to drive, and priced reasonably well when you consider what you get for the amount you pay. What more can you ask for?