The Subaru Impreza has been around for four generations now and according to rumours that have been spreading around online, the fifth generation 2020 Subaru WRX STI is said to make its official appearance sometime next year. With that being said, do you guys and girls think it'll make its debut at the 2019 Tokyo Motor Show this October?
The 2020 Subaru WRX STI has been in talks for quite some time now since the fourth-gen model was introduced back in 2014. The new WRX STI is said to finally make its move to the next-generation Subaru Global Platform, with a completely new chassis and engine to match.
While the current model runs a 2.0-litre EJ20 boxer-four engine, the 2020 model is said to be equipped with an upgraded FA20 boxer-four powerplant with more horsepower to boot (around 315hp expected). There are many variants around the world carrying either the 2.0-litre or 2.5-litre, but the new engine is confirmed to have more power and torque for some good, good times.
In terms of design, most of us are still pretty much in the dark but a lot of hope have been placed on the new WRX STI to look like jaw dropping Viziv concept, portrayed in the accompanying photos of this article. The 'Dynamic x Solid' design language carries a more aggressive yet futuristic façade without looking too bombastic where most concept cars tend to carry.
Whatever the case may be, expect quite a show from Subaru this coming 2019 Tokyo Motor Show. News of a special edition Series.White for the current generation WRX STI is also said to make an appearance at the show with some very interesting specs as the one of the final hurrahs for the fourth gen WRX STI. Stay tuned for more updates.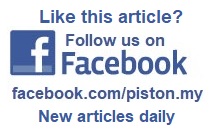 2019 Subaru Forester officially in Malaysia – From RM139,788