Terengganu on the East Coast has Friday and Saturday as its weekend, so Thursday night is usually a time when people start to look forward to their weekly break. Last night saw added excitement in the state capital of Kuala Terengganu as the streets came alive with a convoy of 35 vehicles taking part in the Toyota GAZOO Racing Festival Drivers' Parade.

A first in Kuala Terengganu
The parade was a promotional event for this weekend's opening round of Season 3 of the Toyota GAZOO Racing (TGR) Festival and Vios Challenge race series. In the convoy were 26 Vios racing cars which were driven on public roads for the very first time, escorted by the police. The racing cars, intended for the race series, are normally not for normal use on public roads.
Starting from the race venue at the Sultan Mizan Zainal Abidin stadium, the 25-km journey took drivers across the iconic Kuala Terengganu Drawbridge before coming to stop at Pasarnita for a meet-and-greet session with hundreds of local fans.
Toyota GAZOO Racing Festival Chief Motorsports Officer Akio Takeyama led the convoy which had celebrities and Promotional class drivers Diana Danielle, Janna Nick, Wany Hasrita, Nabila Razali, Ain Edruce, Shukri Yahaya, Shawn Lee, Nabil Ahmad, Khai Bahar and Syafiq Kyle.
Also joining the parade were the pool of amateur and professional racers competing in the Sporting and Super Sporting Classes who included Malaysian drifter and Season 1 champion Tengku Djan Ley, teenage driver Hayden Haikal, Dato' Ken Foo, Season 2 champion Brendon Lim, Ahmad Tarmimi, Mark Darwin, Mirza Syahmi, Mohd Ismail Idris, Jackson Tan, Freddie Ang, Ricky Tan, Syafiq Ali, Lim Chun Beng, Sutan Mustafa and Tom Goh.
Recognized as Malaysia's premier street racing series, the Vios Challenge is held on a specially-constructed 1.65-km street circuit and features close action on the track with celebrity, amateur and professional racing drivers competing in three classes of saloon car racing (Promotional, Sporting and Super Sporting classes respectively) in the exciting one-make series that is the highlight of the TGR Festival.
Related story: Drivers talk about the much-improved Vios racing car for Season 3

More than just racing action
For motorsports fans and spectators in Kuala Terengganu, the excitement of the TGR Festival is not confined to the action and drama on the track. Today and tomorrow, there also will be a display of Toyota's wide range of models (with test-drives available), a drift performance by Japanese drifters courtesy of Toyo Tires, a racing simulator challenge, stage games and celebrity performances, promotional activities, lucky draws, the sale of merchandise, and a Superfans Signing Session where fans can mingle with the celebrities racing in the Promotional class. Entrance is free and there's plenty of parking available at the venue.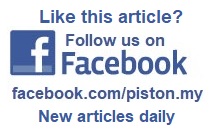 Season