Pick-up truck owners who want the best lubrication and protection for the turbodiesel engines in their vehicles now have an advanced product from Shell to do it. The all-new Shell Rimula Ultra 5W 30 is Shell's most advanced fully synthetic heavy-duty diesel engine oil yet and complies with the tough European ACEA E6 and ACEA E9 specifications. It also has manufacturers' approvals for use in the modern diesel engines that meet Euro 4 to Euro 6 emission standards.
Shell Rimula Ultra 5W 30 is claimed to offer longer oil life and extended oil-drain intervals of up to 150,000 kms, better engine wear protection in all kinds of operating conditions, as well as better fuel economy.

Strengthening premium lubricants offering
Shell Lubricants General Manager – Malaysia & Singapore, Baljit Singh, said that the introduction of the all-new Shell Rimula Ultra further strengthens the Shell Rimula portfolio of premium low viscosity synthetic lubricants available in Malaysia that includes the Shell Rimula R6 LM and R5 LE.
"As the largest lubricants supplier in the world for the past 12 consecutive years, we at Shell understand the needs of our customers. We are a partner you can trust to deliver the most advanced and proven lubricant solutions that are backed by unmatched technical support," he said.
First market in ASEAN to sell flagship product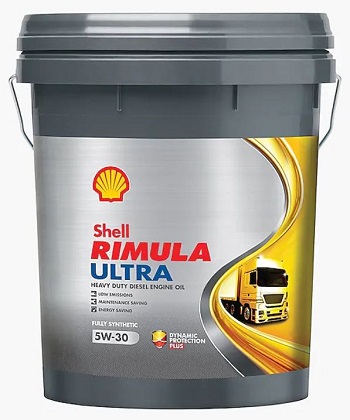 Speaking at the new product launch in Kuching, Sarawak, Shell Lubricants Marketing Manager – Malaysia & Singapore, May Tan said: "There is a global shift towards low viscosity synthetic lubricants due to proven benefits such as improved oil and engine performance; longer oil-drain intervals and fuel economy that add up to lower total cost of ownership. This is critical for fleet operators, especially in today's challenging economic environment. We see Malaysia as the right market for it and we are the first market in ASEAN to launch the new flagship product today."
"The all-new Shell Rimula Ultra is a result of Shell's technology leadership in lubricants, which is driven by world class research and development and extensive technical collaboration with leading vehicle manufacturers, universities and industry bodies," she added.
For more information on Shell Rimula Ultra 5W 30, visit www.shell.com.my/rimula.