Long before 'SUV' became a segment in the auto industry, Japanese carmakers were already producing such vehicles, except they were usually referred to as dual-purpose vehicles or 4×4 vehicles. Such vehicles originated in the 1950s and were developed on the heavy-duty ladder-frame platforms used for commercial vehicles so they were robust and could carry heavy loads.
Over the years, these vehicles evolved as market needs changed and one of the models which has remained in constant production all these years has been the Nissan Patrol. Some 1.9 million units have been sold around the world since the model debuted in 1951. Known for its durability, reliability and all-terrain performance, the Patrol remains the flagship of Nissan's 4×4 line-up.
Advanced Nissan Intelligent Mobility technologies
Recently, the model (currently in its sixth generation) was updated with enhancements that offer customers higher levels of sophistication, comfort, safety and connectivity. In particular, as with other new Nissan models, the Patrol gets the latest advanced Nissan Intelligent Mobility technologies.
This extensive suite of advanced safety and security technologies is complemented by Intelligent Emergency Braking with pedestrian detection and an Intelligent Forward Collision Warning system.
Strongest V6 and V8 engines in the segment
At the same time, the new Patrol retains its class-leading power with customers having a choice of the strongest V6 and V8 engines in the segment. The base 4-litre V6 produces 275 bhp/394 Nm while the 5.6-litre V8 produces 400 bhp/560 Nm.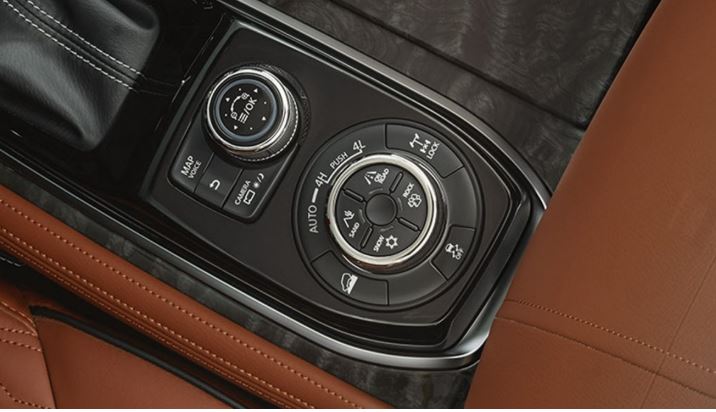 An All-Mode 4X4 system lets the driver switch modes to handle different highway and off-road conditions. It also has a Hydraulic Body Motion Control with improved suspension and vibration reduction. Two hydraulic systems connected by cross-link hydraulic pipes to the 4-wheel independent suspension's hydraulic cylinders absorb road bumps and help reduce body lean when cornering. This helps minimize fluctuation of view of those on board and provides a more comfortable ride. Unlike other similar systems, this does not need a power source, so there is no effect on fuel economy.
More connectivity
Inside, a new centre console incorporates dual displays featuring Apple CarPlay and Android Auto for the occupants to make the most of their smartphones. New diamond-stitch quilted leather seats with added padding provide a luxurious feel, as does the new hand-stitched steering wheel. Climate control and powered lumbar support are optionally available for the front seats. Significant reductions in noise and vibration result in a quieter, more pleasant cabin. Improved cooling and air flow distribution systems lead to quicker cooling, ideal in hot climates.
"The Patrol is one of our longest-standing and most cherished models, with a long and proud heritage," said Joni Paiva, Regional Vice-President of the Africa, Middle East and India region at Nissan. "The new Nissan Patrol represents the peak of luxury and ultimate capability and will continue to provide authentic experiences to its loyal customers in the Middle East and around the world."
Given the large engine sizes it comes with, the Patrol is offered in markets where fuel prices are not a big issue for motorists. For this reason, Nissan has introduced the Patrol in the Middle East first and then other markets and this will be the case for the latest Patrol.
Click here for other news and article about Nissan in PISTON.MY
Visit www.nissan.com.my to know more about 4×4/SUV models available in Malaysia