Nissan, which can claim leadership in mass-produced electric vehicles (EVs) with its bestselling LEAF, has long experience with EVs. Though we only read about its advances in recent times, it had a running electric car called the Tama in the late 1940s which was used as a taxi. But EVs in those days had poor performance and as the technology for such vehicles was hard to develop, the manufacturers focused on internal combustion engines which became dominant up till today.
But with pressure to cut exhaust emissions drastically and reduce fuel consumption, the industry began to get serious about EVs again as the new century began. While some companies focused on hybrids, Nissan chose to focus on a pure EV and by December 2010, it launched the LEAF.
As battery and EV technology kept advancing, the performance of the LEAF kept improving and the second generation offers higher performance plus greater range. But just as with internal combustion engine cars, there is a quest to keep pushing the envelope where performance is concerned and Nissan has revealed some of the technologies that will take its next generation of EVs to a new level.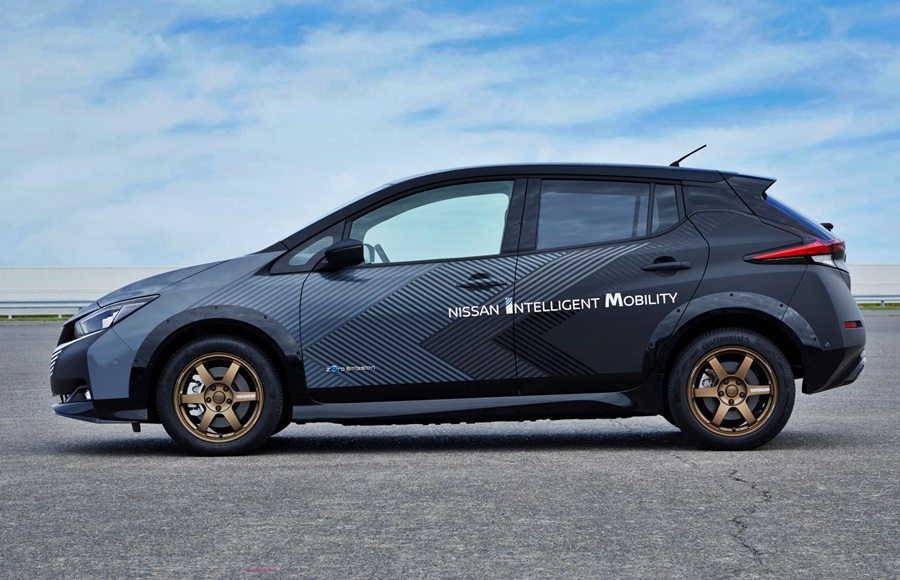 Enhanced all-wheel drive system
Recently, it showed the media a prototype based on the LEAF with an enhanced all-wheel drive system powered by front and rear high-power motors integrated. Nissan developed the chassis control technology in-house for the electric-drive all-wheel-control system. It's a development that brings to mind the time when Nissan introduced its advanced ATTESA all-wheel drive technology in the 1980s.
"Soon, Nissan will launch a next-generation EV that will be a true breakthrough," said Takao Asami, Senior Vice-President for Research and Advanced Engineering at Nissan. "The new electric-drive 4-wheel-control technology now being developed integrates Nissan's electric propulsion and 4WD control technologies with our chassis control technology to achieve a huge leap in acceleration, cornering and braking performance, on par with the latest sportscars."
High-output twin-motor drive
Using separate front and rear electric motors, the powertrain generates 227 kW of maximum output and 680 Nm of maximum torque. This output is complemented by the ultra-high-precision motor control which offers highly responsive, yet uncommonly smooth, acceleration. Drivers can benefit from the all-wheel-control system on nearly any road condition, heightening driving performance and confidence.
The prototype's precision control of both motors provides unparalleled ride comfort. Pitch and dive are minimized by adding regenerative rear motor braking to the usual front motor regenerative braking. When slowing down on city streets, for example, this helps keep passengers from being shaken back and forth. This reduces the potential for motion sickness and related discomfort. Similarly, on rough, bumpy roads and when accelerating, motor control is optimized to maintain ride comfort by minimizing irregular movement.
Independent brake control
In addition to optimizing front and rear torque allocation, the system applies independent brake control at each of the four wheels to maximize the cornering force generated by each tyre. This lets drivers enjoy cornering that faithfully follows their intentions with minimal steering.
Inside, a 12.3-inch display mounted in the centre of the instrument panel reports, in real-time, information on the vehicle control technology via a polished graphic interface. With the custom display, the test driver can better understand car's movements and judge the all-wheel-control technology's performance at a glance.
Better tracking and control
Electric 4-wheel-control technology can increase driver confidence across a broad range of road conditions. When cornering on snow-covered roads, for example, the car can faithfully trace the driver's intended line, thanks to ultra-high-precision motor and brake control. This would greatly enhance safety for the driver as well as other road-users.
Nissan has not said when this new technology will be installed in its models but with the pace of development being so brisk, it should be within the next few years. The thing about the Japanese is that they want to make sure their whatever systems they introduce are thoroughly tested and once in the market, customers will not be inconvenienced by flaws that were not resolved before production.
Visit www.nissan.com.my to know more about the latest LEAF EV which is available in Malaysia and where to test it.