For Round 2 of the third season of the Toyota Gazoo Racing Festival and Toyota Vios Challenge racing series, the purpose-built circuit is in a unique location – the former Kuala Lumpur airport of the 1950s/1960s which became a RMAF airbase after Subang International Airport was opened. Following the closure of the airbase some years back, the 488-acre site was to be a huge commercial development known as Bandar Malaysia.
While construction works are underway, the 1.99-km long runway offered an opportunity for the organisers of the Toyota GAZOO Racing event to create a racetrack that is 1.7 kms long with exceptionally long straights.
"As a street racing series, one of the most challenging tasks is to find a venue that is not only large enough to accommodate both the racing circuit and festival ground but more importantly, accessible and as close as we can to fans and spectators. These challenges however, also present us with the unique opportunity to explore venues never before used or envisioned as a racing circuit," said UMW Toyota Motor's Chief Motorsports Officer, Akio Takeyama. "In the case of Round 2, the former airport is as unique as it gets and the location as central as you can be in Kuala Lumpur."
Circuit must meet international safety requirements
Construction of the circuit at Bandar Malaysia took approximately 3 weeks. This work involved transporting, positioning and interlocking hundreds of 4-tonne concrete blocks and debris fencing to form the inner and outer parameters of the track. The track must meet FIA (the Federation Internationale de l'Automobile) safety specifications.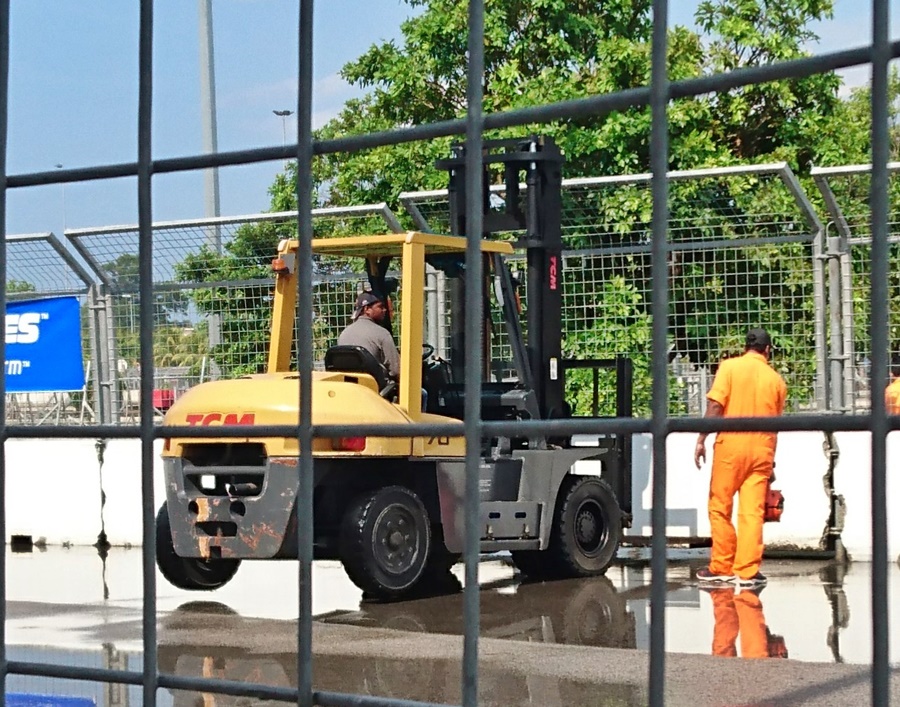 "Street racing brings out the best in Malaysian racers. The absence of run-off areas makes it extremely unforgiving, more intimidating and even more difficult to master. It requires 110% concentration, focus and precision from the drivers. For spectators, a street race is even more exciting visually as they are able to be closer to the action," said Mr. Takeyama who has been a participant in the Vios Challenge sine the first season.
In three seasons of the Toyota Vios Challenge series, the race has been held at various stadium and exhibition grounds in Terengganu, Johor, Penang and the Klang Valley, as well as at the Sepang International Circuit.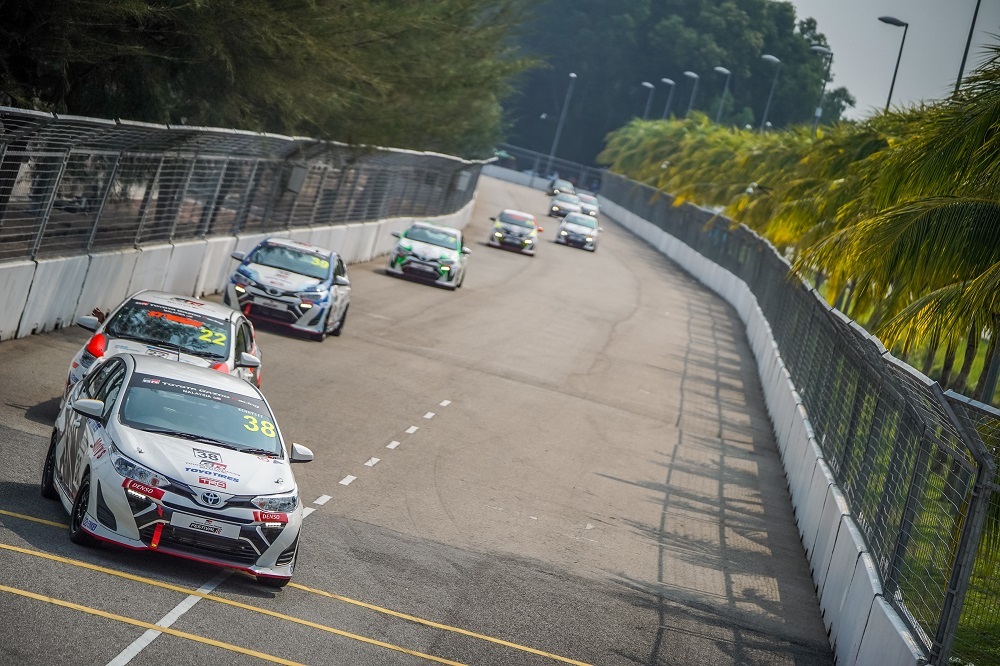 Emulating street races such as the historic annual Macau Grand Prix, the Toyota Vios Challenge is no less exciting. More importantly, Mr. Takeyama added, it provides drivers with a more challenging race, an even greater level playing field, the excitement on driving on a variety of tracks, and contributes to them honing their technical and driving skills.

Meanwhile, UMW Toyota Motor President, Ravindran K., said the prospect of transforming an airstrip into a full-blown racing track is a manifestation of both Toyota and its GAZOO Racing philosophy of breaking tradition and pushing the boundaries.
"Innovation is not only reflected in the vehicles we produce but it underlines the way we think and do things, and in the case of the Toyota GAZOO Racing Festival, it means turning the least expected venues into tracks to bring motor-racing closer to the masses," said Mr. Ravindran.
2 days of close racing
Round 2 of the Toyota Vios Challenge will feature 2 days of racing with three driver categories as usual – Celebrity, Amateur and Professional. 10 local celebrities competing in the Promotional Class include Shawn Lee, Shukri Yahaya, Diana Danielle, Nabil Ahmad, Janna Nick, Khai Bahar, Wany Hasrita, Nabila Razali, Ain Edruce and Syafiq Kyle. Both Shawn and Wany will start with one race win each after winning the opening two races of Season 3 in Kuala Terengganu earlier.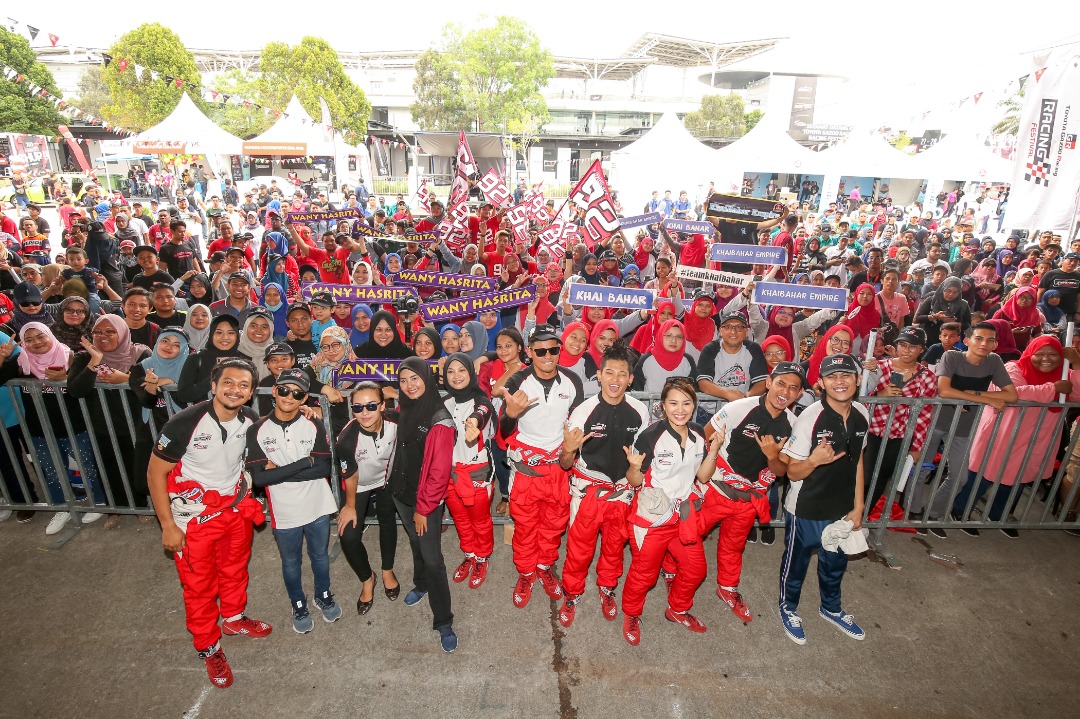 "Round 2 is going to be a very exciting because we will be competing on a new track. There's really no way of preparing for it in terms of setting up the car until we get a chance to drive on the track during the official practice session and evaluate the surface condition and overall flow of the circuit. From what I gather so far, it's going to be quite a fast track," said Shawn.
Among the big names in Malaysian motorsports driving in both the Sporting and Super Sporting classes for amateur and professional drivers, respectively, include Season 1 and Season 2 Sporting champions Brendan Paul Anthony and Brendon Lim; Season 1 and Season 2 Super Sporting champions Tengku Djan Ley and Boy Wong; and experienced drivers like Kenny Lee, William Ho, Mark Darwin, Kenneth Koh, Sutan Mustafa and Syafiq Ali. The Sporting Class will also feature 15-year-old Hayden Haikal.
A totally new track to learn quickly
For Super Sporting Class driver Kenny Lee, the first practice session is critical to uncover much of the unknown. "I have never had the opportunity to visit Bandar Malaysia in the past and therefore I don't know what the surface condition is like. The first thing everyone will be looking into is certainly the final track layout and finding the fastest racing line around the track. We'll also have to carefully look at the surface conditions especially in the braking zones because you never know, some areas can be a bit bumpy, slippery or even dusty," said Kenny.
Tengku Djan Ley shares the same sentiment, saying drivers will in essence have only about 90 minutes throughout the race weekend to learn the new track. "We have a track walk on Thursday evening and the official practice starts on Friday, so essentially you only have a couple of laps to try and decipher the entire track and obtain enough information that will go into setting up the race car. Those who are able to do this will have an advantage," he said.
"There's really not much that can be done to the set-up apart from experimenting with different tyre pressures, suspension settings and alignment combinations, but these small changes do make a big difference on track," he added.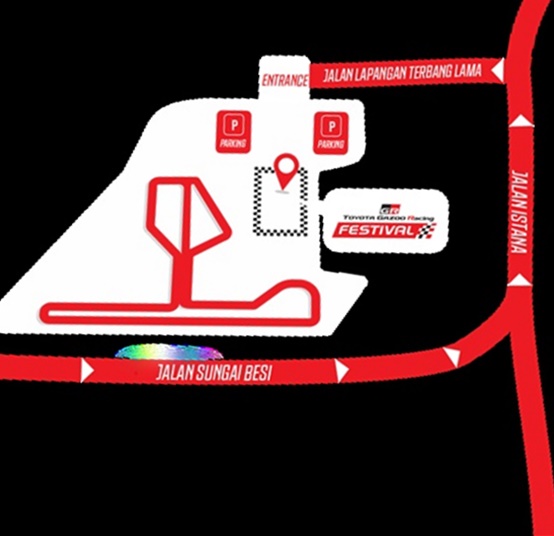 For race fans and spectators, the Toyota GAZOO Racing Festival will offer a variety of activities for all the family. There will be Toyota's fleet of vehicles (with test drive sessions available), a drift performance by professional Japanese drivers, a concert, beyblade tournament, racing simulators  and the display of the all-new Toyota GR Supra.
Entrance is free of charge and the event is from 9 am to 6 pm on this Saturday and Sunday, November 9/10 2019.
Click here for more information about the Toyota Gazoo Racing Festival and Toyota Vios Challenge