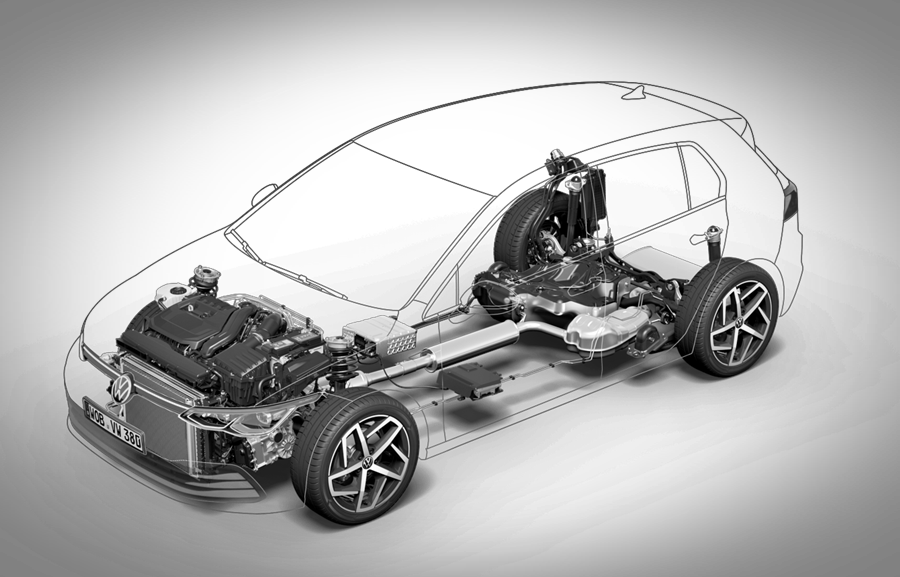 As the owners of the all-new Volkswagen Golf 8 receive their cars, they will be pleasantly surprised to learn either from the sales representative or read in the manual that the standard inspection service interval has been doubled to 24 months.
However, for the all-electric ID range, maintenance requirements will be different but Volkswagen will only release information at launch time.
For selected markets only
Referring to the change as a 'new maintenance concept', the extended interval is offered to customers in Europe, South Korea, Japan and New Zealand. Following the Golf 8, other models will also have extended service intervals in the course of 2020.
"The high quality of our vehicles allows us to double the inspection service interval in Europe to 24 months. We are therefore one of the few volume brands to call our customers into the workshops less frequently. In addition, our new standard inspection service is to replace the previous service. This way, we are considerably simplifying the maintenance program and making it more transparent for our customers and partners," said Achim Schaible, Head of the After Sales & Dealer Network of the Volkswagen brand.
The new standard inspection replaces the previous format of large and small inspection. The standardized content of maintenance and new intervals allow more reliable and more transparent price information, which has a considerable impact on perceived service quality and therefore customer satisfaction.
Other markets
Volkswagen explains that, in other markets, more severe operating conditions such as heat or dust will still require annual servicing of vehicles. Therefore, for now, whatever service intervals are specified by distributors will be maintained. In Malaysia, an interval of 12 months or 15,000 kms is specified by Volkswagen Passenger Cars Malaysia for current models.
Motorists would usually welcome extended service intervals as it means having to go to the service centre less. A longer service interval also helps reduce motoring costs but the conditions must be adhered to, eg the engine oil used must be what is specified by the manufacturer. The oil would have to be able to provide proper lubrication and protection for up to 12 months.
While increasing intervals are good, there can also be a downside. Just as the human body can do with regular check-ups to detect any health issues early and address them, a car would also need regular check-ups to ensure that everything is running properly. Of course, with many electronic monitoring systems present, the driver is likely to be alerted if something is malfunctioning. There are even sensors to keep an eye on tyre pressures and if one tyre is under-inflated, the driver will be alerted.
There may come a day when servicing is no longer required at all and the bonnet can be 'sealed'. However, with the transition to electric vehicles, servicing requirements will be different again and at present, it is expected that they will definitely be less than for vehicles with internal combustion engines.
Visit www.volkswagen.com.my to know more about aftersales services available in Malaysia.