Ford Motor Company has revealed the new Transit Smart Energy Concept – a one-of-a-kind 10-seater minibus which is helping the automaker explore solutions for maximising the energy efficiency and driving range of electrified vehicles. However, the distance that drivers can travel on a single charge of a battery-electric vehicle (BEV) continues to be greatly impacted by the use of cabin heating features.
Research has showed that using the climate control system in a BEV can reduce the driving range by up to 50% in cold weather. Perhaps the same also applies in hot weather though there would be different issues creating the same drawback.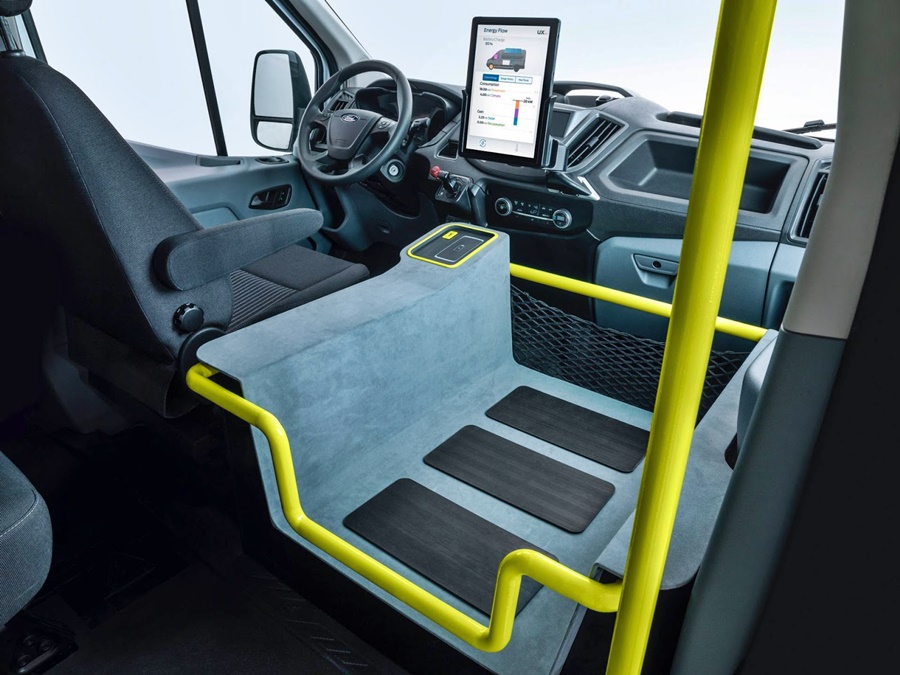 Challenges to energy usage
Compared to goods transport vehicles, multi-occupant vehicles such as minibuses require significantly more energy to create a comfortable temperature for occupants. The energy is provided by the high-voltage battery, presenting a significant challenge to the vehicle's driving range. In vehicles with combustion engines, an engine-drive compressor is used as a separate pump for coolant.
Demonstrated recently, the fully-functioning, all-electric Transit Smart Energy Concept delivers 150 kms driving range from a 4-hour charge, supported by energy-saving and energy-generating innovations from solar panels to powertrain heat recovery systems.
"With frequent door openings, a large space to keep at comfortable temperatures, and a big payload to carry, a minibus presents the toughest challenge for maximising battery-electric vehicle range, and that's exactly why we chose it for our new Transit Smart Energy Concept," said Kilian Vas, Project Leader, Vehicle Architecture, Ford of Europe. "By developing this concept we've found a number of clever ways to save energy which could help further improve the electrified vehicle experience for customers in the future."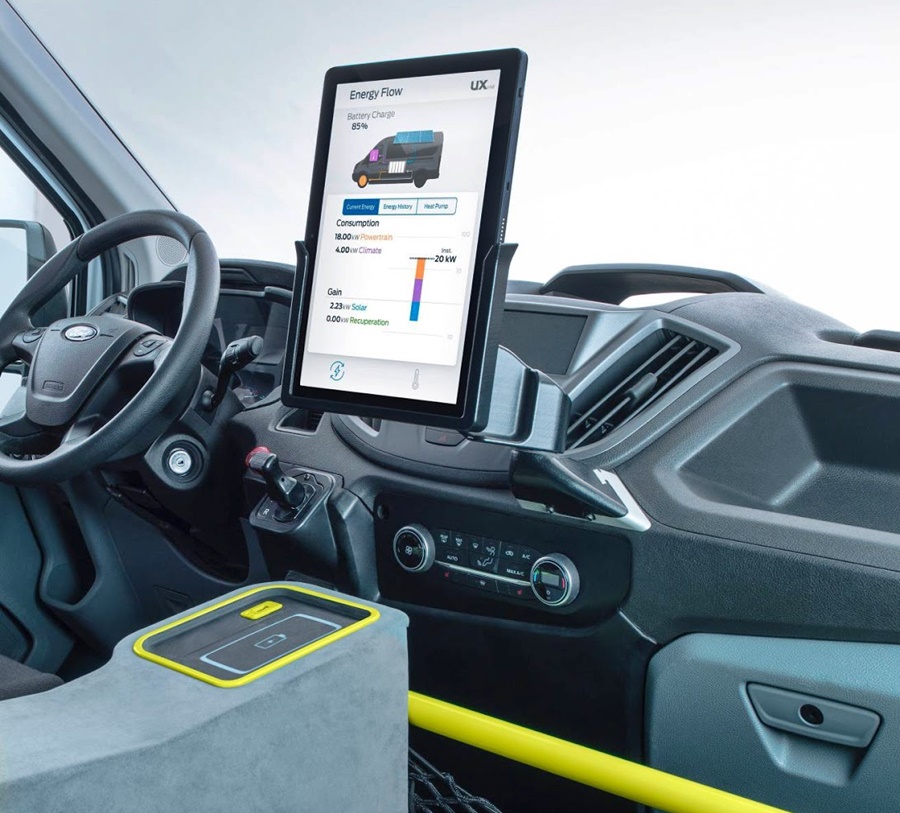 Innovations that enhance energy efficiency
The Transit Smart Energy Concept uses the same drivetrain technology as the StreetScooter WORK XL commercial vehicle, and a Transit chassis fitted with a battery-electric drivetrain for zero-emissions driving. Innovations which enhance energy efficiency and driving range being tested for the first time include:
♦ An innovative heat pump system which utilises waste heat from the drivetrain components, the outside air, and the air within the cabin to reduce heating system energy usage by up to 65%, resulting in a range extension of 20%.;
♦ A power sliding door which opens halfway to reduce heat loss and can be activated by the passenger using a smart device. The heating, ventilation, and air-conditioning blower is automatically deactivated when the door is open;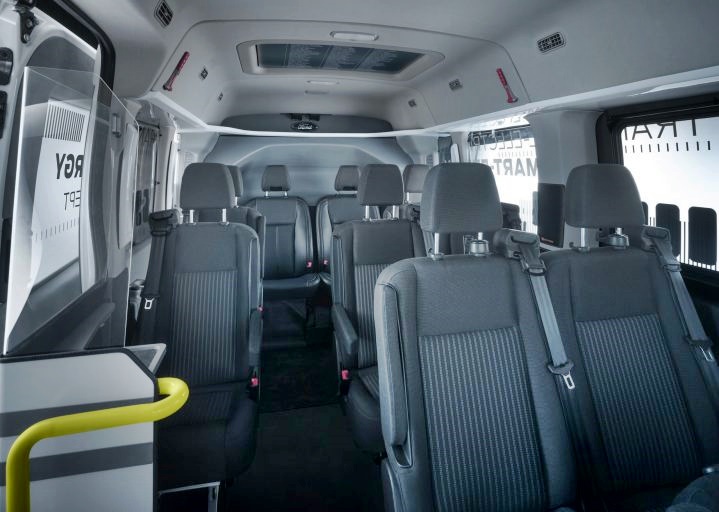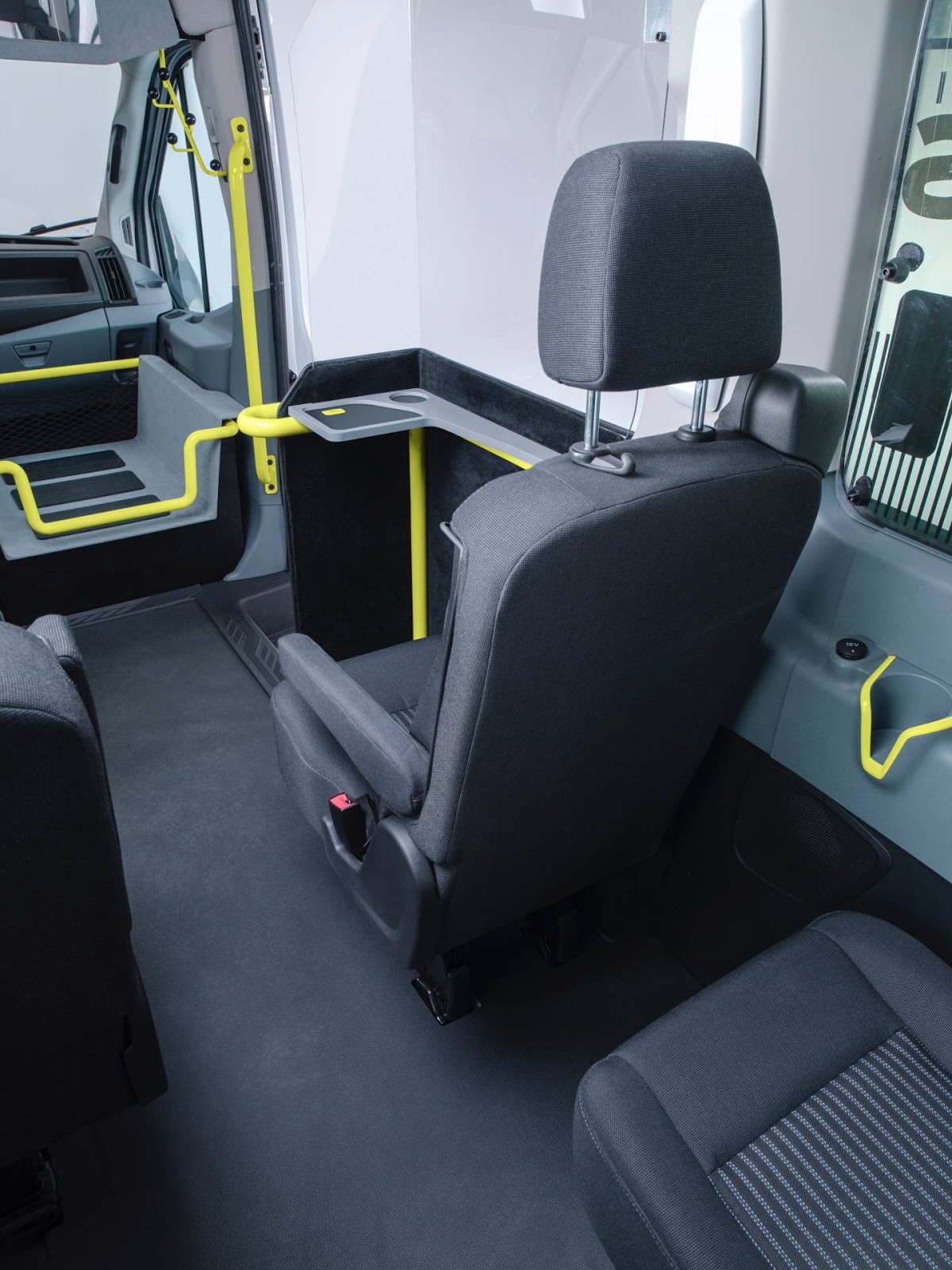 ♦ Heated business-class passenger seats and surfaces which enable passengers to control their local temperature, reducing the energy required for the large cabin;
♦ 6 roof-mounted solar panels which charge a 12V battery for powering seat heating, cabin lighting, and on-board electrical systems, including wireless charging for passenger mobile devices;
♦ A polycarbonate divider between the passenger door and seating area, which further reduces heat loss as passengers enter and exit, and protects passengers from external elements;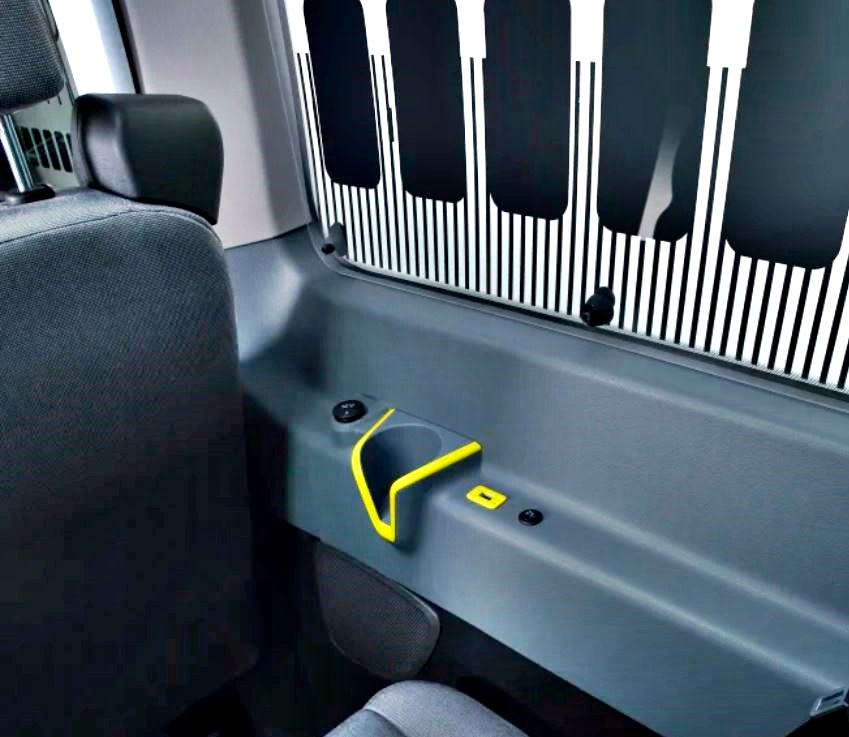 ♦ Ventilated double-glazed windows which reduce cold contact surfaces, and insulate against heat loss; and
♦ An insulated rear floor and roof which further reduce cabin heat loss.
Colours can also help to go further!
Mood lighting which adjusts according to cabin temperature – red for warmth and blue for cooling – subliminally influencing passengers' perception of cabin temperature. Experts claim colour choices can influence our mood, our responses… even how many likes we get on social media! Now Ford is exploring how matching the right colour to different driving situations could extend electric vehicle range.
The ambient lighting makes passengers feel warmer (with red lights) or cooler (with blue lights). This helps take the strain from the climate control system so that energy saved can instead be used to cover more kilometres.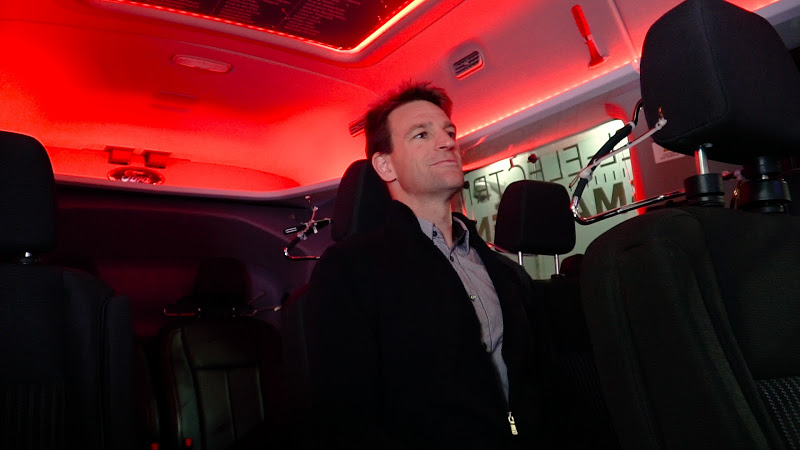 In a trial simulating a winter's day of 0° C and a summer's day of 30° C, passengers were subjected to rate their level of comfort based on feeling too hot or too cold. In both cases, the ambient lighting resulted in reducing the power usage of the climate system: by 3.3% for cooling and 2.5% for heating.
"Our exposure to colour can change our mood in all sorts of ways. Here it is simply a case of using red ambient lighting inside the car to make people feel warmer and blue ambient lighting to make people feel cooler. Reducing the burden on the aircon could make a significant difference to extending vehicle range," explained Lioba Muller, Lighting Team Engineer, Vehicle Architecture at Ford of Europe.
Visit www.sdacford.com.my to know more about Ford models available in Malaysia.
Your future Ford will have parts made from coffee bean skins!