Throughout its history of over 100 years, Maserati has been well known for creating unique models and exclusive cars. Amongst them, the 1986 Royale version of the 3rd generation Quattroporte stands out. Essentially a restyling project featuring exclusive blue and green colours, improved interiors, with soft leather seats and extensive use of wood in the dashboard and door panels, only 51 units were produced for sale.
Now Maserati is paying tribute to its heritage with the launch of a special series bearing the same name, this time available across all models with V6 engines featured in the current Maserati range. The factory plans to make 100 units of the Quattroporte, Levante and Ghibli Royale with engines ranging from the 275-bhp 3.0-litre V6 Diesel to the 350-bhp and 430-bhp 3.0-litre V6 petrol.
As with the original Royale, the 2020 special series is available in similarly unique blue and green colours: Blu Royale and Verde Royale. To complete the elegant exterior look, the Levante Royale features 21-inch Anteo Staggered Anthracite rims, with Titanium Anthracite rims on Ghibli and Quattroporte, all with silver brake calipers.
Inside the Royale Series
The Royale interiors, based on the GranLusso trim, are available in Zegna PELLETESSUTA Cuoio or two-tone Pieno Fiore leather in Black/Cuoio. The Zegna PELLETESSUTA is a woven leather textile made exclusively for Maserati interiors. Born of old-world Italian traditions and today's innovative technology, it was ingeniously fashioned using thin strips of Nappa leather to create an ultra-luxurious 'fabric' that is lightweight, soft and durable.
The extensive equipment list includes Cold Weather, Premium and Driving Assistance Plus Packages fitted as standard. Comprehensive Advanced Driving Assistance Systems actively respond to potential hazards to ensure safety for driver and passengers.
Like the rest of the range, the Royale Special Series features the Maserati Touch Control Plus (MTC+) unit, an 8.4-inch touchscreen at the centre of the dashboard. The interface is said to be extremely straightforward to use and controls all the key vehicle functions. The screen also displays the rear view depicted by the reversing camera, with guidelines for ease of use.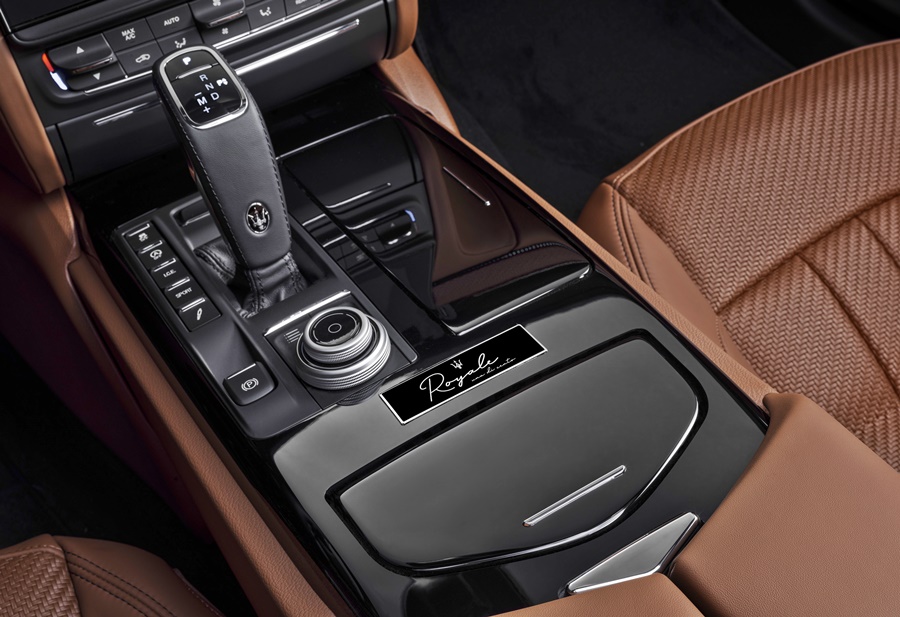 Compatible smartphones can interface with the infotainment system using either Apple CarPlay or Android Auto. In addition, for iPhone users, Apple's Siri system acts as a personal assistant, allowing them to carry out tasks using voice command. Through naturally spoken language, it is possible to make a call or access music, messages, reminders, emails, websites and much more.
Although the first deliveries are scheduled for March 2020, orders for this limited series are now being accepted. In the UK, the prices start from £78,900 (around RM417,500) for the Ghibli, £85,300 (RM451,400) for the Levante and £103,150 (RM545,900) for the Quattroporte.