Car manufacturers, like any other company, are going through a very difficult time now as the COVID-19 pandemic has created great uncertainties for consumers that have impacted sales. Understandably, there are other priorities to commit money to so a new car purchase, if planned, will have to be deferred.
Some of the car companies do not forget their customers too and look for ways which can ease their burdens, even if it does incur costs. In 2009, Hyundai Motor offered Hyundai Assurance in America to help protect owners who lost their jobs. The 2008 financial crisis had caused the biggest economic downturn since the Great Depression. Home values dropped and many people could not service their loans.
Hyundai Motor America understood that without knowing what would happen to their jobs, people would be reluctant to buy new cars. So it offered a simple deal: If a purchaser of a new Hyundai lost his or her job within a year, the company would take it back. "If you find that you cannot make your payment because of a covered life changing event, we'll allow you to return your vehicle and walk away from your loan obligation – and in most cases we will cover most, if not all of the difference," the company advertised at that time.
This meant that a customer would be less worried being stuck with a car that could not be sold off and at the same time, have to keep paying the instalments. Hyundai would accept that car, cancel the loan and pay the difference between the car's trade-in value at the time and any remaining balance on the loan up to a maximum of US$7,500.

Now Hyundai is helping its American customers again but is not offering to take back vehicles. Instead, it will cover up to 6 months of payments for Hyundai owners who purchased or leased a Hyundai vehicle between March 14 and April 30, 2020 if they lose their job due to COVID-19 this year. The first payment is also deferred for 90 days for those shoppers.
In 2020, Hyundai also has a luxury brand, Genesis, which was not in existence 11 years ago. Genesis is also offering a similar program called the Genesis Cares Job Loss Protection. As with the Hyundai incentive, anyone who purchases a new Genesis vehicle between up till April 30, 2020 and then has an involuntary job loss any time this year due to COVID-19 can get their payments deferred for 90 days. However, the vehicle must have been financed of leased by Genesis Finance.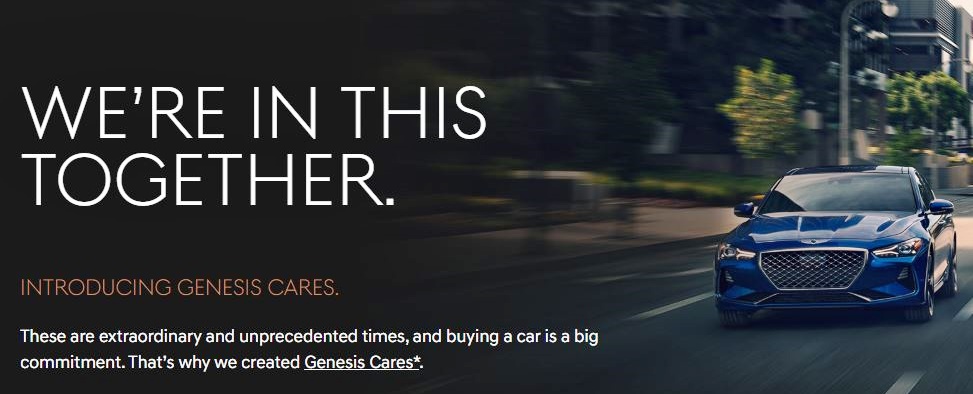 More importantly, Genesis Cares Job Loss Protection provides up to 6 months of payment relief for customers who lose their job this year after purchasing a new Genesis vehicle between March 14 and April 30, 2020.
The 2009 campaign scored points for the brand, building customer loyalty which helped to strengthen sales after the recession. "We understand the extreme uncertainty created by the coronavirus and the anxiety experienced by our customers, and wanted to tap into Hyundai's legacy of having people's back," said Jose Munoz, COO, Hyundai Motor Company & President and CEO, Hyundai Motor North America. "Bringing back the job loss protection program in this unprecedented time will allow our customers to have one less thing to worry about if something unexpected happens to their employment status."
First SUV in Genesis range targeted at North American market